All Food and Drink
Start your day with a plate of Lebanese manakish bites and a feast of international offerings as the sun rises over the marina, or sit down for premium steak and a glass of local wine as you watch the stars come out from your seat on the terrace.
The perfect place for sipping Afternoon Tea, grabbing a quick bite with friends or meeting colleagues for a scenic power lunch.
Enjoy a light meal of international fusion cuisine paired with an artfully prepared drink from our tailored beverage menu in this intimate lounge.
Our laid-back terrace lounge lends itself to quiet conversations held beneath the stars, shared over drinks, shisha and mouth-watering plates of tabbouleh with quinoa and mini chicken shawarma.
Level 26

Take in the beauty of the Mediterranean Sea from our chic open-air lounge, where bespoke cocktails, live music, handcrafted sushi, Asian-inspired dishes and inspiring views create the kind of evening you'll want to re-live over and over.
For breakfast in bed, impromptu business meetings or romantic meals on your private terrace, we have you covered, day or night.
Events
Every Day, 6:30 am – 11:30 am

Breakfast at the Grill

Choose from an extensive à la carte menu, continental breakfast buffet, flavourful Lebanese specialties and a host of healthy options at the most lavish breakfast in the city.

Every Day, 3:00 pm – 7:00 pm

Afternoon Tea

Indulge yourself for an afternoon with our menu of freshly made sandwiches, cakes and pastries served daily in our elegant Lobby Lounge.

*Not available during Ramadan

Four Seasons Sunday Lunch*

Stop in for the city's most popular and elaborate weekly lunch at The Grill, featuring hand-picked local ingredients, an artisan-chocolate cellar and live stations where you can watch and chat with our chefs as they work.
The Team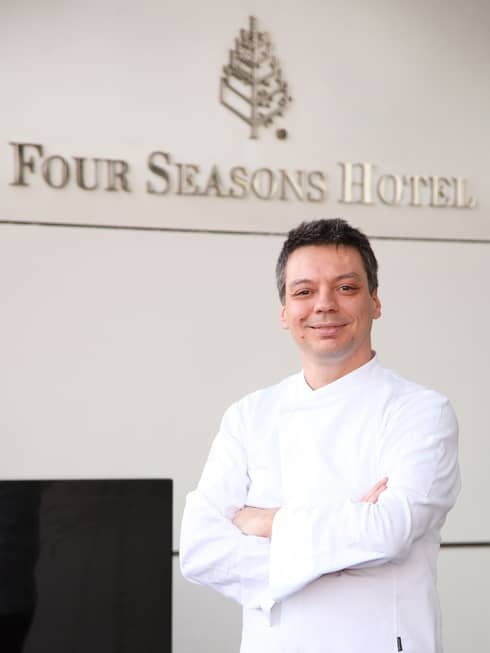 Executive Chef Apostolos Dimou
Known as much for his humility, warmth and work ethic as for his culinary skills, Chef Dimou has chartered a passionate and adventurous career. After working for several years in his native Greece and alongside Alain Ducasse, Chef Dimou delivers the unpredictable with a classical passion and meticulous attention for details. He loves being part of Beirut's vibrant food scene, and you'll often find him in the local markets or exploring the wine country.
"Cooking demands passion, love, and above all, a respect for the gifts of the earth."
Culinary Experiences
It's all about rarity, distinctiveness and experiences. Each of our outlets has a story, and that's what gives them value.

Ali Hakim

Outlet Manager
Steak lovers will find their home at The Grill, where we exclusively serve Wagyu and USDA Prime-Aged beef, hand-butchered, matured and grilled to perfection just the way you like it.

It's a classic combination – cognac and cigars. And we've got just the place for you to share your passion with like-minded guests and other connoisseurs at The Bar.

Tucked away on our third-floor terrace is Arabesque, our little slice of old Lebanon, where we invite you to sit, relax, and sample a wide selection of shisha flavours along with our signature drinks, home-made desserts and a tempting menu of traditional mezzeh.