With a Mediterranean coastline extending the country from North to South, Lebanon has more than its fair share of spectacular beaches and pools. If you are looking for a family beach break or a romantic seaside daycation where you can take a leisurely stroll and admire the beautiful coastal views, our Concierge offers Lebanon's best beaches and pools.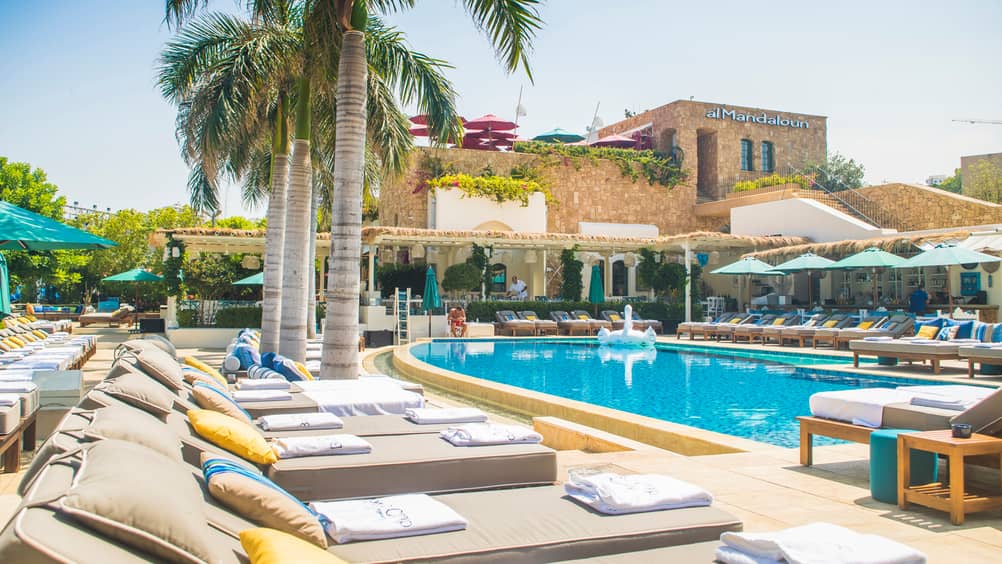 Photography Image courtesy of Al Mandaloun Beach Club
Al Mandaloun Beach Club
Located in an old stone house on the Dbayeh waterfront, this high-end Beach Club is both elegant and peaceful in equal measure. Daytime is all about relaxing on plush daybeds while enjoying exquisite offerings from either the fish restaurant or Lebanese cafe. Come sunset, live music from guest DJs sets the mood for the evening.
Beirut Sporting Club
Nestled behind Beirut's notorious Ferris wheel is Beirut's Sporting Club, renowned for its authentic Lebanese vibe as well as for its unmatched simplicity. The two large swimming pools and smaller one for children are always set at the perfect temperature to cool you off on a scorching hot summer's day.
Right in the midst of Beirut's hustle and bustle, the trendy Madame Bleu is a sleek yet very urban swimming destination sitting atop the city's shores, boasting magnificent Mediterranean views. Have a day chilling in surroundings that evoke modern yet classic American style before watching the sunset and partying all night.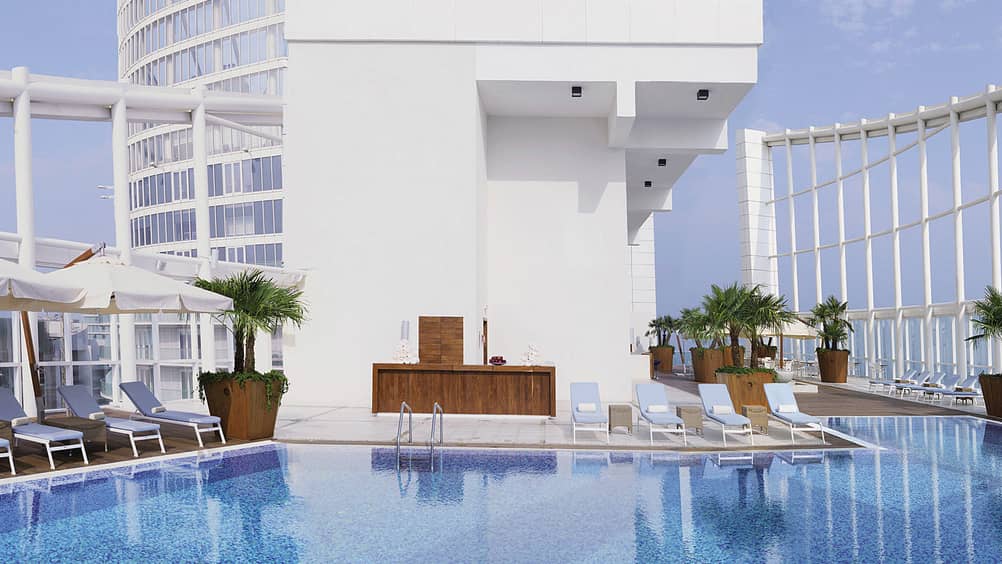 The Pool at Four Seasons Hotel Beirut
The outdoor pool at Four Seasons Hotel Beirut offers a quiet oasis on the 26th floor rooftop of the Hotel, right in the heart of the bustling city. Refresh with a swim or unwind in the hot tub or comfort of your chaise lounge, while enjoying the scent of the Mediterranean breezes. Pool access is exclusive for in-house residents; additional charges may apply for visitors.
Pierre & Friends
This cozy and small pebble beach on the south shore of Batroun, has been ranked as one of the best beach bars in the world. Also known as a sailing club, Pierre & Friends is a refreshing getaway for a day filled with sun, food and adventure. Be sure to stay for the sunset and admire the scenic beauty from the adjacent deck and bar area, just as the DJ begins to play infectious beach tunes.
Tahet El Rih
Tahet el Rih is a gorgeous public beach in Anfeh, 68 kilometres north of Beirut, resembling Mykonos with its small white and turquoise wooden cabins. Boasting crystal clear waters, this is the perfect place to swim, have lunch or chill under the sun.
Photography Image from Four Seasons Hotel & Resorts
Situated only 45 kilometres from Beirut on the untouched shores of Batroun in North Lebanon, this natural pebble beach lets you bask under the famous Mediterranean sunshine and enjoy traditional Lebanese cuisine. It is also the perfect place to try kayaking, windsurfing or try to catch some fish. There is also a spectacular sunset every day, so find a comfortable chair with a colorful drink in your hand and enjoy the view.
A hidden spot off the highway in Amchit, June Beach Resort has one of the most breathtaking sea views in North Lebanon. The Hawaiian-themed bar in the center adds the perfect touch to the unique venue and the friendly staff will guarantee that your chilled drinks keep coming so that you can properly unwind after a day of tanning and swimming. The live music, delicious food and signature cocktails will make you feel the summer all year long.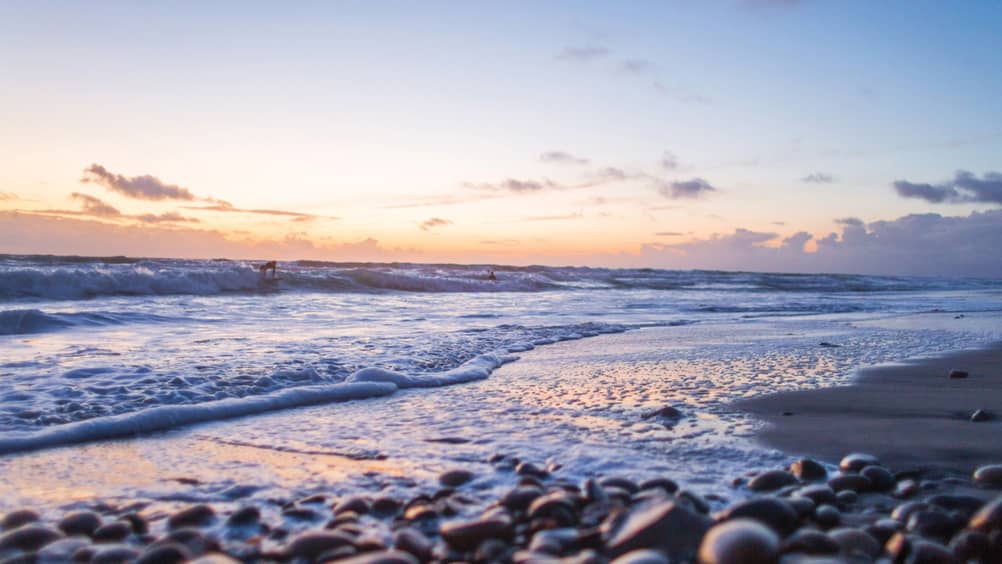 O-Glacee
Managed by the Lebanese Yacht Club, this hip beach bar in Batroun boasts a clean pebble and sand coast, as well as an ice-cold natural pool and offers its guests a simple and chilled out experience. Be sure to try their delicious food, including their fresh caught fish and Lebanese mezzah.
C FLOW Beach Resort is ideally located on the beautiful coast of Jbeil, 40 minutes from Beirut and is perfect if you're travelling with the family. The resort is spread over more than 2,500m2 of green landscape and perfectly divided into pool, beach, and restaurants areas, promising as it does fun in the sun for all ages.
This exclusive resort located in Jiyeh is one of the sunniest spots on the Lebanese seaside – a 25 minute drive from Beirut's Central District. It boasts a secluded 50-metre stretch of white sandy beach with a clear and unobstructed view of the sea. Restricted exclusively to adults, Orchid is ideal for those looking for a relaxed, comfortable and sumptuous atmosphere.
IRIS Beach Club is an adult only resort in Damour, where you can spend an entire day in a laid back yet quietly sophisticated setting. Caught between a pastoral plantation and the stunning Mediterranean Sea, the setting evokes just what IRIS Beach Club is all about. Chill out on an oversized day bed or enjoy a private cabana with a view of the outstanding infinity pool. For a more natural setting take a stroll on the private sandy beach and dip your toes into the beautiful Mediterranean Sea.
Tucked away on the Jiyeh shoreline, this stylish and peaceful beach resort has become a go-to place for young families. Home to three swimming pools, a large sandy beach, natural creeks, Lebanese and Italian restaurants as well as a playground for kids, it's hard to beat the relaxing Mediterranean vibe here.
Damour Beach Resort
About a 20-minute drive south of Beirut is Damour Beach Resort, a combination of ultimate relaxation and style featuring luxurious pools, including an incredible infinity pool, a vast sandy beach and a kid's playground.