Considered one of the most beautiful cities in the Middle East and recently named as the Number One International City for Food by Travel & Leisure Magazine, Beirut's diverse influences are reflected in its rich culinary scene. From traditional mezzeh with a modern twist, Lebanese specialties made from local produce and served up by home cooks, haute cuisine in energetic surroundings, there's a nearby eatery that will satisfy.
Street Food
Many food critics sing the praises of street food in Beirut. The bustling streets of the city are home to hundreds of dining experiences, offering up what seems like an unlimited array of exotic dishes.
Offering the same vibrant energies as old traditional Lebanese "souks," Souk El Tayeb's open air, weekly farmers market, is held primarily every Saturday in Downtown Beirut. Souks are open from 9:00 am – 2:00 pm, in addition to other regions in Lebanon, and host 100 small producers from all over Lebanon who offer fresh, local, seasonal food products and organic produce. Enjoy authentic Lebanese saj offerings from Omm Ali, vegan "labneh" spreads to delicious grape and berry juices.
The Lebanese Shawarma sandwich at Restaurant Joseph speaks for itself with top quality ingredients, juicy meat, crunchy vegetables and tender Lebanese bread – not to mention its acclamation of "World's Tastiest Sandwich Award 2015" by London's FoodieHub. Offering premium quality, clean street food in a small setting, Joseph restaurant, located in the heart of Sin El Fil is popular for serving various kinds of knock-out sandwiches.
To experience a typical Lebanese breakfast in one of the busiest streets in the city, head to Al Soussi in Mar Elias, a family restaurant that has been passed down for generations offering some of the finest dishes around. Winner of the "Best Breakfasts Around the World" by CNN and Travel & Leisure, Al Soussi is renowned for its "fatteh" dish, made with layers of toasted pita, chickpeas, yogurt and pine nuts.
Helwayat El Salam
Take a step back in time at Helwayat El Salam – popularly known as Hanna Mitri ice cream – an old-fashioned ice-cream parlor in the heart of Achrafieh, run by the Mitri family since 1949. Inside a shop that has survived the civil war, discover the best ice cream in Lebanon. Offering eight original flavors, four milk-based and four sorbets, we recommend the rose water, Amareddine or Tout (blackberry). The shop also sells some of the best "maamoul" (Lebanese pastries), which you can stock up on before you go home.
Sahyoun
At first glance, Sahyoun, a small eatery just outside Downtown Beirut, may appear to be simple, but the daily queue that forms outside is a testament to the popular Falafel sandwich. Mustapha Sayoun, who opened this falafel shop in 1935, has passed on the family recipe to his son, who continues on with the tradition of making the finest falafel sandwich in the country.
Fern Ghattas
A small, traditional and authentic bakery in Gemayzeh, Achrafieh, offers fine pieces of Lebanese baking. The owner, Robert Ghattas, prides himself on his signature three cheese mankoushe offering and original zaatar mankoushe, which are both exquisite. The spinach fatayer is also a must try.
Hidden Gems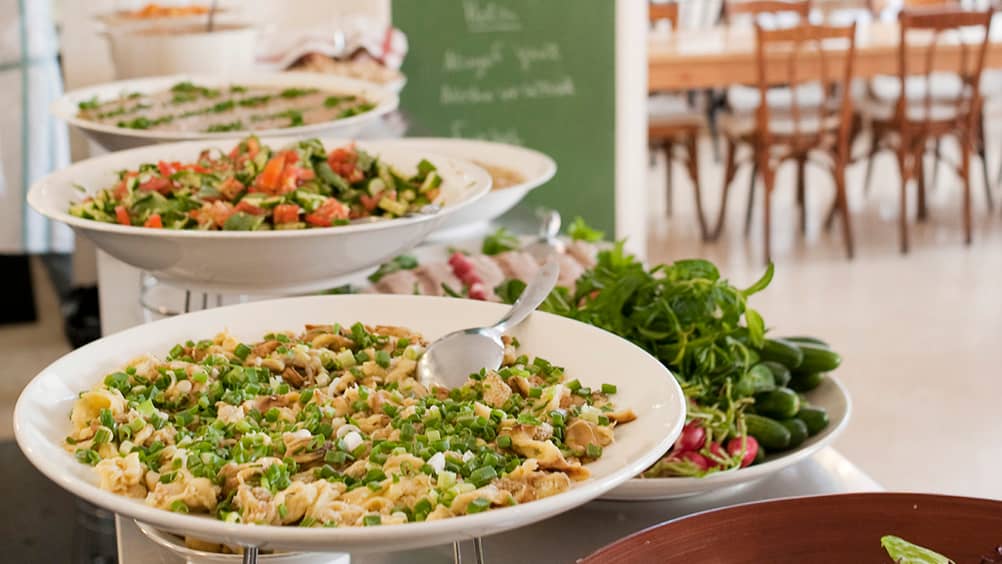 Take a few steps off the beaten path and explore the uncharted aspects of Beirut's food culture with exquisite hidden dining gems waiting to be discovered.
This charming little restaurant is essentially the home of its owner Maguy Al Mouhawas, who has been serving guests exquisite fresh seafood dishes with great hospitality for the last 23 years. Just a 45 minute drive from Beirut and perched right above the beautiful sea of Batroun, you are welcomed into a cozy home with a lovely terrace furnished with a mix of different chairs and tables with colorful table cloths. Savour freshly caught fish, charcoal-grilled crabs and calamari while enjoying the sea breeze and admiring the beautiful views of the Mediterranean.
Chez Fouad
If you are looking for a unique Lebanese dining experience with genuine Lebanese hospitality and generosity, then Chez Fouad is the place to visit. A home away from home, Chez Fouad is located in the mountains of Nabeh El Mghara, Hrajel and offers dishes prepared by the owner Fouad Khalil himself. Step onto an old house balcony decorated with old Lebanese farmers items and enjoy a range of delectable dishes such as the "Hummus Special" with pickles, parsley and bell pepper, "Labneh" prepared in small balls and mixed with nuts, eggs with peanuts and the best "Mouhallabiya" (milk based desert) in the country. Fouad welcomes you in Hrajel from June 15 until October 15, and opens again in Ain El Rihani (Aintoura) from December until June.
Secluded in the streets of Mar Mikhaël, Tawlet, welcomes you in a clean and comfortable space where a daily lunch buffet awaits you. What is special about Tawlet is that each day the buffet menu varies as one chosen chef - mainly women who have cooked meals for their families in their villages for years - prepares a buffet of traditional dishes made only from local produce. Take a seat on the long communal table, which allows you to share this wonderful lunch experience with other groups of people, and indulge in exquisite homemade Lebanese dishes.
Casablanca
You'll find Casablanca in an old traditional villa in the area of Ain el Mreisseh. It's lively, home-like setting perfectly blends the architectural heritage and classy modern design. With three different menus on offer - most of which having a French or seafood twist to them and made only with organic top quality local products – you can drop in for lunch after a morning stroll on the corniche, step out in the evening to sample the smart dinner menu or head over for a lazy Sunday Brunch. All menus are filled with intriguing options but we personally love the cabbage tempura, baby squid stuffed with feta, grilled octopus and calamari dish. With breathtaking views of the Mediterranean, a sea view table is a must.
Walking into this authentic Lebanese arcade house in Mar Mikhael, discover a beautifully designed modern setup with a 50's ambiance. Not only is this wildly popular Italian restaurant a social place, the menu is also as inspiring with its classical Italian dishes combined with classic French recipes and Pugliese Pizze. Signature dishes include picatta and cappellini asperge, washed down with great wine.
Haute Cuisine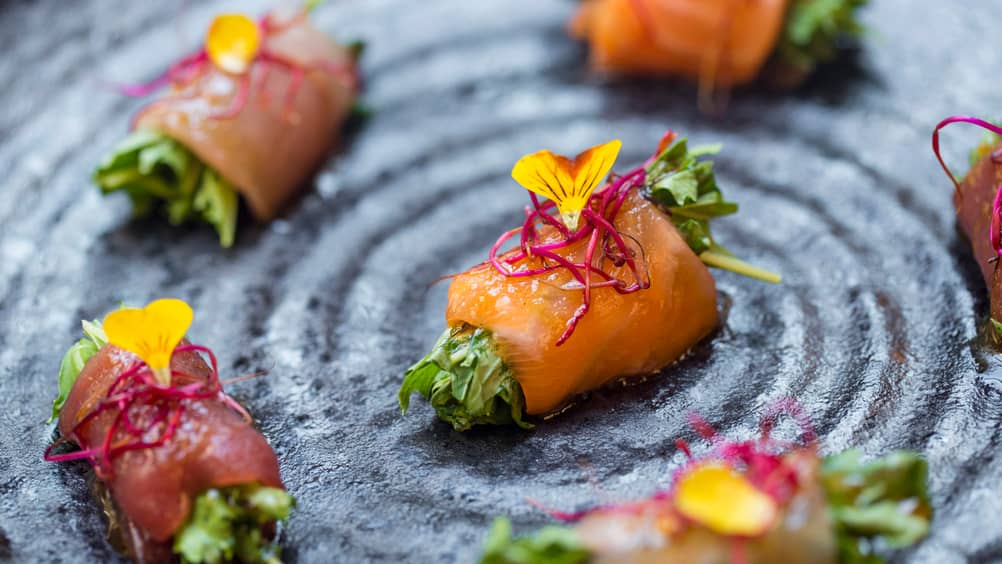 If you are seeking refined dining in the capital, Beirut restaurants create culinary feasts in elegant surroundings. From top chefs to award-winning cuisine, embark on a luxurious dining experience to be remembered.

Occupying the second floor of a 19th-century palace in the Achrafieh neighborhood, Liza Beirut has been a favorite on the city's restaurant scene, offering upscale Middle Eastern and Lebanese cuisine in a decor that provides the same local zest. Filigreed window partitions and patterned wallpapers form a chic backdrop for the smart contemporary furnishings. Must tries on the menu are the daoud bacha, kharouf 5 spices, fatte and sfiha.
Since first opening its doors in 1998, this upscale restaurant located on Abdel Wahab El Inglizi Steet in Achrafieh, has been offering first-class sushi and gracious hospitality in a Zen-style atmosphere. A unique menu provides guests with a wide choice of the best quality fish, with novel flavors and innovative combinations. Try the marinated salmon, shrimp Giosa or baked blue crab and end your meal on a sweet note with the exquisite ginger cheesecake.

Tucked away in the heart of Ashrafieh, Monot, walking into Em Sherif is like walking into a lavish antique Lebanese mansion but with a homey atmosphere. The restaurant offers distinguished authentic Oriental cuisine cooked daily with the freshest and highest quality products, providing an unsurpassed first class dining experience. The menu includes a rich selection of Mezza, which includes hummus, balila, hindbeh, labneh, fatoush and tabouleh plus a daily Lebanese main dish. You can also enjoy a shisha on the terrace.

Located in the heart of Zeitounay Bay by the sea, Babel Bay makes the perfect place to enjoy the sweet evenings of Beirut while enjoying tasteful Lebanese Cuisine and contemplating the beautiful views of the marina. With an elegant interior replicating the capital's shoreline lying on top of seven sandstones – symbolizing the seven destructions Beirut has faced – Babel Bay remains a place of authenticity with rejuvenated senses. The menu offers an innovative and unique approach to Lebanese Cuisine with maritime-inspired touches. Enjoy scrumptious dishes such as the fattet Shrimp and seafood Baklava. If you are a fan of Arabic desserts, try the "Arisheh" with wild blackberry jam and "Kachta" decorated with crushed green pistachio.

With an interior that is refreshingly simple yet French Riviera chic, discover La Petite Maison in downtown Beirut. The restaurant serves classic Niçoise Mediterranean cuisine with Ligurian influences from Italy, prepared a la minute using fresh and high quality ingredients. Signature dishes include Warm Prawns with Olive Oil, Thinly Sliced Octopus, Daurade au Citron, Grilled Veal Chop and Warm Chocolate Mousse with Malt Ice cream. With only a few tables overlooking the sea, be sure to ask for one if you are celebrating a special occasion.
At Four Seasons
Visitors to the city can also sample the many dining experiences at Four Seasons Hotel Beirut. The Grill offers steak and seafood accompanied by an excellent selection of Lebanese wines, and is also host to a lavish Sunday Lunch including live cooking stations and an artisan chocolate cellar. The Lobby Lounge is open all day, and is the city's best choice for a luxurious Afternoon Tea accompanied by live piano music. The Bar & Lounge offers offers fusion and international cuisine, along with a variety of sushi, a locally preferred choice for after-work cocktails and cigars around an intimate fireplace.
Head outdoors to the Arabesque lounge for sundowners and shisha accompanied by traditional mezzah. As evening falls, take the elevator up 26 floors to the top of Four Seasons and enjoy the city views at The Roof, while dancing the night away.