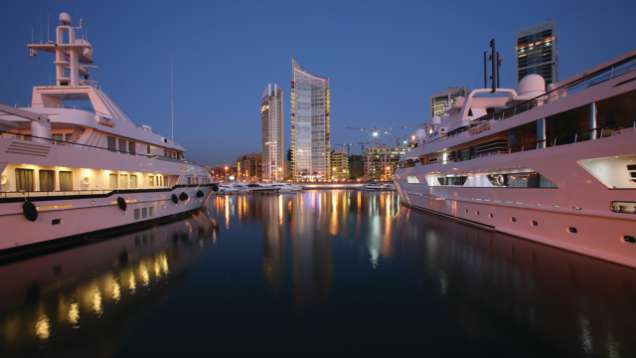 Within easy reach of your Four Seasons guest room or suite are other options for sports or active enjoyment. For further ideas or details, our Concierge is always pleased to advise and assist you.
Water Sports and Activities

Make the most of Beirut's sunshine, with water sports and activities to suit every pace and thirst for adventure. Our Concierge can help you organize fun family adventures through certified facilities that provide access to numerous water-related activities and make sure you have endless ways of fun in the sun. For information on children's activities, please contact our Concierge.

Yacht Rentals & Charters – Yacht rentals and charters for cruises on the Mediterranean include sophisticated catering, entertainment and hospitality services available. On-board parties and receptions can be organized on request.
Boat Rental – Boats can be rented by the hour, day or week. An extensive on-board catering service is also available on request.
Beirut by Day or Night – Discover Beirut by daylight or moonlight during a memorable boat tour.
Personal Watercraft Rentals – Jet skis can be rented by the hour, with or without an instructor. Tournaments can also be organized.
Waterskiing, Banana Boats & Parasailing – Instructions are offered in these fun water activities for guests of all ages, as well as organized events and tournaments.
Sailing – Learn to sail with specialized courses
Scuba Diving – Scuba diving lessons are offered for all levels, as well as instructions in technical diving. Try an easy introduction to scuba with a Discover Scuba diving session – no experience is necessary.
Rafting – Experience the thrill of Whitewater rafting on the Assi or Litani River.
Walking and cycling

The central location of Four Seasons Hotel Beirut puts guests at the heart of the city's entertainment, cuisine and culture. Beirut is a city of many walkable neighborhoods, each with its own distinct personality that invites you to explore. With the Hotel as a starting point, enjoy the city during any season entirely on foot—proving that location is indeed everything.

Pedal your way through a biking adventure in the heart of Beirut along the stunning scenic route overlooking the Mediterranean sea. Beirut By Bike provides bike rentals for adults and children, as well as bikes fitted with rear child seats and runs a range of tours around the city.

Our Concierge can help with self-guided excursions by providing you with a detailed map with directions to some of the city's magical places or can enlist a professional guide for you to enjoy the city in a way most will never see.
Winter sports

Within an hour's drive from Beirut are six major ski resorts that cater to skiers and snowboarders at all levels. From manicured slopes to the thrills of Cross-country skiing and snowmobiling, Four Seasons Hotel Beirut offers an exceptional base for the region's best-rated skiing. For those who want to take their skills to the next level, ski lessons are available for all skill sets.

Our Concierge can arrange safe transportation to the mountains, booking with an instructor to ensure you have a great time on the slopes and a fireside dinner after a long day of skiing.
Golfing

The Golf Club of Lebanon provides the ultimate golf experience in the city – Established in 1923 and recently renovated, this 18-hole, par-71 course has a multiple tee system that is designed to provide a challenge for golfers of all levels. The course showcases beautiful greenery and colorful florals that make even the most competitive golf game delightful.

Please contact our Concierge for a tee time.
Hiking

Hiking can be enjoyed throughout Lebanon. Visit Mount Lebanon, offering hundreds of hiking trails for those wishing to take a leisurely stroll, or tackle climbing some of Lebanon's highest mountains ranging from 670 meters to 2,011 meters above sea levelThe diverse landscape of Lebanon offers terrain suited to all levels of hikers, always including spectacular surroundings!

Guided hikes are available and can be arranged by our Concierge.
Rock Climbing

Looking for the ultimate adventure? Enjoy rock climbing in Lebanon, with quality rock located in beautiful settings. A professional guide will find the perfect spot to complement your skill levels and will lead you up the beautiful mountains for the adventure of your life.

Advanced booking is required, please contact our Concierge for more information.
Caving

Enjoy exciting opportunities for caving in Lebanon with its numerous mountains and rocky terrains, ideal for practicing this popular sport. There are over 400 caves, caverns and sinkholes throughout the country and trips into these caves can range from simple touristic activities into more complicated extreme sports.

To book your caving trip, please contact our Concierge.
Camping

With a mild climate from spring till autumn, Lebanon is ideal for camping. Get lost in the woods, breath in the fresh air, warm up by the campfire and enjoy nature at its best. Several camping sites offer fully equipped tents for rent or alternatively, you can set up your own tent in your preferred camping area.

For more information, please contact our Concierge.