Beijing is the cultural and political heart of China where ancient history fuses with 21st-century modernity. From its famed palaces and temples to the timeless hutong neighbourhoods and contemporary sky towers, plus its thriving art, dining and nightlife scenes, Beijing is one of Asia's most compelling capital cities. To help you make the most of your stay, we asked Peter Tang, Chief Concierge at Four Seasons Hotel Beijing, to share the best of this vibrant destination – from sightseeing and shopping to the top spot to try Peking duck.
Grand theatre
Live opera and concerts are a Beijing specialty. The National Centre for the Performing Arts is an eye-catching, egg-shaped concert hall of glass and titanium, designed by French architect Paul Andreu. Seating more than 5,000 people, it offers a year-round programme of Chinese and international classical music, dance and theatre. First built in 1807, Huguang Guild Hall is a more historic cultural venue. The beautifully designed wooden stage hosts traditional Beijing opera performances.
The Great Wall
This extraordinary ancient structure continues to amaze travellers from around the world. Stretching across the mountainous landscapes of northern China, it is easily accessible by day trip from Beijing. The milder slopes and fortifications at Badaling and Mutianyu are accessible by foot or cable car, while the unrestored sections of the Wall at Huanghuapo are preferred by experienced climbers and adventure enthusiasts. Whichever section you choose to visit, the views of the Great Wall winding up hillsides and across dipping valleys are awe-inspiring.
Local flavour
Today, roasted Peking duck is a dish famed worldwide, but it was originally reserved for Chinese emperors and the court elite. Duck restaurants started appearing in Beijing after the fall of the Qing dynasty in 1911. One hundred years later, the tastiest duck is served at Li Qun, located in a traditional Chinese courtyard near Tiananmen Square. The ducks are prepared with a secret blend of spices before being roasted in wood-fired ovens. For a modern twist on this timeless classic, head to Duck de Chine, where the specialties are roasted duck dishes fused with French culinary preparations.
Forbidden City
Photography courtesy Four Seasons Hotels and Resorts
Comprising around 800 buildings, the former home of China's imperial rulers resembles a mini-city. Located at the heart of the ancient capital, and originally surrounded by sturdy walls with watchtowers, the Forbidden City earned its name by being off-limits to anyone outside the official court. The best preserved of China's historic sites, it is also one of Beijing's most visited attractions, so it's best to arrive early to beat the crowds. It would take days to cover the whole complex, but a tour around the major halls, pavilions and gardens can be completed in a few hours. Afterwards, climb Jingshan Hill for photogenic views over the Forbidden City.
Chic shopping
Beijing's malls, such as Sanlitun Village, The Place and China World Trade Center are impressively modern purchasing palaces housing the world's top designer stores and boutique brands. For traditional Chinese foods, tea, silk clothing and home wares, take a stroll down Qianmen Street. Once the commercial centre of Beijing, this redeveloped street south of Tiananmen Square is home to some of China's longest established brands. Afterwards, wander along the less crowded Dashilan Street and the atmospheric Liulichang hutong, which is flanked by small stores selling works of calligraphy, paintings, fine porcelain and Chinese musical instruments.
Timeless tour
Seek out the Beijing of the past in one of the ancient hutong districts, where the low-rise courtyard homes date back to the 13th century. Built to strict feng shui requirements, these narrow lanes are shaded by large trees and offer unique insights into the capital's backstreet culture. Entering a hutong is like travelling back in time to when Beijing was a walled medieval city, although these quiet neighbourhoods are still home to tens of thousands of Beijingers. Rent a bicycle, hire a rickshaw or just wander on foot. Be sure to stop for delicious snacks, such as fried dumplings or chuan'r kebabs, and look out for street-side games of mah-jong and Chinese chess en route.
Family fun in the park
Chaoyang Park features five distinctively landscaped sections, which are perfect spots for spending a family afternoon outdoors. Each area has an alluring name: the Plaza of Celebrating Fireworks, the World of Brave Heart, the Square of Century Fountain, Dense Forest Extending into the Distance and the Wind From the European Continent. Pack a picnic or hop onto a paddleboat for a kid-friendly hour or two. To extend the fun a little further, head to Beijing Happy Valley, an amusement park where six themed zones offer energetic and educational fun.
Temple retreat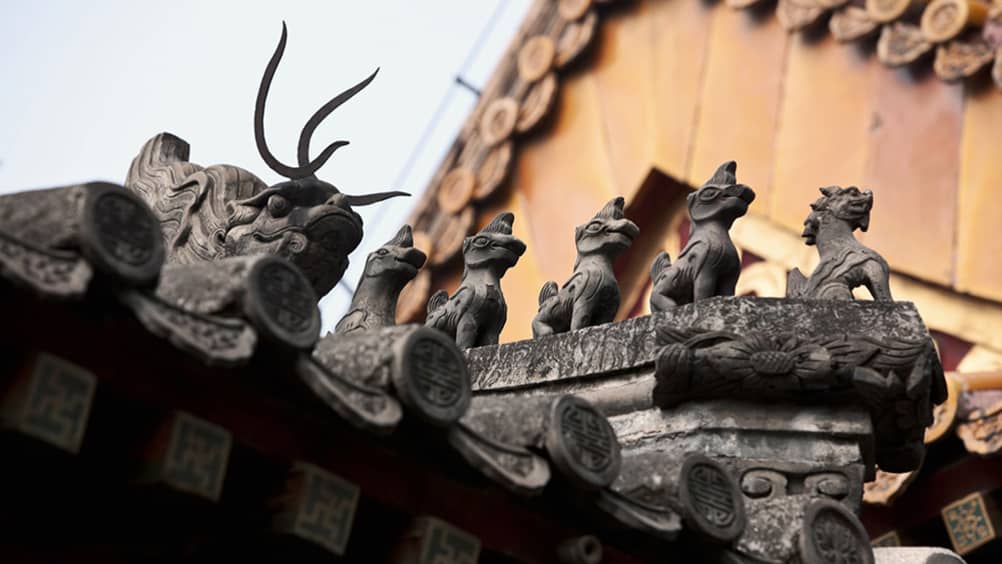 Photography Pinggr / Thinkstock
An oasis of calm, the Lama Temple is Beijing's most atmospheric Buddhist temple. Once the home of Emperor Yongzheng, this magnificent complex of wing-tipped, slate-roofed temples has been the home of Mongolian and Tibetan monks since 1744. Beijingers come here to pray for business or educational success, before weddings and births—or simply to enjoy some quiet contemplation. After visiting the temple, take a stroll along nearby Wudaoying, Beijing's hippest hutong street, lined with cafés, bars and restaurants.
Four Seasons Hotel Beijing