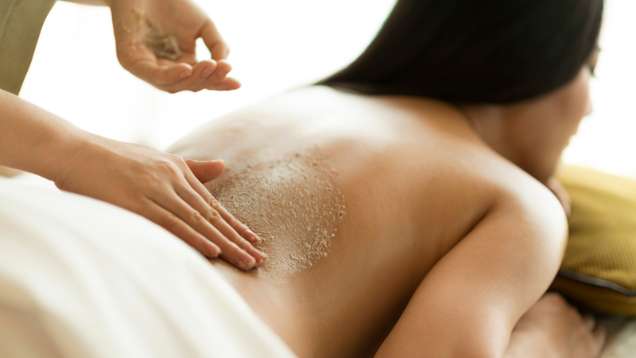 BODY BRIGHTENING GLOW EXPERIENCE
Illuminate your body from head to toe with this results-driven treatment. This multi-active experience incorporates exfoliating bamboo, fruit enzymes and multi-fruit acids along with stimulating body buffing techniques to refine texture and brighten the skin. Organic Ginger Oil blended with Multi-Vitamin Firming Crème containing Shea Butter and nutrient-rich algae is massaged onto the body using long relaxing strokes with focus on the neck, back and shoulders. A Knesko Diamond Radiance Collagen Face Masque application completes thsi decadent experience.
Harbor Scrub
Perfect for those seeking the ultimate in rejuvenation, this deeply soothing three-part treatment begins with a hydrating scrub, then continues with a full body massage that melts away stress and eases muscle tension. A soothing scalp massage concludes the treatment, leaving the entire body invigorated, relaxed and revitalized.
Weekday (Monday – Thursday): 110 minutes – USD 290
Weekend (Friday – Sunday): 110 minutes – USD 300
Ginger Renewal
Let Ginger's healing and warming properties invigorate and nourish in this renewing head-to-toe treatment. Earthly minerals are combined with Ginger's healing properties in an invigorating full body exfoliation. Following is a pampering back, neck and shoulder massage with Ginger Oil and warm healing stones. Next, nourish and relax inside a warm cocoon while a forehead, ear and pressure point scalp massage complete this vitalizing experience.
Weekday (Monday – Thursday): 80 minutes – USD 224
Weekend (Friday – Sunday): 80 minutes – USD 234
Lavender Dream Experience
Relax. Dreams of lavender field kissed by the French sun envelop your senses as you drift on waves of blue. Includes a two-step invigorating full body scrub, a warm wrap with pressure point scalp massage and a full body massage with warm, healing stones.
Weekday (Monday – Thursday): 80 minutes – USD 224
Weekend (Friday – Sunday): 80 minutes – USD 234
Body Firming Detox with Algae Wrap
Refine and firm body contours and promote detoxification as you reenergize. An exclusive dry brush technique helps to exfoliate the skin, stimulate lymphatic drainage and circulation and promote the absorption of clinically-tested slimming actives. Nutrient-rich algae is applied to the body followed by a deeply relaxing head massage. An exclusive slimming massage and serum help to stimulate circulation and activate lipolysis with ginger and caffeine. Finish this firming experience as multi- vitamin firming crème hydrates and brightens the body.
Weekday (Monday – Thursday): 80 minutes – USD 224
Weekend (Friday – Sunday): 80 minutes – USD 234
Chamomile Body Scrub
A creamy, aromatic scrub with Chamomile and gentle buffing grains sweeps away dull surface cells as an invigorating massage stimulates circulation, leaving the body feeling smooth, refreshed and hydrated.
Weekday (Monday – Thursday): 50 minutes – USD 165
Weekend (Friday – Sunday): 50 minutes – USD 175
Himalayan Salt Detox Wrap
The Himalayan Salt is an innovative healing and restorative body wrap that provides an exfoliation that helps to balance body, mind and spirits. Your experience begins with a Himalayan Salt Scrub followed by being wrapped with the salt and Himalayan stones in addition to detoxifying essential oils. The treatment concludes with a quick rinse in the shower to leave your body feeling smooth, relaxed and hydrated.
Bath Soaks
Himalayan Salt Soak

Himalayan Salts are harvested to provide a deep detoxifying and relaxing experience that helps to balance the mind, body and spirit.
Thermal Mineral Soak
A rejuvenating bath soak that will invigorate the body's senses and nourish the skin leaving the body hydrated and regenerated.
Mineral Wellness Soak
One of Earth's most pristine natural treasures, these hand -harvested mineral crystals elevate the bathing experience into a muscle relieving wellness bath soak
Neroli Blossom Sensory Experience
Awaken the senses with the signature aroma of Neroli in this deeply relaxing experience featuring energy balancing, Eucalyptus infused foot cleansing ritual with reflexology to clear the mind, and a lymphatic dry brush technique followed by a Neroli Blossom therapeutic meditative massage.
Organic Aromatherapy Kur
This unique aromatherapy treatment begins with an invigorating Turkish salt and essential oil exfoliation to smooth the skin. Afterward, be immersed in a transformative Mineral Wellness Bath to nourish, soothe and relax the body and mind. A warm, luxurious aromatherapy massage follows the bath, using your choice of essential oils.
Please note: Prices and treatments are subject to change without notice. There is an additional fee of USD 150 per hour for treatments in the Spa Suite. A 100% charge will be incurred for any treatment not cancelled at least 24 hours prior to your scheduled time.