Meet the Master Butcher
Marc Pauvert On the Art of Butchery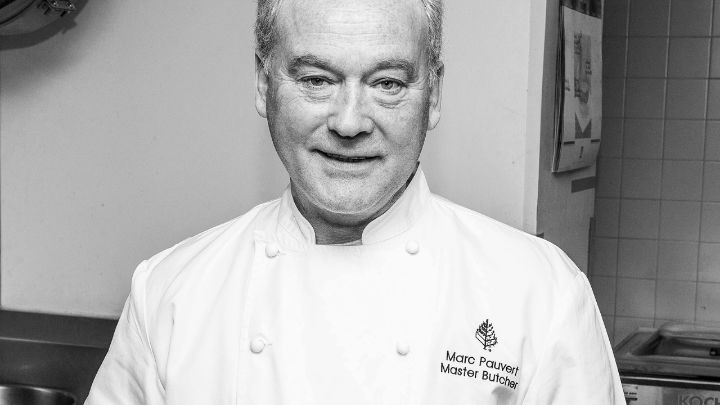 Ever since his days as a child cooking with his mother in the Loire Valley of France, Master Butcher Marc Pauvert has known that a life in the kitchen would be his calling. In his early teenage years, he left his hometown for Chamonix, in the French Alps, to pursue a Master Butcher certification – this allowed him to take his talents everywhere from the elegant dining rooms of Paris, to the butcher shops and restaurants of the Middle East. An immigrant to the United States in 1986, he began his quest to revive the lost art of butchery as part of the American culinary scene, and now practises his craft at Four Seasons Hotel Baltimore.
What are some of your earliest memories in the kitchen with your family and with working with meat in France?
My mother was a wonderful, wonderful chef. I remember when I was young, she had a live rooster and was going downstairs to cut its head off. After she cut off its head, the rooster flew away with no head! It's a very good memory. She was very upset because in France we keep the blood for coq au vin; in this country you cannot do that. She said, "Oh! The rooster will not have any more blood!" I also remember the way she prepared the rooster with love and attention and detail. Watching her cook is why I grew up to be a chef.
After receiving your Master Butcher certification in the French Alps region, where else did you work?
After my certification I went to Paris. I think Paris is one of the most important cities in the world to be a good butcher, very artistic. A butcher who was working with me was from Marrakech, and he told me that his brother had a butcher shop in Marrakech, so we went for six months and it was so much fun. I learned how to make merguez (a spicy sausage) with sage, and couscous and other Moroccan recipes.
What made you decide to come to the United States?
At one point in my life I was the director of large butcher shops in France and Saudi Arabia and I did a lot of travelling. I decided to travel the world, and stopped in Philadelphia, where I met a beautiful blonde who has been my wife now for 28 years. We opened "The French Bistro" in Philadelphia and it stuck. I love this country!
How long were you there before coming to Baltimore?
I came [to Philadelphia] in 1986 and we left in 2000. During our time in Philadelphia, in addition to our bistro, I made and sold a line of sausages and pâté to Jean-Marie Lacroix of the five-star Fountain Restaurant at the Four Seasons Hotel Philadelphia, Georges Perrier of Le Bec-Fin and Anthony Bourdain in New York. In 2000 the business was making a lot of money, so my wife and I bought a ranch in Steamboat, Colorado, and opened a bistro there, but we didn't make it. My wife's family is from Maryland so we came back here, and I found the job at Four Seasons and I love it!
Tell us about your work with Spring House Farm.
When I grew up in the 1960s after the war in France, we saved money by buying directly from the farmer. I remember the pigs we bought in France, and I could never find a pig like that here. I met Andrew Crush in Virginia and he grows his pigs like they do in France; they eat only acorns and grass, and they have so much fat – and the fat quality is amazing. I have a very good connection with Andrew. I love the way he grows his animals – he goes to the fields and massages the pigs and his lambs, he's taking good care of his animals.
Why do you think butchery is so intriguing?
I think butchering is a lost art. People don't understand what the butcher does. On television you always see chefs and pastry chefs doing demonstrations and competitions, but nothing with butchers, and it's an art! I think we are between the farmer and the chef and nobody knows what we are doing.
Do you have a tip for people wanting to start a conversation with their local butcher?
I always tell people to ask their butcher for exactly what they want and your butcher will do it. There are also things to pay attention to with your meat. For example, in the leg of lamb there is a gland near the shank, and if you don't remove it before cooking the lamb, it will give a sour taste to the meat. I tell people, "When you go to the butcher, tell them to take the gland out," and they are very happy with that tip.
What's your favourite meat to cut?
Lamb. I love to work with lamb. A young lamb can be very good and taste so sweet.