Make Time to Connect – 20% Off
Enjoy 20% off our Room Rate with the ability to move your stay date, at no charge, should...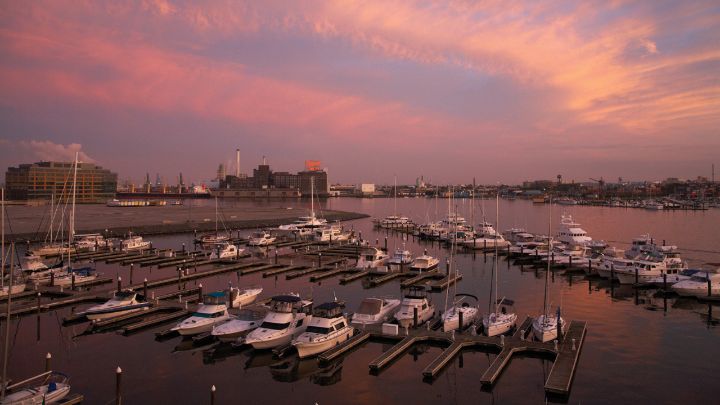 Located less than 60 minutes from Washington, D.C. and Maryland's capital city, Annapolis, Baltimore is a major port on the eastern seaboard and a top regional destination for business and leisure. Baltimore is also home to one of America's leading medical institutions, Johns Hopkins.
Our Baltimore hotel is situated in Harbor East, just a short walk or water taxi ride from the city's top attractions including historic sites, shops, restaurants, cinemas and eclectic neighborhoods such as historic Fell's Point and lively Little Italy.


A city for foodies, history buffs, sports enthusiasts, art lovers and adventurers, there is so much to do in Baltimore for guests young and old. Cheer on the city's champion sports teams, spend a weekend of leisure at The Spa, or indulge in famous Maryland crab cakes – and that's just the start. Our Concierge team will be delighted to help you plan the perfect visit to this "Charm City."
Quick Reference
Time zone
GMT -5 hours
Eastern Standard Time
Language(s) spoken
English
Electrical system
Local voltage is 110 to 120 volts AC. Adapters available; please request through the Concierge.
Shopping hours
Monday to Saturday 9:00 am to 9:00 pm
Sunday 12:00 noon to 6:00 pm
Working hours
Monday to Friday 8:00 am to 5:00 pm
Seasonal highlights
MAY
Preakness Horse Race, Second Jewel of the Triple Crown of Racing
Flowermart
Baltimore Food and Wine Festival
JUNE
Pirate Festival
Federal Hill Jazz and Blues Festival
St. Nicholas Greek Festival
Brew and Bourbon Classic

JULY
Fourth of July celebration and fireworks
Baltimore African American Festival
Artscape
Baltimore Pride
Jamaica Day Festival

AUGUST
Jazz Festival
Baltimore Color Run
Moonrise Festival
Vegan Soulfest
The Gathering Baltimore
SEPTEMBER
Baltimore Comic-con
Humane Society Dogfest
Baltimore Seafood Festival
Baltimore Book Festival
Mermaid Kiss Oysterfest
Fells Point Fun Festival
OCTOBER
Columbus Day Parade
Women of the World Festival
Ryleigh's Oysterfest
Baltimore Running Fest
Das Best Oktoberfest
Pig & Swig All Star Bacon, Bourbon & Craft Festival
NOVEMBER
Baltimore Whiskey Festival
Christmas Village opens
Holiday Festival of Trains
Hampden's Miracle on 34th
DECEMBER
Christmas Village
Holiday Festival of Trains
Hampden's Miracle on 34th
Lighted Yacht Parade
Brewmore
Ugly Sweater Run
New Year's Eve celebration and fireworks
JANUARY
FEBRUARY
Timonium Motorcycle Show
American Craft Show


MARCH
APRIL