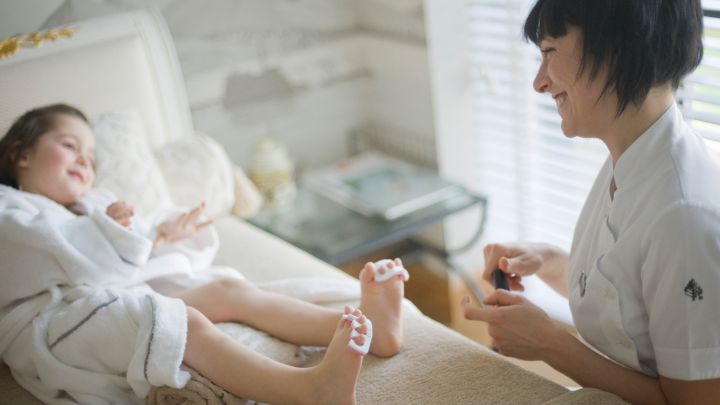 Creating beautiful, memorable moments with your children is one of life's greatest pleasures. This summer, consider experiencing a pampering spa bonding session with your pride and joy. Bond, unwind, relax and connect as your child (from 6–15 years of age) is introduced to the gift of touch, wellness and healing at The Spa.
Relaxed Us
Enjoy a soothing side-by-side massage with your child. Relaxed Us has been created to aid muscle tension, release stress and
promote positive wellbeing. Specific massage techniques are applied and a special blended selection of aromatic oils enhance relaxation so you will both leave The Spa feeling pampered and wonderful.
45 Minutes - 80 BHD
45 Minutes
BHD 80
Call (973) 1711 5000
Beautiful Us
Introduce your child to the importance of skin care. This 45-minute express facial has been designed to cleanse, gently exfoliate and hydrate your skin. The product range used is from Australia and the UK and is 100% chemical free – perfect for our younger guests. Tailored to suit younger skin, this relaxing facial will restore radiance and leave you both glowing at the end of the treatment.
45 Minutes - 85 BHD
45 Minutes
BHD 85
Call (973) 1711 5000
Glowing Us
You and your child will feel extra special after this indulgent full body treatment. Glow this summer as you both enjoy gentle body exfoliation to remove dead skin cells, resulting in the restoration of the skin's luster and improved moisture levels. Choose from a selection of natural skin scrubs followed by the application of an aromatic body lotion that will nourish and add radiance.
45 Minutes - 85 BHD
45 Minutes
BHD 85
Call (973) 1711 5000
To book, please contact the Spa Team at 973 17 115000.