Function Rooms
Boardroom 50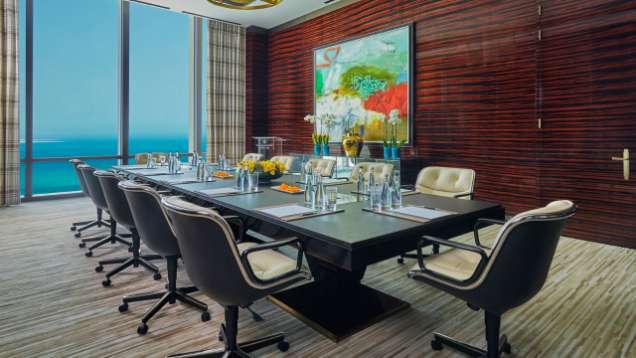 Boardroom 50 offers stunning views of the Arabian Gulf and comes equipped with with latest technology, especially in video conferencing. An elegant leather table in the middle of the room has built-in speakers and media hubs.

Intimate and Functional
Conference/boardroom seating for 13 guests
Beautiful Views
This space overlooks the Arabian Gulf.

High-Tech
The room is equipped with state-of-the-art audiovisual equipment.
Seating
Conference/Boardroom

13

Room Features
State-of-the-art audiovisual equipment
Pre-function space available
Built-in screen and projector
Wireless internet

Location
SKY BRIDGE (50TH FLOOR)
Size
Area
Dimensions
Height

57 m2 (614 sq.ft.)
6.5 x 8.8 m (21.3 x 28.9 ft.)
4.2 m (13.8 ft.)