Dining
RAMADAN EXPERIENCES AT FOUR SEASONS HOTEL BAHRAIN BAY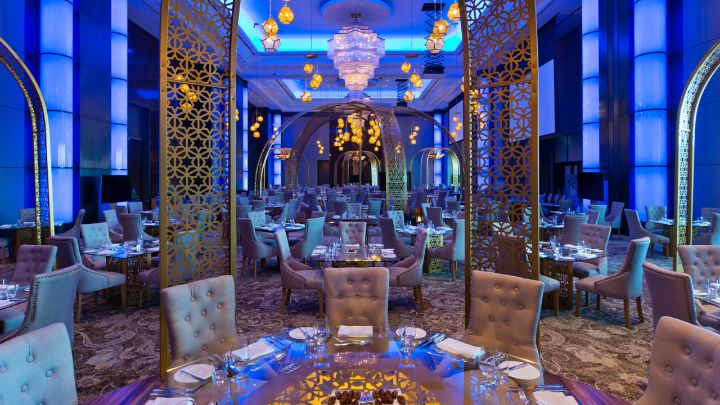 The holy month of Ramadan always brings to mind past beautiful moments shared with loved ones. We have orchestrated many endearing Ramadan occasions for you to enjoy with the special people in your life. We also extend our offerings to business guests and private individuals seeking the perfect venue to host Ramadan events and gatherings.
We wish you a divine month, filled with blessings, happiness and many new life experiences.
Explore the gracious atmosphere and offerings at our Arabesque-inspired Ramadan Tent at Al Bahrain Ballroom. Gather with family and friends for memorable Iftar and Ghabga outings.

Select from generous buffets and live cooking stations. Executive Chef Hyung Gyu Kim and Pastry Chef Imad Boukli have invested their combined years of gastronomic knowledge to ensure your Ramadan meals are nothing short of spectacular.

Break your fast with traditional Bateel Khidri dates and our array of Ramadan juices and inviting soup selections. Select from hot and cold mezze offerings, an extensive sushi station and an enticing salad bar. Satisfy your appetite with both international and traditional dishes such as BBQ chicken from the rotisserie or shish tawouk and kofta kebab from the grill. Discover the Moroccan tagine island or mouthwatering dishes from the homemade pasta station. Our kooshari section is complete with your favorite condiments. Savor freshly baked breads such as the manakish zatar or saj Nutella. Seek crispy chicken with lemon sauce or chicken Tom Kai Gai from the Asian section or musakhan roll and bamiah bel lahem or the traditional Bahraini gouzi.

Guests with a sweet tooth will find a wonderful display of scrumptious treats. Enjoy a chocolate fountain, homemade ice cream bar, waffle station, chocolate shawarma, Asian desserts, flans and tarts – all rounded off with soothing Arabic coffee.

*Iftar: Sunset – 8:00 pm

BHD 26 inclusive of soft beverages and Arabic coffee

BHD 13 for children 5 to 12 years old

Complimentary for children under 5

*Ghabga: 9:00 pm – 2:00 am

BHD 28 inclusive of buffet beverages

BHD 14 for children 5 to 12 years old

Complimentary for children under 5

*Price is subject to 10% service charge and 10% government levy.

For reservations, call 00973 17115500.
Ramadan with Kids for All Seasons
Daily: Sunset – 10:00 pm

Kids Club, within Al Bahrain Ballroom, keeps our younger guests as happy as their parents. Featuring many exciting activities such as 3D arts and crafts, henna, face painting, memory and video games, and fashion and puppet shows, your children will feel on top of the world.

15th Day of Ramadan: Sunset – 8:30 pm

On the 15th day, we have Gergaoun celebrations for the children. The Kids For All Seasons club has arranged many fun activities, including a candy hunt, storytelling and traditional song singing.
A Ramadan Affair – Private and Corporate Events
Our grand ballrooms are perfect for hosting your private or corporate Ramadan events. Our team of catering specialists will help you create your ideal Iftar or Ghabga gathering.

We can cater to up to 450 guests in Al Bahrain Ballroom or, for smaller, intimate functions, our unique, adaptable ballrooms are sure to impress your guests. Your Ramadan buffet will be the talk of the town – curated by our award-winning culinary team.

Groups of 30 guests or more receive a BHD 2 discount per person

Prices are subject to 10% service charge and 10% government levy.

For reservations, call 00973 17115500.
Our internationally acclaimed in-room dining service will also be offering both Iftar and Suhoor meals for those who prefer quieter evenings in the privacy of their rooms or suites.
After the sun has set and you have concluded your fast, replenish and re-energize by enjoying your first cup of freshly brewed coffee or linger over a fragrant cup of aromatic tea. Bay View Lounge is open nightly, after sunset, during the month of Ramadan.
re/Asian Cuisine by Wolfgang Puck
During Ramadan, non-fasting guests can savor a thoughtfully prepared à la carte breakfast menu, which will be served until 11:00 am. Choose dishes from an indulgent egg-inspired menu such as a French-style omelette with Gruyère, wild mushrooms and rocket. Or, for a sweeter breakfast, the "Flour, Butter, Sugar" menu contains tempting items such as Japanese-style soufflé pancakes with wild blueberries, salted butter and maple syrup.

For lunch (1:00 pm – 3:30 pm), re/Asian Cuisine presents an à la carte Asian fusion menu. Indulge yourself in a variety of dim sums, homemade noodles and seafood. Choose from Executive Chef Brian Becher's signature tom yum soup with fresh sweet prawn, Bincho grilled Atlantic salmon, wagyu beef pot stickers, fried chicken and waffles, Korean fried bao buns and beef stir-fry.

To tempt your sweet tooth, Executive Pastry Chef Pierre Chambon has prepared a lineup of exquisite desserts such as the chocolate red miso caramel bar, the chocolate coconut and a selection of homemade sorbet and ice cream.

For reservations, call 00973 17115046.

TAKE A BREAK DURING RAMADAN

For the Holy Month of Ramadan, Bahrain Bay Kitchen, CUT by Wolfgang Puck, and Vento and its adjacent Shisha Lounge will be closed. All will reopen on the first day of Eid AlFitr.
EID Brunch at Bahrain Bay Kitchen
Celebrate Eid AlFitr with your friends and family in the ambiance of Bahrain Bay Kitchen. Browse and savor the plentiful buffet offerings and live cooking stations – where dishes can be prepared to your preference. So that adults can relax while our younger guests play, our Kids For All Seasons club will be open from 12:00 noon until 4:00 pm.

1:00 pm – 4:00 pm

*BHD 28 inclusive of soft beverages

*BHD 38 extended beverage package

*BHD 14 for children 5 to 12 years old

Complimentary for children under 5

*Prices are subject to 10% service charge and 10% government levy.

To reserve your memorable Ramadan or Eid AlFitr experience, call (973) 1711 5500.