While nearby Dubai and Abu Dhabi hog the spotlight, the Kingdom of Bahrain has remained under the radar for most travellers. But this small Gulf state packs big attractions. From a UNESCO World Heritage archaeological site to hypermodern skyscrapers and intimate alleyways, Bahrain has it all.
With the opening of Four Seasons Hotel Bahrain Bay, the island nation is ready to receive the attention it deserves. From dawn to dusk, here's how to spend a perfect day in this laid-back destination.
Splash in Bahrain Bay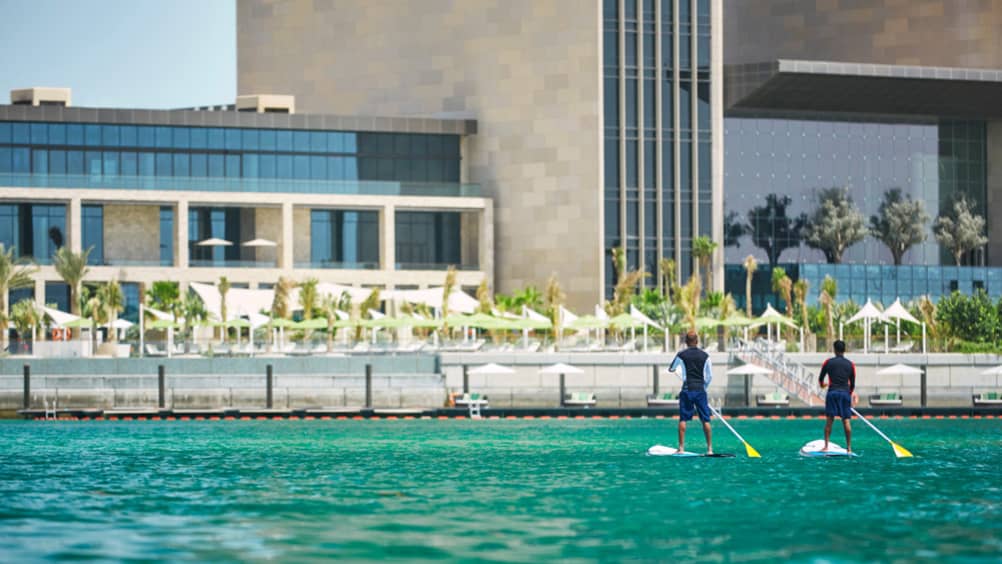 Photography Four Seasons Hotels and Resorts
Using the Hotel's on-site paddleboards, venture out onto the clear waters that surround the property's private island. You'll be gliding by modern skyscrapers like the Bahrain World Trade Center, iconic in its sail-like shape and three sky bridges that generate electricity with their wind turbines, 30 metres (95 feet) in diameter. Kids can also enjoy time on the water thanks to the children's area – the largest of its kind among all Four Seasons properties – which includes a kid's pool and the always buzzing Kids for All Seasons Club.
Delve into Bahraini history
Head to the expansive Bahrain National Museum, which displays priceless artefacts from Bahrain's 6,000-year history. The museum includes authentic ancient burial mounds as well as amphorae, copper pots and other objects from Dilmun, the ancient civilisation that blossomed over two millennia B.C. Among the precious pieces on display is a tableau depicting a scene from the Epic of Gilgamesh, the Mesopotamian epic poem regarded as one of the earliest known works of literature.
The museum also includes representations of more recent Bahraini culture, like a faithful reproduction of a bazaar and tools used by free divers who, even to this day, descend deep into the sea without oxygen tanks or masks in search of pearls.
Find beauty in local architecture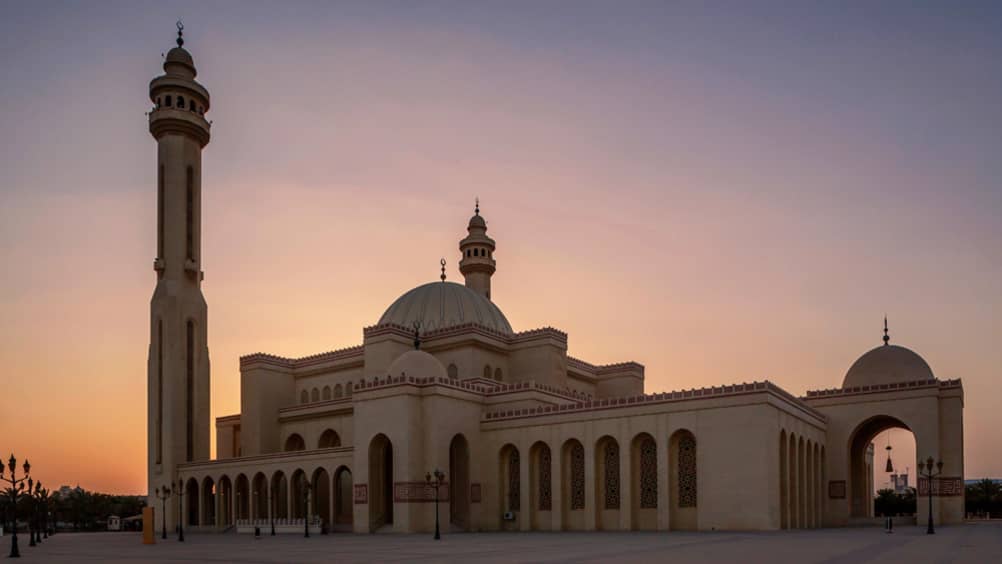 Photography Blend Images / Alamy Stock Photo
Arrange a car through the Concierge, rather than trying to hail cabs throughout the day. Start your adventure at the Ahmed Al-Fateh Grand Mosque, one of the largest mosques in the world, with a capacity of more than 7,000 people. The mosque staff will gladly show you around the 6,500-square-metre (roughly 7,000-square-foot) structure and point out impressive features like its fibreglass dome, an Austrian crystal chandelier surrounded by hand-blown French round lamps, and ornate Indian teak doors.
Linger in the tranquil corridors and marble courtyard adorned with geometric shapes. Visitors are welcome 9:00 am to 4:00 pm, outside of prayer times, Fridays and public holidays.
Taste Bahrain's cuisine
Drive over to Muharraq – the quaint former capital adjacent to Manama, the current capital – where you will find Souk al-Qaysariya, the island's traditional market. Steps away from the seashore where pearls were harvested, this former pearl market is now home to humble shops and the traditional eatery Saffron by Jena Bakery, where you can sample machboos, the national dish of tender chicken served over biriyani spiced with cumin, cloves, cardamom and nutmeg.
Afterwards, stop at the sweet shop outside the market called Hussain Mohammed Showaiter Sweets on Hussain Shaikh Hamad Avenue. It's run by the Showaiter family, synonymous with Bahraini-style sweets for over 150 years. Taste handmade Bahraini halva, as well as jelly-style sweets flavoured with rosewater, sesame, pistachios and many other ingredients. You may end up picking up a box or two to enjoy later. Outside the store, you will see Lamborghinis and BMWs with Saudi Arabian and Dubai plates – and customers balancing boxes and boxes of treats to bring home.
Dine with a view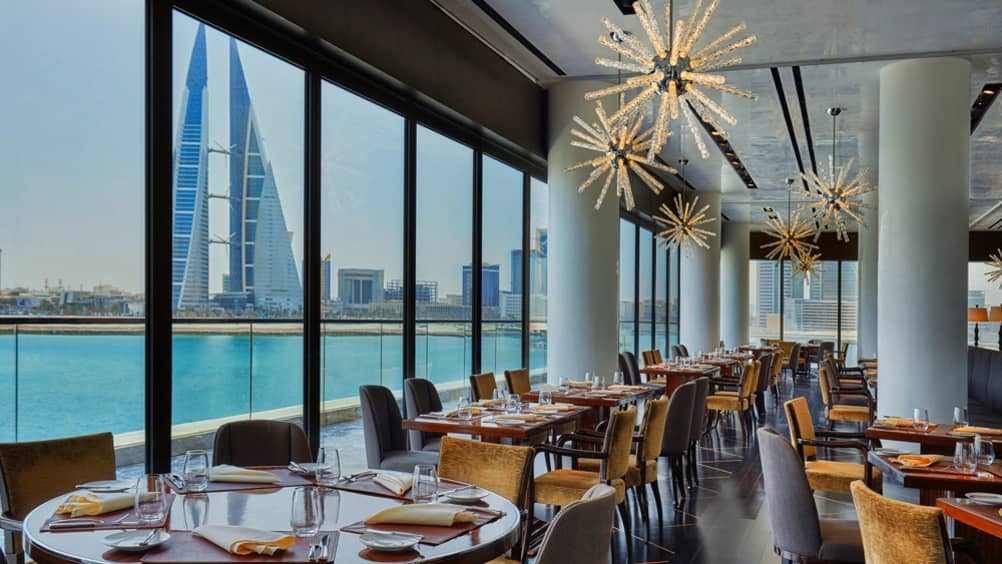 Photography Four Seasons Hotels and Resorts
CUT by Wolfgang Puck is the accomplished chef's stunning restaurant at Four Seasons Hotel Bahrain Bay. The celeb chef's first foray into the Kingdom serves prime dry- and wet-aged beef and fresh shellfish to diners taking in the sparkling skylines of Manama.
For dinner, kick back and enjoy heirloom tomato gazpacho and Wagyu sirloin. When you're in the mood for a nightcap and dessert, ascend to the 50th floor of the Hotel and settle at the sleek onyx bar for a cocktail and youtiao – Chinese doughnuts – served with vanilla sugar and chocolate sauce.
Follow the Pearling Trail
Amble uphill on Road 916 from Hussain Mohammed Showaiter Sweets to Shaikh Isa bin Ali House, a superb example of Islamic architecture with painstakingly carved doors and sun-drenched courtyards. From here you can lose yourself on the UNESCO-inscribed Pearling Trail, a route used by pearl divers from the former capital of Muharraq, which boasts some of the most beautifully preserved traditional architecture in Bahrain.
Explore the maze of whitewashed alleyways lined with impeccably restored buildings housing libraries, cafés and venues such as the Kurar House, where garments embroidered with golden thread are on display and artisans demonstrate traditional needlework.
Journey to the ancient harbour
The ancient harbour of Qal'at al-Bahrain is a geological parfait of the region's history; its hill shows a cross section of yet-to-be-extracted artefacts from millennia of Bahrain's past. Flanked by palm groves and the sea, this capital of ancient Dilmun has remnants of pre-Islamic temples, homes and military structures as well as more recent relics like a 16th-century Portuguese fort.
Walk through the arabesque arches to discover its many features, such as an ingenious storage method that once processed dates into syrup. Encompassing so many different civilisations, this 16-hectare (40-acre) UNESCO World Heritage site might be the closest you can get to time travel. The Concierge can arrange for drivers and a private guide from the Ministry of Tourism.
Four Seasons Hotel Bahrain Bay