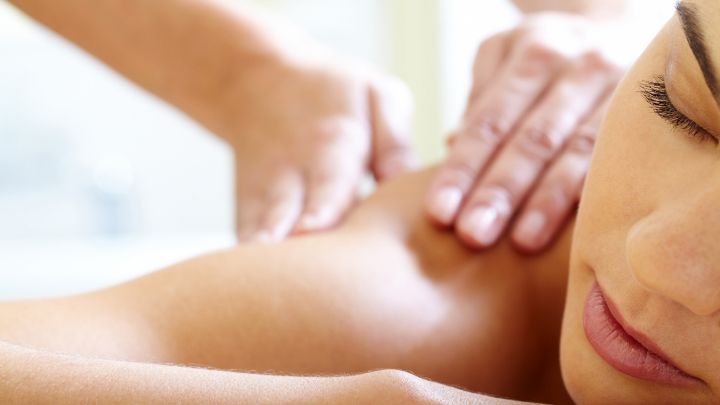 HERBAL APOTHECARY ALLERGY RELIEF MASSAGE
"Just breathe" is easier said than done when it comes to seasonal allergies, but this specially focused massage will help you do just that using the ancient science of aromatherapy. Herbal and floral essences, many indigenous to Texas, combine with a targeted upper body massage to alleviate built-up tension in your head, neck and shoulders, while hot towel compresses gently open your airways, allowing you to breathe easy again.
80 Minutes - 215 USD
80 Minutes
USD 215
Call 1 (512) 685-8160
MAGNESIUM MASSAGE
Perfect after a hard workout or when your body is especially stressed, this deep therapeutic massage features Kerstin Florian sage oil, a high quality blend of pain-relieving arnica and relaxing lavender to soothe sore muscles. Areas of extreme tension will be targeted with deep tissue and neuro-muscular techniques to free and loosen your entire body.
50 Minutes - 165 USD
80 Minutes - 215 USD
50 - 80 Minutes
USD 165 - 215
Call 1 (512) 685-8160
COLORADO RIVER STONE MASSAGE
Feel the gentle hum of the earth's energy flow throughout your body as smooth, warm stones from the Colorado River – which runs directly behind the hotel – are applied with light pressure and expert care, melting away stress and leaving your entire body feeling grounded and deeply relaxed.
80 Minutes - 210 USD
80 Minutes
USD 210
Call 1 (512) 685-8160
AROMATHERAPY MASSAGE
Let your sense of smell determine the elements your skin is lacking during this unique sensory journey. After selecting one of Kerstin Florian's essential blends, you'll be guided through a calming aromatic ritual that incorporates warm towels infused with neroli, lavender or ginger, followed by a massage tailored to the specific needs of your body.
50 Minutes - 155 USD
80 Minutes - 205 USD
50 - 80 Minutes
USD 155 - 205
Call 1 (512) 685-8160
NOURISHING MASSAGE
This classic Swedish massage uses long, therapeutic strokes and nourishing massage oil to increase circulation and promote deep relaxation.
50 Minutes - 150 USD
80 Minutes - 200 USD
50 - 80 Minutes
USD 150 - 200
Call 1 (512) 685-8160
MOMMY-TO-BE MASSAGE
Providing much-needed comfort and pampering during the second and third trimesters of your pregnancy, this nurturing Swedish-style massage is performed sideline with pillows surrounding you for support.
50 Minutes - 150 USD
80 Minutes - 200 USD
50 - 80 Minutes
USD 150 - 200
Call 1 (512) 685-8160
TWO-STEP FOOT RITUAL
This 30-minute treatment targets the most overworked part of your body. Kick up your heels and enjoy a leg-and-foot exfoliation with Kerstin Florian's mineral-rich Turkish salt scrub, followed by a peppermint-infused balm to reduce swelling. Finally, an acu-flex foot massage focuses on key pressure points to alleviate stress and aid with circulation.
30 Minutes - 90 USD
30 Minutes
USD 90
Call 1 (512) 685-8160
JET-SETTER MASSAGE
Ideal for travelers after a long flight or drive, this 30-minute treatment targets the tension-prone areas in your head, neck and shoulders with aromatherapy and acupressure techniques that clear the mind, ease stiff muscles and promote overall relaxation.
30 Minutes - 90 USD
30 Minutes
USD 90
Call 1 (512) 685-8160
ENHANCEMENTS
SMOOTH-AND-FIRM BODY BUTTER
When combined with massage oil, this lifting and smoothing body butter provides extreme hydration to restore moisture, soften the skin and refine its texture.
DRY BRUSHING
Dry brushing stimulates the lymphatic system while softening and moisturizing the skin on your hands and feet.
PARAFFIN TREATMENT (HANDS OR FEET)
Hydrating eco-fin, a paraffin alternative, smooths and restores moisture to your hands or feet.
BACK, FOOT OR HAND SCRUB
This exfoliating and nourishing scrub gently sloughs off the dry skin on your back, feet or hands to reveal smoother skin underneath.
CONDITIONING SCALP TREATMENT
Combining the strengthening properties of Moroccan oil with a deeply relaxing scalp massage, this treatment reduces tension, conditions the scalp and leaves hair looking lush and hydrated.
BODY FIRMING ANTI-CELLULITE SERUM
Specially formulated with Actigym, Nocturshape, arnica extract and fair trade aloe, emerginC's lightweight serum is applied with a unique glass roller ball to help reduce the appearance of cellulite while toning and firming the skin.
Note: Enhancements can only accompany 50 or 80 minute services, they may not be booked individually. Prices and treatments are subject to change without notice.