Completed in Fall 2017, the enhancement of our 294 guest rooms and suites brings a new level of luxury to the Hotel.
Led by designer Michael Dalton, principal of Whitespace Interiors and a University of Texas alumnus, the updated look draws inspiration from the lakefront estates perched along the shores of nearby Lake Austin and Lake Travis. With manicured lawns that slope to the water below – not unlike Four Seasons Hotel Austin's tranquil setting on Lady Bird Lake – the homes evoke an easy elegance that's recreated in the new rooms through calming, neutral tones and inviting décor.
Soothing blues and greys, borrowed from brushstrokes found throughout the Hill Country and in the Hotel's lakeside backyard, mingle tastefully with rich wood and subtle metallic accents, creating a restful ambiance that blends seamlessly with the natural surroundings. The addition of crown molding and custom millwork provides character and depth while drawing attention to each room's new artwork, including detailed pencil sketches and an Austin-inspired landscape.
Eschewing heavy, ornate furnishings and gimmicky décor, Dalton maximized space with sophisticated low-profile pieces, from a custom-built étagère in the travertine-tiled entryway – home to the snack bar, safe, refrigerated mini-bar and liquor cabinet – to built-in shelves, cabinets and a multi-functional workstation along one wall. A sitting area for up to four people gives the room a welcoming vibe courtesy of a crescent-shaped sofa and nested furniture that can be discreetly tucked away when not in use.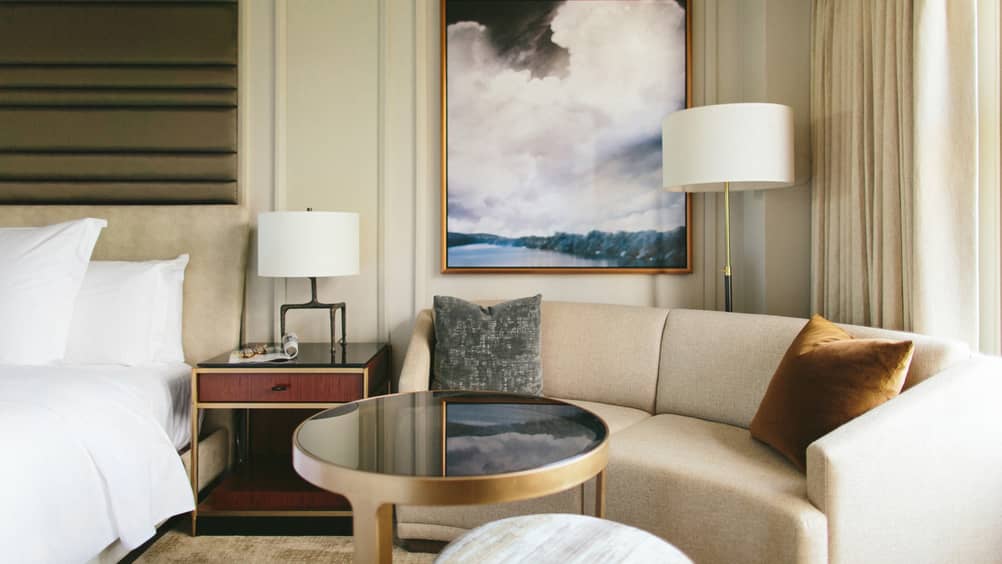 Long-time guests will also note several new technological upgrades designed to improve functionality and comfort. For example, stylish Snooze white noise machines – purchased from a Kickstarter campaign – grace the bedside table, where guests can also find integrated outlets and strategically placed charging ports for their many devices. Bluetooth-enabled Soundlink Minis in each room allow guests to listen to music from their own device projected through a high-quality Bose speaker.
To learn more about the new look, including the stunning transformation of the Hotel's suites, read the full press release online.
Four Seasons Hotel Austin