Ciclo

A modern Texas kitchen brought to life through a unique collaboration with chef and world-renowned restaurateur Richard Sandoval.

Learn More

Live Oak

Inventive cocktails and a Texas-inspired menu combine with some of the best views in the city for a genuinely Austin experience.

Learn More

In-Room Dining

Order Huevos Rancheros or fluffy pancakes to savour in bed, or choose one of our Texas classics from the All-Day Dining menu.

Learn More
Culinary Experiences
On-Demand Margarita Cart

Our exclusive Margarita Cart service brings a talented bartender and a made-to-order margarita straight to your room – simply push the margarita button on your guest room phone.

On-Demand Margarita Cart

Our exclusive Margarita Cart service brings a talented bartender and a made-to-order margarita straight to your room – simply push the margarita button on your guest room phone.

Flambéed Texas Wagyu Tomahawk

Dinner becomes a show with Ciclo's signature experience: a tequila-marinated Texas Wagyu Tomahawk steak that's lit on fire tableside. Due to the unique nature of this dish, a limited number are available daily.

Flambéed Texas Wagyu Tomahawk

Dinner becomes a show with Ciclo's signature experience: a tequila-marinated Texas Wagyu Tomahawk steak that's lit on fire tableside. Due to the unique nature of this dish, a limited number are available daily.

Valentine's Day Dinner in Ciclo

Join Ciclo for a romantic four-course Valentine's Day prix fixe dinner menu, available Monday, February 14 only. Couples have their choice of salad, appetizer, entrée and dessert, and can add on a specialty HibisKISS cocktail for USD 18. Please note, Ciclo's regular à la carte dinner menu will not be available that evening. USD 135 per person

Valentine's Day Dinner in Ciclo

Join Ciclo for a romantic four-course Valentine's Day prix fixe dinner menu, available Monday, February 14 only. Couples have their choice of salad, appetizer, entrée and dessert, and can add on a specialty HibisKISS cocktail for USD 18. Please note, Ciclo's regular à la carte dinner menu will not be available that evening. USD 135 per person
The Team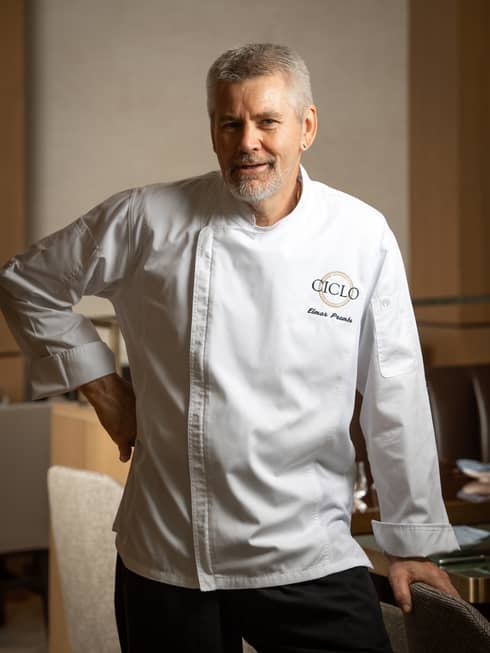 Elmar Prambs
Executive Chef
At the helm of Four Seasons Hotel Austin's kitchen since 1986, Elmar is responsible for the culinary direction of all food and beverage outlets – including banquets, room service, Live Oak and Ciclo. In this role, Elmar particularly enjoys introducing diners to unique flavor combinations and stunning presentations, a skill that has earned him an outstanding reputation and loyal following. Prior to joining Four Seasons Hotels and Resorts in 1977 (at Four Seasons Hotel Vancouver), he completed an apprenticeship with a German master chef and worked in several prestigious kitchens across Europe and Canada.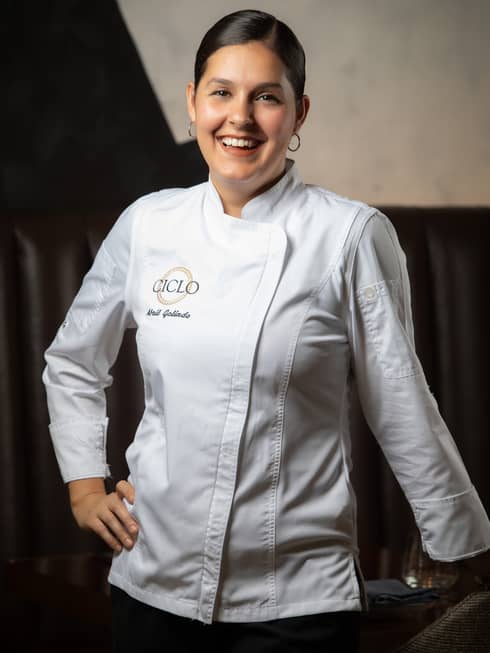 Abril Galindo
Executive Sous Chef
Born and raised in Guadalajara, Mexico, Abril's early exposure to gourmet meals was limited. Her first taste of a truly well-prepared dish opened her eyes to the joy of cooking. In 2010, Abril joined Four Seasons Resort Punta Mita as a culinary intern, a role that allowed her to rotate through a variety of positions in the kitchen. After working at several Mexico restaurants and hotels, Abril was recruited to rejoin Four Seasons Hotel Austin. Her work ethic, creativity and passion for cooking quickly became apparent, eventually leading to her promotion as executive sous chef in 2017.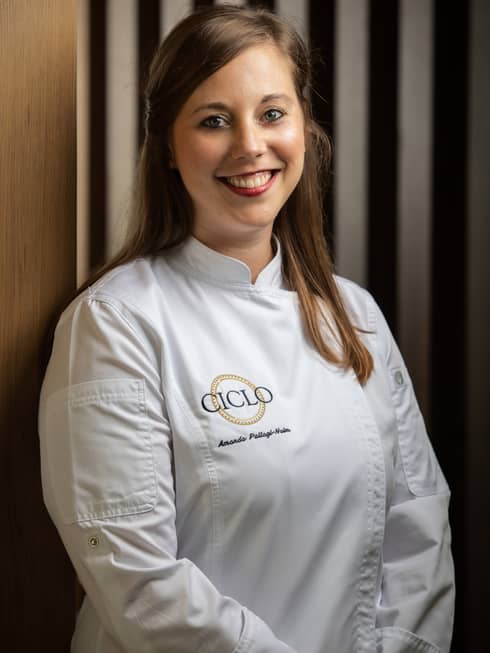 Amanda Pallagi-Naim
Executive Pastry Chef
Growing up cooking alongside her grandma in rural Texas, Amanda's natural craftiness and prowess in the kitchen turned into a full-fledged business in high school. Despite this early success and subsequent roles in restaurants, Amanda didn't consider culinary school seriously until 2008 when she joined Four Seasons Hotel Austin as a hostess in the restaurant. Drawn inexorably to the pastry shop, she was taken under the wing of the executive pastry chef who motivated her to seek out professional training. Over the next five years, Amanda took on increasing levels of responsibility before her promotion to the top pastry position in late 2015.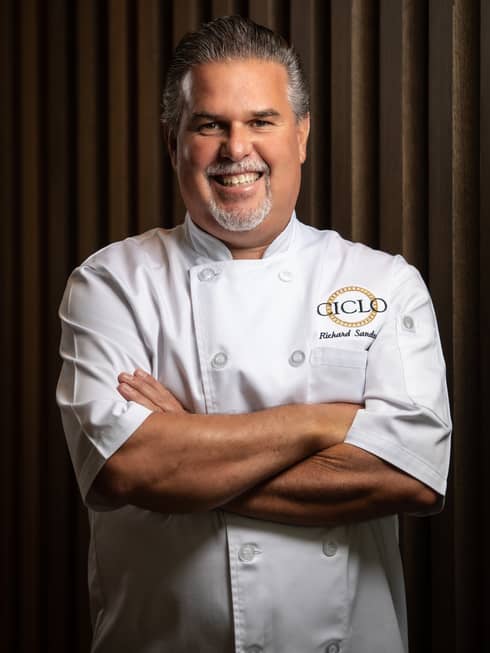 Richard Sandoval
Restaurateur
During the past 18 years, Richard's career as a chef-restaurateur has evolved to encompass being a culinary consultant, television personality, cookbook author and brand ambassador. RS Hospitality is now a leading restaurant group with over 45 restaurants around the world. Richard combines authentic Latin ingredients with international flavors and inventive techniques. His methods create new and unexpected cuisines such as modern and coastal Mexican, Latin-Asian, Peruvian and Pan-Latin.
Jason Eatherly
The muralist, well-known in the Austin art scene for his positivity and love of beautifying unique spaces, has a diverse portfolio ranging from acrylic on hand-constructed canvas to large-scale spray paint and roller murals. Visit Eatherly's "Grackle with Love" mural on Ciclo's patio.