My Four Seasons
Terrace Garden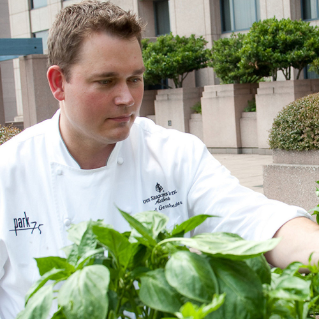 More Four Seasons Stories
A lot of top chefs offer "garden-to-table" fare these days, but Park 75's Robert Gerstenecker is taking things to a higher level – literally.

By converting planters on the Four Seasons' upperfloor terrace, he's cultivated a thriving garden that supplies fresh produce for his restaurant.

"The terrace garden is a great way to teach staff and diners about where food comes from and how much effort is needed to produce results," he says.

For guests, that means feasting on some of the freshest greens in the city. Herbs seasoning Park 75's dishes include lemon verbena, basil and oregano, with garnishes of vine-ripened tomatoes, rare peppers or edible flowers.
And in the true spirit of "going green," Gerstenecker recently installed a hydroponic system for growing lettuce and radishes.