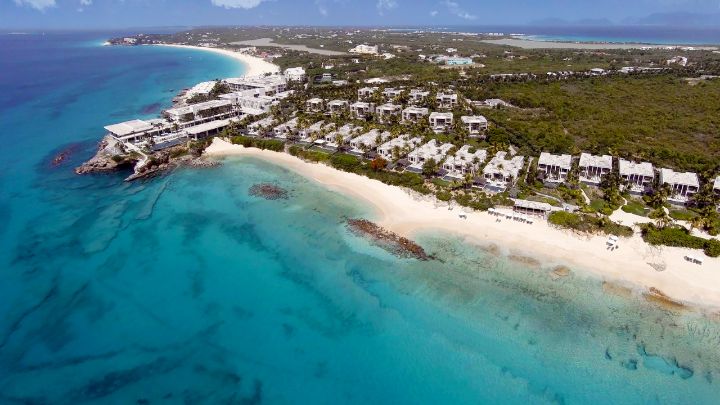 Serene and Surprising
Just 26 kilometres (16 miles) long and 5 kilometres (3 miles) across, the British overseas territory of Anguilla packs a world of wonders into a tiny, 90-square-kilometre (35-square-mile) space.
Visiting Anguilla means enjoying its natural beauty, its beaches, its infinite ways to explore the brilliant blue waters, and basking in the island's laid-back, low-key spirit. Friendly Anguillians generously share their cuisine and culture, from a passion for dominoes and boat racing to the vibrant music scene and colourful Caribbean festivals. So a list of Anguilla attractions is less about going places and more about being here.
Anguilla's Beaches
Anguilla's 33 astonishing beaches are among the most beautiful and varied in the Caribbean, from small, hidden coves to long, rolling stretches of sugary sand. With no cruise ships or casinos allowed here, you'll find fewer crowds and more space to unwind.

The Blue Caribbean
It's all around, and Four Seasons can help you experience it in countless ways. Cruise or sail to local off-islands. Explore the underwater world in quiet bays. Fish for wahoo or marlin. Snorkel or parasail. Or ride horseback through the crystaline water. Choose your sport and spot from a wealth of island locations.

Stellar Cuisine
With a population of under 16,000, Anguilla has more than 100 restaurants, from rustic to extravagant – 100 reasons for Anguilla's reputation as the Caribbean's "culinary capital." Toast each other with a rum punch as you enjoy unique takes on local seafood specialties such as lobster and crayfish.

Anguilla's Festivals
Watch a crab race and other "celebrations of the sea" at spring's Festival del Mar. Follow your interests at the Moonsplash music festival, or at LitFest – each attracts world-leading and Anguillan talents. A calendar of boat races and regattas lets you party like a local with the island's national sport. And the music, pageantry and fun of Carnival in August brings all of Anguilla out to participate. Every season offers a reason to celebrate.

Sandy Island
One of Anguilla's beautiful off-shore cays, this islet has appeared in TV shows, commercials and music videos. It's a fabulous destination for lunch on the grill or drinks, from ice cold beer to Anguilla's famed rum punch. Leave from the pier at Sandy Ground.

Sandy Ground
When it comes to lively music, dancing and dining, the beach village of Sandy Ground is the activity hub of the island, and just a short drive from Four Seasons. As Anguilla's main harbour, it's also the place to come for boat charters to explore the outer islands. It's where locals gather to watch boat racing, the national sport.

Old Salt Factory and Pumphouse
Salt was once Anguilla's biggest export. In typical Anguillan fashion, learning about the history of salt ponds can happen casually, here at the Pumphouse, where you can stay to catch music in the evenings. The large salt pond behind the Pumphouse remains, attracting birds such as egrets and herons.

Scilly Cay
Just wave at the docks in Island Harbour and the boat will drop by to take you to this small private island to spend the day snorkelling or to have a meal or a drink. Sample the drum-pan grilled foods and, of course, the rum punch.

Prickly Pear Cays
Wild and natural, these sandy cays northwest of Anguilla make a fun day trip for the beach, birding, and a memorable lunch looking out at the turquoise water from the open, thatched-roof restaurant. You can snorkel in the calm water or dive to an underwater cavern in the surrounding marine protected area.

Dune Preserve
Stretching for 4 kilometres (2.5 miles), calm, shallow Rendezvous Bay is a great destination for families. By night, the attraction is Dune Preserve, especially when owner and reggae star Bankie Banx performs (sometimes with surprise guests). Banx's Moonsplash Music Festival has become a tradition.