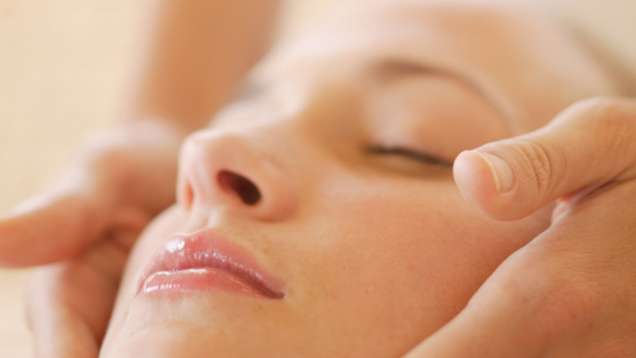 Age Defend Facial
Recommended for: anti-ageing, anti-wrinkles, mature skin. Redefine how the skin ages with the quintessential regenerating facial therapy. Signs of ageing dissolve as essential oils and minerals are gently massaged into the skin improving tone and elasticity. For maturing skins, extracts of Mexican Wild Yam and rice provide ultimate defence against the environment and help maintain a youthful radiance all the way to the cellular level.
Oligo Skin Protect Facial
Recommended for: balancing, purifying, oily skin. The ultimate in anti-oxidant defence, this treatment instantly hydrates and balances, boosting oxygenation to skin cells. Using the exclusive Oligo range of products, an advanced formula combining dynamic ingredients such as algae and chlorella, ensures clear skin, thoroughly protected from the urban environment.
Soothing Skin Saviour Facial
Recommended for: after sun, hydrating, calm down, sensitive skin. The secret to soothing even the most delicate skin lies in the exquisite blending of minerals and essential essences. Skin is prepared with gentle cleansing and exfoliation before delighting in the application of luxurious cream mask. The generous application of the algae and kaolin clay formula smoothes and nourishes skin revealing a perfectly calm and soothed complexion.
Sublime Skin Saviour Facial
Recommended for: moisturizing, hydrating, express facial. Suitable for everyone, the clever combination of cleanser, exfoliator and mask allows even the busiest person to attain a look of instant freshness. The fast, effective results leave skin hydrated, soft and radiating health.
Exquisite Miracles Eyes Facial
Recommended for: eye treatment, wrinkles, puffiness, dark circles. An exquisite treatment specifically designed for the delicate eye area brings together a unique combination of contour masks and specialized lymphatic massage, ideal for reducing the signs of ageing and melting away stress. Finally, a divine application of miracle eye cream completes the total eye care experience.
Glowing Mother-to-Be Facial
Recommended for: pregnancy treatment, rejuvenating, includes facial and massage. Nurture your body at this precious time with a specially designed therapy to treat muscle aches, reduce fluid and imbue total rejuvenation of the face and body. The pregnancy specific massage and tailored facial combine into one seamless pleasure melting away fatigue and revealing a radiant you.
Note: Prices and treatments are subject to change without notice. Prices are subject to a 12% service charge and applicable taxes.