My Four Seasons
The Next Revolution in Fitness Can Also Hold Picture Frames
Other Four Seasons Stories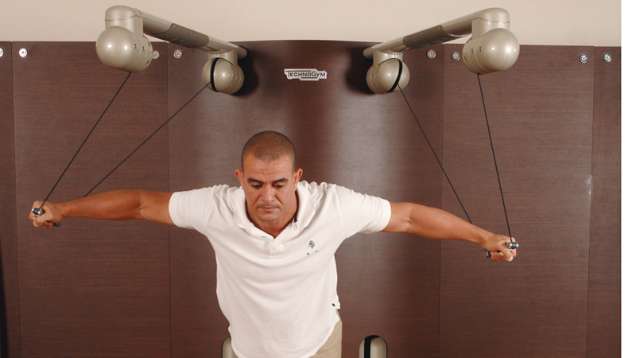 A computerized jump rope. A digital barbell that counts each rep. A sweatband that doubles as a heart rate monitor. Fitness gear has gone high tech, though the health benefits and usefulness of such innovation can sometimes seem dubious at best. What's next, a flying yoga mat?

The Kinesis Wall, like the one you'll find at Four Seasons Hotel Alexandria, is part of an ongoing effort to restore simplicity and sanity to the gym experience. Developed by fitness equipment maestros and official Olympics supplier Technogym, Kinesis is a series of cable pulleys hidden behind a sleek wood-paneled wall that promises improved balance, flexibility and strength through a series of exercises focused on the body's natural movement. There are no weight plates to change, no waiting in line for the bicep machine before journeying over to the leg press. It's all in one unobtrusive unit that takes up very little space and looks more like a piece of modern art than something you'd see in a place where people sweat.

Naturally, gym owners love Kinesis, as does its growing legion of fans. With over 550 movements, there are exercises that mimic just about every sports motion you can think of, from swinging a golf club to kicking a football to rock climbing. It's also gained a following among physical therapists, who recommend Kinesis as a way to strengthen weakened muscles without the risk of more high-impact exercises, such as jogging.

How do you use the Kinesis Wall? It depends. First-timers will probably want to have the help of personal trainer, like the ones available at the Fitness Centre at Four Seasons Hotel Alexandria. After that, you can work out solo or join a class.

What about results? Expect to see them. It's been said that Kinesis can burn up to 30% more calories than traditional weight training. In a world of technological excess, it's comforting to know that something as simple as a flat surface can be both game changing and effective.