My Four Seasons
Meet the Man Who Takes Relaxation Very, Very Seriously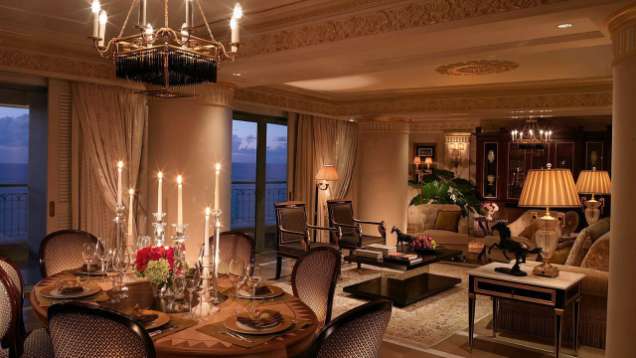 Place one foot inside the Royal Suite at Four Seasons Hotel Alexandria and it's easy to see how it got its name. The opulence is almost palpable, from the carved marble entrance to the gilded sculptures to the furniture of inlaid wood and fine brocade.

That's not to say the Royal Suite is stuffy. It isn't. In fact, quite the opposite. Whether it's the oversized tub in the intricately tiled bathroom or the plush couches in the living room, each space is full of cosy opportunities to sit, reflect and relax.

Such is the vision of one of the Royal Suite's main visionarie, Pierre-Yves Rochon. This French architect and designer has been transforming interiors for over three decades, with "absolute comfort" serving as both his personal philosophy and benchmark for what defines a successful space.

A seasoned world traveller, Rochon has worked on commissions for over 60 hotels, spas, restaurants and private homes in locations such as Shanghai, Cairo, Lisbon and Monte Carlo. Attention to detail is what sets his work apart – each fireplace, throw pillow and sconce is scrutinized for its quality and craftsmanship. Historical integrity is another Rochon ideal, and is never sacrificed for the sake of ego or a design statement.

Since founding his Paris and Chicago-based design firm PYR in 1979, Rochon remains very much at the helm as Worldwide Design Principal and is a part of every assignment. Though in his youth he considered careers as a classical musician and filmmaker, his continued success is proof he chose the right path.

Those wishing to see more of Rochon's work can visit Four Seasons Hotel Alexandria, where his design influence is seen in a number of areas beyond the Royal Suite. It's a feast for the eyes as well as a source of inspiration for everyone from budding interior designers to average homeowners looking to bring a bit of beauty, harmony and warmth to their own personal space.
Other Four Seasons Stories