Alexandria combines a proud history, impressive architecture and fine dining with scenic beaches along the Mediterranean coast. To help plan your next trip, we asked the Concierge Team at Four Seasons Hotel Alexandria at San Stefano to share recommendations for the best things to see and do in the city – from the top offerings in seaside dining to the which museums to visit.
Visit a beach
San Stefano, a stretch of sand also known as the Alexandria Riviera, is one of Egypt's most exclusive coastal addresses. Watch an Egyptian beach movie from the 1960s or early '70s and you may recognise the backdrop. During the summer, be sure to pay a visit to the Hotel's private beach accessible via private tunnel.
Seaside dining
Byblos is a gleaming, high-style restaurant that serves up some of the best Middle Eastern cuisine in Egypt. Diners may choose from fresh meze such as makanek (pan-fried homemade lamb sausages), followed by shish taouk (grilled, boneless chicken marinated with garlic, tomato paste and spices). This is formal dining at its finest with a view overlooking the sea.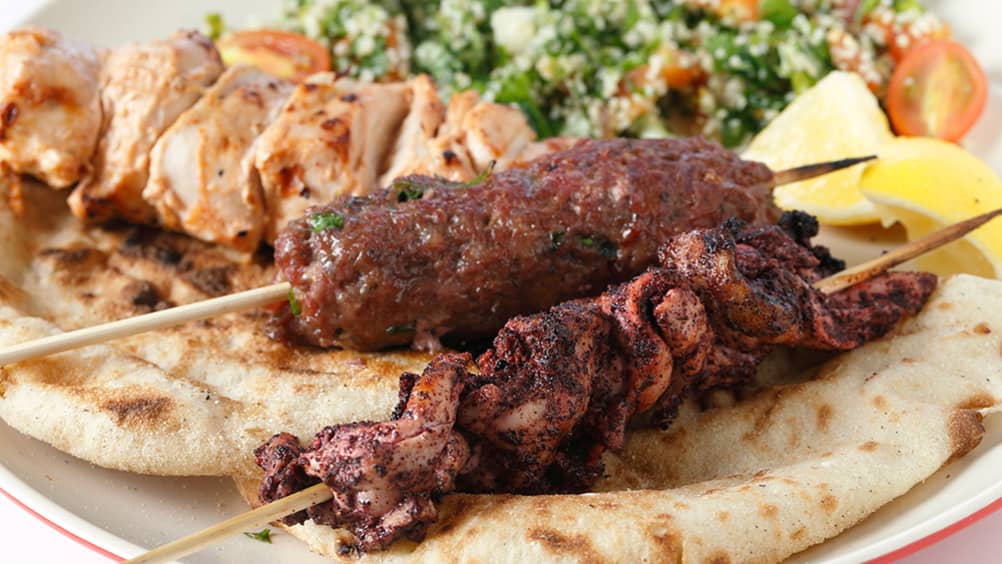 Photography Art of Food / Alamy Stock Photo
During the summer, Fish Restaurant and Lounge offers a casual outdoor dining experience. Enjoy a refreshing cocktail, a Bedouin Siwa dinner, or a more romantic private meal overlooking the Mediterranean.
Family fun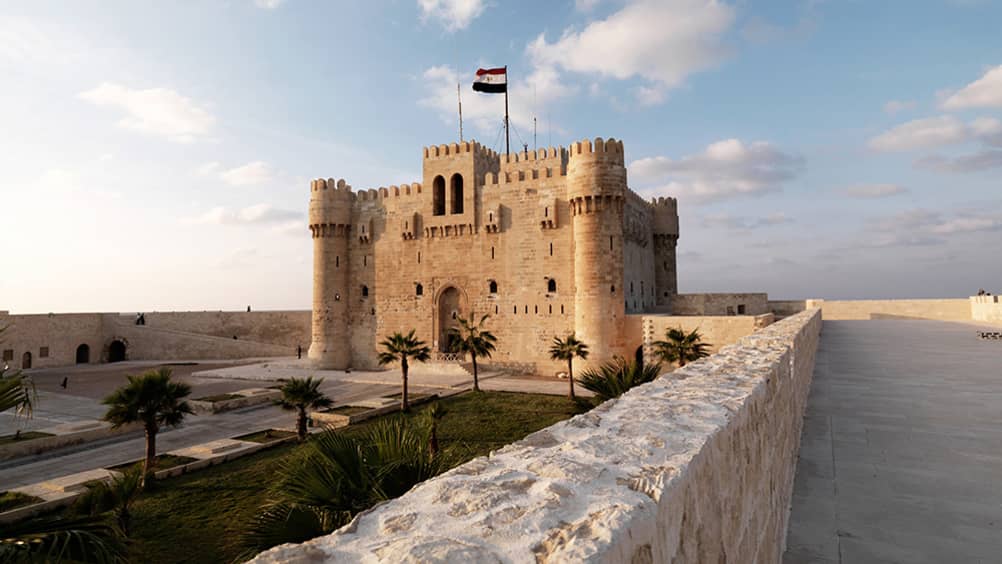 It's a little kid's fantasy come true: a fort that has seen wartime action, protected its city and taken a few bullets. Majestic and white, set against the blue Mediterranean Sea, the 15th-century Fort Qaitbay occupies the narrow peninsula where the infamous Pharos Lighthouse once stood. Today it is a naval museum that the entire family can explore, from its lookout towers to the unique collections of weapons that occupy the rooms.
History museums
Housed within the Italian-style palace of Al-Saad Bassili Pasha, the Alexandria National Museum, with its three floors of Egyptian history, welcomes its guests to journey through Pharaonic, Roman, Coptic and Islamic eras. On display are artefacts recovered from underwater excavations of parts of ancient Alexandria lost to the sea, mummified remains, and more modern exhibits of Mohammed Ali's court. The Cavafy Museum, honouring the poet Constantine Cavafy, and the Royal Jewellery Museum, where you can view the extravagant jewels that belonged to that belonged to King Farouk and his family, are two more museum well worth a visit.
Strolling and shopping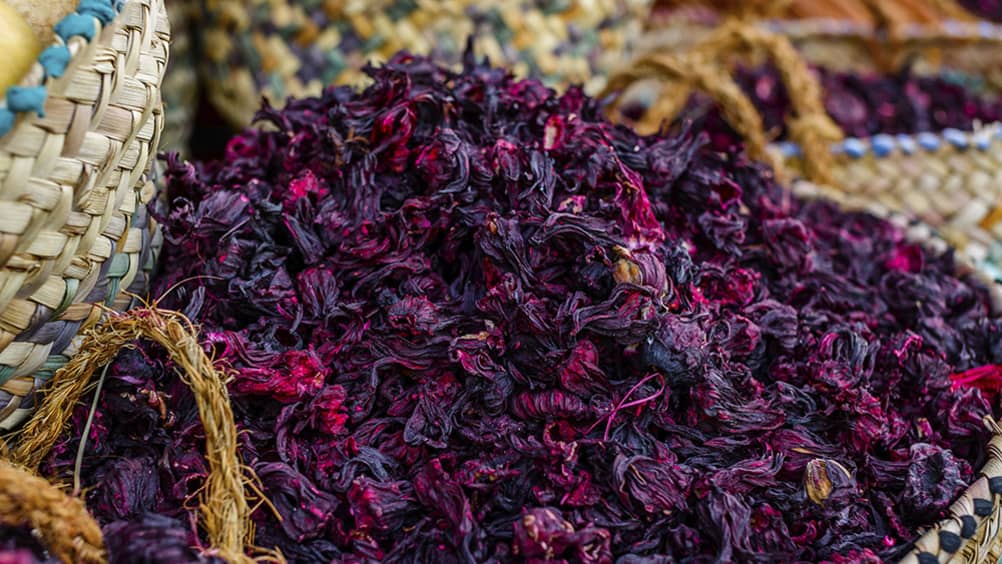 Photography Kostman / Thinkstock
The Corniche runs along the eastern beachfront of Alexandria and is the perfect place to take morning strolls by the sea. You'll work up an appetite as you pass restaurants serving up fresh-caught fish. Souk El-Attarine—a network of alleys where you can find everything from traditional antiques to flavourful spices—is another excellent place to wander as you browse the countless shops and merchants selling their goods along the pedestrian streets.
Architectural gems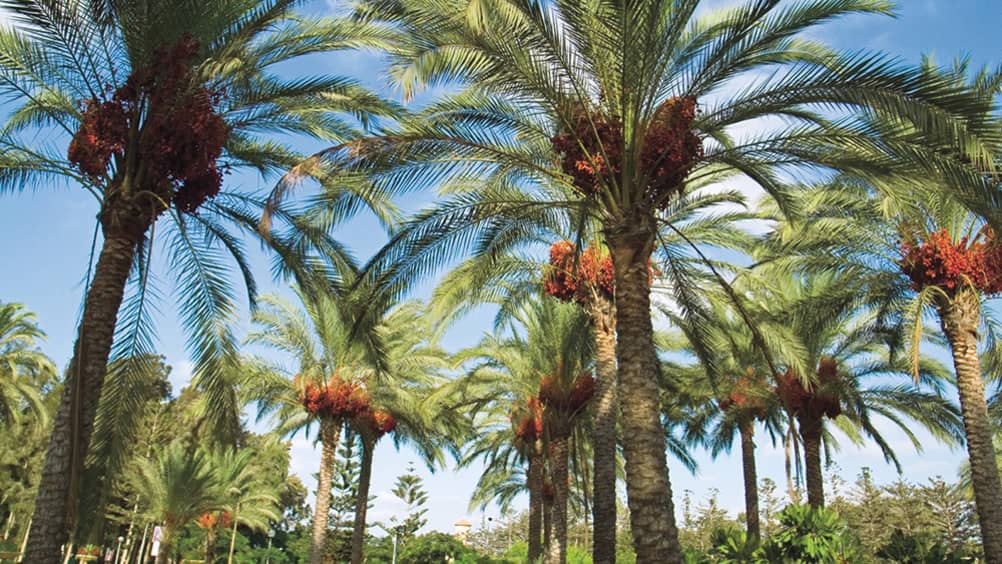 Photography courtesy Four Seasons Hotels and Resorts
Montaza palace, set among acres of gardens, was built in 1892 by a former king as a summer residence. Today, its lush gardens are open to the public, and are a popular spot for young couples strolling hand in hand. For a contrast, visit the ultra-modern Bibliotheca Alexandrina, built in 2002 by the Norwegian architecture firm Snøhetta. The library contains and symbolises the learning that the city has represented for centuries. Al-Montazah Park sums up the elegance and grandeur that Alexandria once represented to the entire world.
Four Seasons Hotel Alexandria at San Stefano, Egypt