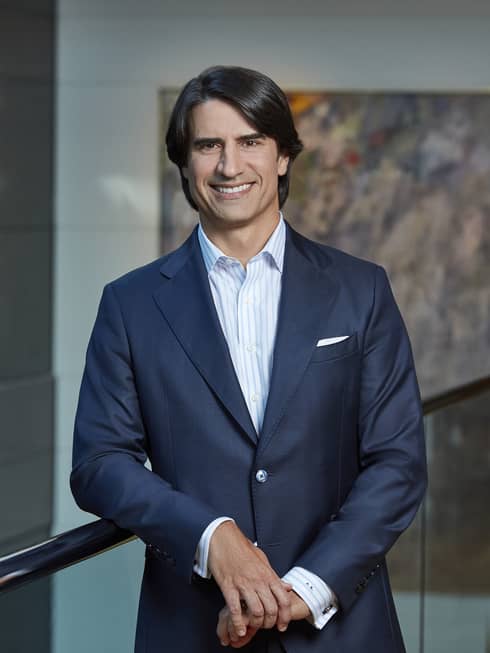 President and Chief Executive Officer
"One of my dearest values, personally and professionally, is that if you treat people well, they will do the same. That an entire company could be founded on this idea – The Golden Rule – and for this philosophy to guide every member of the team in every action, every day, is inspiring."
Alejandro Reynal is responsible for advancing the position of Four Seasons as the world's leading luxury hospitality company and leading its strategic growth into new areas of business.
With an emphasis on driving a great culture where diversity is embraced and employees feel valued, Alejandro is focused on exceeding customer expectations through exceptional service and innovation and achieving strong results through clarity in strategy and disciplined execution.
He delivers value to employees, guests, residents, partners and shareholders by enhancing the existing business and taking advantage of new opportunities for growth, expansion and innovation, while nurturing and advancing the company's competitive advantage – a legendary service culture delivered by the more than 50,000 dedicated people around the world.
Alejandro has worked in the United States, Europe, Latin America and the Caribbean. He has a proven track record and thrives on business transformation in multi-billion-dollar companies, leading change to impact performance and culture by defining and aligning a company's strategy and delivering results through execution.
CAREER HIGHLIGHTS

At Four Seasons: Alejandro joined the company in 2022 as President and CEO following an international career in global travel and hospitality, business services, and telecommunications industries.
Previously: Alejandro was President and CEO of Apple Leisure Group (ALG), a luxury resort management and leisure travel group owned by Hyatt Hotels Corporation, leading a global team of 38,000 employees across 14 countries, serving customers and destinations worldwide. Prior to ALG, Alejandro was CEO of Atento, a customer relationship management and business process outsourcing services company with 150,000 employees in 13 countries, for almost eight years. Earlier in his career, Alejandro held strategic management positions at Telefonica and The Coca-Cola Company.
Education: Alejandro earned his bachelor's and master's degrees in Mechanical Engineering from the Georgia Institute of Technology and an MBA from the Harvard Business School.