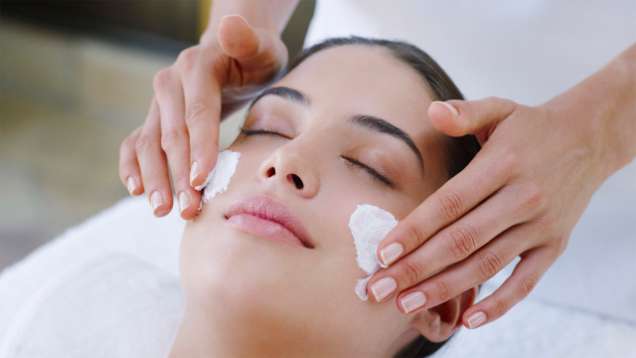 Four Seasons Signature Facial
Let us design a facial just for you. Lay back and relax while one of our trained experts closely analyzes your skin's needs and customises a treatment perfect for your unique skin type.
50 Minutes - 185
80 Minutes - 265
50 - 80 Minutes
185 - 265
Call 1 (818) 575-3010
Custom Organic Facial
Our Custom Facial brings together the finest fruits, vegetables and herbs to deliver the most potent and active treatment available. After a detailed skin analysis, the perfect combination of organic product is applied to create a results-driven facial for a truly one-of-a-kind experience.

50 Minutes - 170 USD
80 Minutes - 230 USD
50 - 80 Minutes
USD 170 - 230
Call 1 (818) 575-3010
The Cure
A thoroughly cleansing treatment based on a cutting-edge thermo-active enzymatic detoxification that opens and softens the pores while the refreshing botanical elements included in the formula close and purify them. Extractions are expertly performed through a nearly imperceptible Extraction Technique while the nano-stimulating mask with a deliciously foamy texture efficiently releases its moisturizing, soothing and revitalising effects on the skin. The final touch is a tinted hydrating veil that provides a radiant and luminous appearance.
80 Minutes - 280 USD
80 Minutes
USD 280
Call 1 (818) 575-3010
La Alternativa
This non-invasive wrinkle relaxing treatment uses NATURA BISSÉ's exclusive INHIBIT COLLECTION. Due to targeted ingredients, this formulation dramatically reduces expression lines and wrinkles, leaving the face smooth and rejuvenated. INHIBIT is the first anti-wrinkle treatment formulated with NATURA BISSÉ's own Octamioxyl ingredient, which is the most effective inhibitor of facial contractions, and a Lipofiller complex to fill existing deep wrinkles and expression lines.
80 Minutes - 325 USD
80 Minutes
USD 325
Call 1 (818) 575-3010
DNA Growth Factor exfoliating facial
Exclusive to the Spa, this medical-grade facial provides comprehensive care for stressed or photo-damaged skin. A unique amino acid glycolic peel gently removes dull surface cells and prepares the skin for an infusion of professional-strength growth factor from Iceland, paired with DNA repair enzymes for visibly revitalised and radiant skin.
50 Minutes - 185 USD
50 Minutes
USD 185
Call 1 (818) 575-3010
Men's Facial
Created by men and for men, this skincare treatment features products from Organic Male OM4 to address the specific needs of men's skin. This results-driven facial diminishes the effects of stress and irritation from shaving and soothes and tones the skin while removing impurities and restoring hydration and suppleness to the skin. Includes hot towels, facial massage and a deeply relaxing warm oil neck and shoulder massage.

50 Minutes - 165 USD
50 Minutes
USD 165
Call 1 (818) 575-3010
Serum infusion
Ultrasound technology combined with a personalised serum will drive essential nutrients much deeper into the epidermal layers of the skin than manual application. Repair, protect and correct your skin to the deepest levels possible.
Add to any 50- or 80-minute facial.
75 USD
Diamond Tip Microdermabrasion
This non-abrasive treatment uses the vibrations of ultrasound to exfoliate dead skin and promote cell renewal, revealing a more vibrant and youthful-looking skin. This advanced treatment is highly effective on acne, hyper-pigmentation, fine lines and scar tissue.
Add to any 50-minute or 80-minute facial.
75 USD
Glycolic Peel
This three-step process aids in removing dead skin cells while improving skin texture and increasing product penetration into the dermis.
Add to any 80-minute facial.
45 USD
LED Light therapy
Treat troublesome acne or target specific wrinkles with LED light therapy. This treatment will assist in stimulating cell regeneration, speed healing and purify and rejuvenate the skin.
Add to any 80-minute facial.
75 USD
Perfect Sense paraffin hand rejuvenation
This paraffin treatment contains natural ingredients rich in vitamins and nutrients to deliver heat and hydration, leaving your skin soft and smooth and preventing dryness and irritation.
Add to any 50-minute or 80-minute facial.
45 USD
45
Radio Frequency
75
Knesko Decolettage
55
Knesko Eye
25
Knesko Face
45
Knesko Neck
45
USD 25 - 75
Call 1 (818) 575-3010
Note: Prices and treatments are subject to change without notice.