My Four Seasons
A Room with a Painted-On View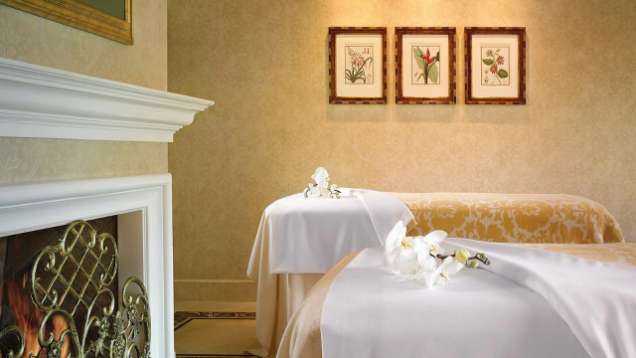 A trip to the spa can be relaxing. So relaxing, in fact, that the combination of a hectic day followed by a particularly transcendent massage can put one in a dreamlike state where the line between reality and fantasy becomes a little blurry.


Holding on to that distinction at the Spa at Four Seasons Hotel at Westlake Village, California, can be even more challenging, considering the artwork that adorns its entryway: a large-scale mural with stunningly realistic panoramas of lush tropical flora and fauna. It's easy to imagine you've stumbled upon an island oasis while on the way to check in for a treatment.


The murals are the work of California and Hawaii-based artist John Wullbrandt, a self-taught contemporary painter specializing in trompe l'oeil. French for "deceive the eye," trompe l'oeil uses painstakingly lifelike imagery to create an optical illusion in which objects on a flat surface take on three dimensions. In other words, a window looks like you could reach through it and an apple appears as if you could pick it up and take a bite. In reality, it's painted on a table.


The use of trompe l'oeil in art goes back a long way. Greeks and Romans used it in set design, for both practical (limited building materials and space) and decorative (much of trompe l'oeil is exceedingly beautiful) purposes. In addition to fine art, trompe l'oeil is also popular in interior design, with German muralist Rainer Maria Latke and English artist Graham Rust standing out as notables.


Though trompe l'oeil is just one of Wullbrandt's many styles, it's certainly one of the most visually impactful and worth stopping by Four Seasons Hotel at Westlake Village to take a look. In addition to the Spa, you can see Wullbrandt's work at the grand staircase in the lobby leading to Hampton's, where a massive mural depicts a scene of a gentleman's farm in Ventura County. Its complement adorns the walls where elaborate buffets are presented in Hampton's. Scenic painted-on views also grace each of the guest room floors for an artful glimpse of the area's surrounding beauty.
More Four Seasons Stories