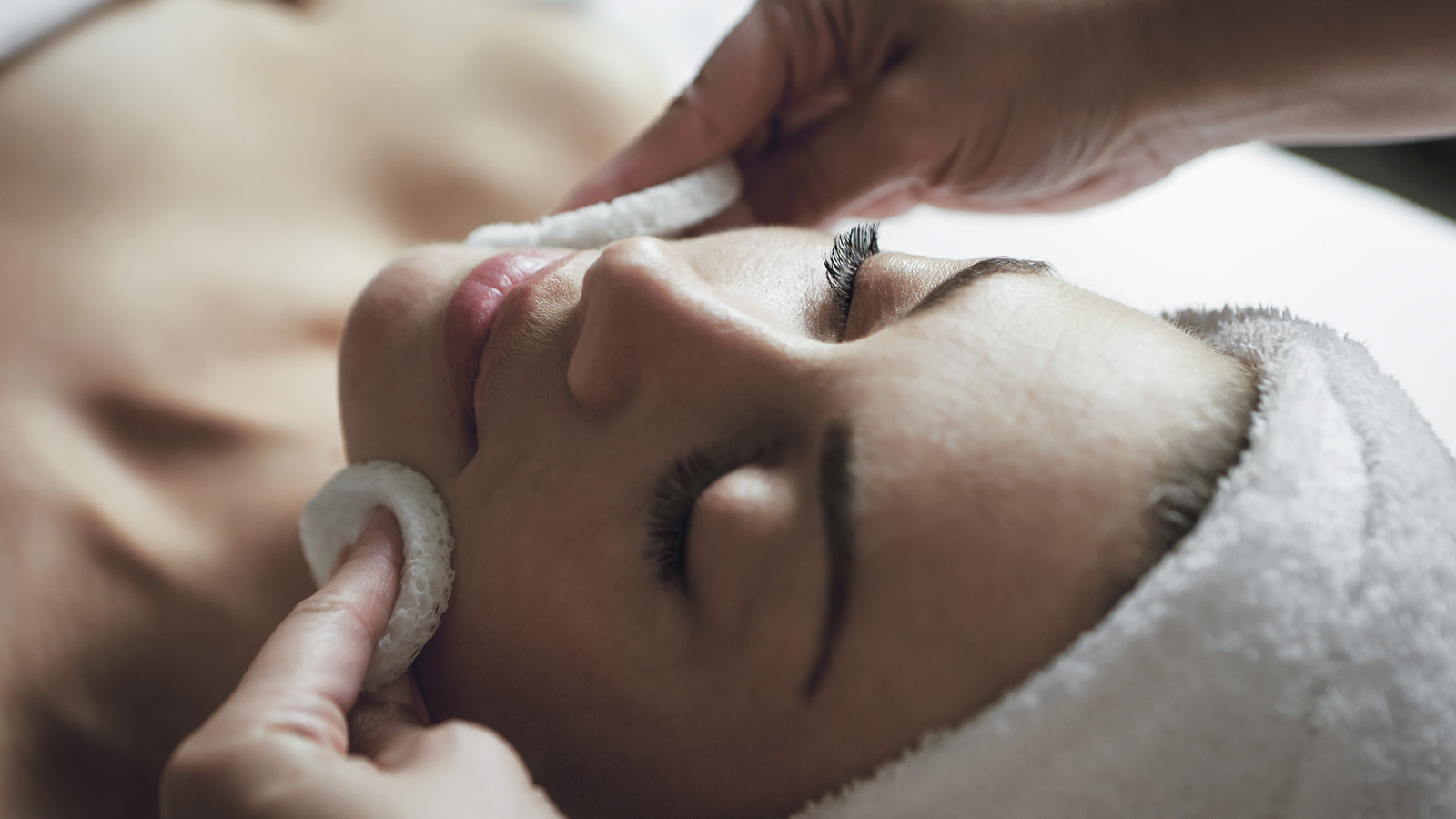 Our personalized facial treatments use a variety of results-oriented products carefully selected for your individual needs at The Spa at Four Seasons Hotel Washington, DC.
Advanced Progressive Therapies
Four Seasons Gold and Diamond Facial
Touted as the ultimate in anti-ageing treatments, this facial combines several cutting-edge technologies designed to achieve maximum skin health while promoting cellular renewal. Following a complete ultrasonic exfoliation, micro-current therapy is administered to lift and tone sagging muscles. A specialty serum is then infused for smoother, firmer and more hydrated skin. The treatment is finished with LED therapy to calm any redness and stimulate collagen production. This comprehensive facial is recommended for our advanced spa goers seeking highly progressive technologies and instant results.
Anti-Gravity Facelift
In this treatment, we combine custom skincare products with our Ultra microcurrent technology and LED light therapy to instantly tone, lift, firm and re-educate tired muscles, leaving the face looking younger and naturally glowing. Often described as a non-surgical facelift, this treatment is designed to "exercise" the facial muscles for a dramatically more youthful complexion. This age-defying facial is highly recommended for anyone who is seeking a non-invasive alternative to surgery with optimal results.
Anti-Gravity Facelift Series
This non-surgical facelift series is recommended for anyone seeking a non-invasive alternative to surgery with optimal results.
Series of three anti-gravity facelift treatments. Appointments must be made at time of purchase and completed within six weeks of purchase – USD 545
Series of six anti-gravity facelift treatments. Appointments must be made at time of purchase and completed within three months of purchase – USD 1,045
Carita Custom Facial
Adapted to all skin types, this facial is customized for your particular needs. The treatment begins with a facial massage using lymph drainage techniques followed by manual exfoliation using the legendary Carita Renovateur to refine your skin tone. Custom products that hydrate signs of tiredness, even out complexion and refine the skin's texture are applied leaving you looking radiant and restored.
Basic Kate
Designed to reverse the signs of aging, this custom facial involves a multi-level approach to a healthier, youthful complexion.
Kate Somerville Dermal Quench
The ultimate hydration treatment! Oxygen, vitamins and hyaluronic acid combine under hyperbaric pressure to deliver unparalleled hydration and age-defying results. This delightfully relaxing and nurturing treatment instantly brings healthier, younger skin. It is an ideal treatment for a special event, jet lag or whenever an amazing glow is desired.
Kate Somerville DermaLucent Phototherapy
DermaLucent Phototherapy utilises the healing power of light in order to deliver a safe, effective treatment. This versatile treatment is customised based on skin type utilising Kate Somerville's proprietary anti-ageing, clarifying, repairing, acne, quench or brightening dermal boosters to harness individual results.
Kate Somerville Signature Treatment
This signature facials treatment is the ultimate in results, pampering and skin health. It begins with a powerful exfoliation using fruit enzymes and vitamins as it polishes the skin. A very pampering facial massage is performed to relax the senses. A super-hydrating oxygen treatment is applied using effective treatment dermal boosters that plump the skin with sodium hyaluronate and vitamins. The experience continues with the DermaLucent light therapy while you enjoy a luxurious hand, arm and foot massage performed with a therapeutic lotion. Skin is left looking radiant and luminous.
All About Men Facial
A custom men's treatment suited to all skin types, including those suffering from shaving irritation and overexposure to sun. Renewing fruit enzymes and vitamins exfoliate, detoxify, cleanse and nourish for a long-lasting look of healthy skin. A pampering facial massage relaxes the senses.
Tata Harper Intensive Results Facial
This custom facial treatment focuses on hydration, firming and purifying concerns by using concentrated formulas of high performing natural ingredients tailored to your specific skin concerns. This therapeutic facial nourishes the skin leaving it stronger, healthier and glowing.
Tata Harper Ultimate Luxury Facial
This complete, customized facial firms and lifts the skin using advanced muscle-relaxing neuropeptides to instantly reduce wrinkles, reinforce collagen and restore the skin's youthful cushion. Through therapeutic massage and high performing active ingredients, wrinkles are smoothed and reduced. By successfully stimulating the tissues of the skin, you will experience an instant uplift to the skin. This treatment also includes a luxurious ageless hand treatment and eye therapy for youthful eyes.
Rejuvenation Mini-Facial
This facial will restore lasting hydration and elasticity. It protects the skin from free radical damage and diminishes the appearance of fine lines, wrinkles and pore size. Ideal for all skin types.
Facial Enhancements
Ultrasound Micro-Exfoliation
This ultrasound exfoliation is an advanced alternative to traditional microdermabrasion. The pain-free enhancement helps to smooth, texture, tone and brighten the skin while encouraging maximum product penetration.
USD 75
Ultrasound Product Infusion
Uncover and restore your natural glow in minutes. This treatment uses sound waves to penetrate serums into the deepest layers of the skin, maximizing their effectiveness.
USD 75
Quench
This relaxing, nurturing and hydrating treatment instantly delivers healthier, younger skin. Oxygen, vitamins and hyaluronic acid are combined under hyperbaric pressure to deliver unparalleled hydration and age-defying results - an ideal addition before a special event, to treat jet lag or whenever you desire an amazing glow.
USD 100
Targeted LED Light Therapy
Experience the healing power of red LED light therapy, or the acne-fighting power of blue LED light therapy – red LED stimulates collagen and reduces redness, while blue LED assists in destroying acne-causing bacteria.
USD 50
Full LED Light Therapy
DermaLucent Phototherapy uses the healing power of light to deliver a safe and effective treatment customised for your skin type. Choose one of Kate Somerville's proprietary dermal boosters for individual results – anti-ageing, clarifying, repairing, acne suppressing, hydrating or brightening.
USD 100
Eye Lift
Our micro-current therapy regenerates and lifts the eyes for visible results in minutes. Look and feel refreshed and ready for that special occasion.
USD 75
Enzyme or Glycolic Peel
USD 50
Collagen Hydrating Mask
USD 50
USD 50 - 100
Call 1 (202) 944-2022
Lash Tint
Add colour to your lashes and brighten your eyes with this easy enhancement that makes a world of difference.
Brow Tint
Define light or thin brows with this service that will bring colour and style to your eye area.
Depilatory Services
Waxing services of all kinds are available. Please contact the Spa for information.
*Waxing services must be accommodated by a spa treatment Friday-Sunday
Please note: Prices and treatments are subject to change without notice. A 100% charge will be incurred for any treatment not cancelled at least four hours prior to your scheduled time.