Function Rooms
Dumbarton Conservatory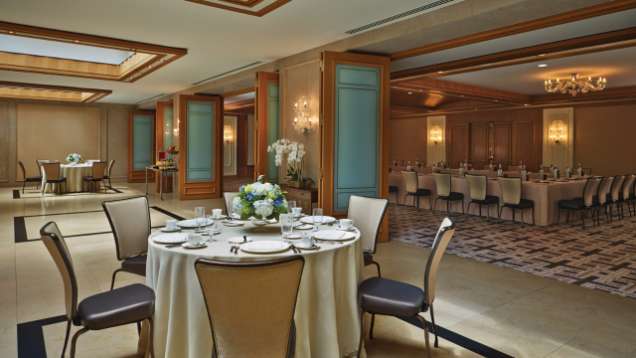 Discover Washington's most unique meeting room – an exquisite light-filled room with a wall of windows, pyramidal skylights and a graceful inlaid mahogany tray ceiling. This spacious room abounds with custom features – including the ability to create a separate, more intimate space – that make it the consummate balance of high-tech and soft touch.
Custom-Designed Beauty
A rich palette of golds, yellows and taupes
Custom damask wall coverings
Imported French limestone floor
Beautiful black granite stone and anegre millwork
Graced with Light
Expansive windows and pyramidal skylights allow plentiful sunlight
Glowing Italian chandeliers suspended from an inlaid mahogany tray ceiling
Walls lined with sconces
Flexibility in Many Forms
Adjacent to a beautiful outdoor terrace.
May be divided to create a smaller function rooms

Fitted with advanced audio systems
Seating
Classroom
Hollow Square
U-shape
Theatre
Reception
Banquet rounds
Conference/Boardroom

108
60
51
200
250
150
48

Room Features
Breakout rooms, pre-function space and wireless Internet access available.

Location
CONFERENCE LEVEL
Size
Area
Dimensions
Height

170 m2 (1824 sq.ft.)
9.8 x 17.4 m (32 x 57 ft.)
3 m (9.10 ft.)

Bathrooms
Accessible
Note: Height shown is actual clearance height.