Executive Chef
John Critchley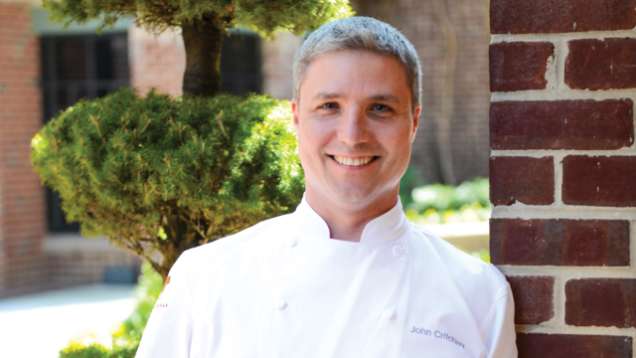 The artistry Executive Chef John Critchley employs in the kitchen comes from way back. After landing his first job as a dishwasher at age 14, he moved up to prep cook and then got rolling on the pastry side of the business, working as a bread baker and cake maker while still in high school. Pastry opened his eyes to the art of composition and how to combine textures and contrasts for balanced flavour and beautiful plating. "I remember thinking, 'if I'm going to be an executive chef, I'll need to know everything.' I later realized that I would never know everything, but the ability to understand an art like pastry has been very influential in my savoury cooking."

After earning a culinary degree from the Culinary Institute of America in Hyde Park, New York, at age 19, Critchley worked at restaurants in Williamsburg, Virginia, and Boston before moving on to become a harvester at Creek Oyster Company in Duxbury, Massachusetts. A passionate surfer while growing up in New England, he quickly gained comparable fondness for local and sustainable seafood, which blossomed even further when he opened Area 31 in Miami – one of Esquire's "Best New Restaurants" of 2009. "I had 30 to 40 varieties of fish to work with from the Atlantic and the Gulf. There are a lot of fun things you can do with that many kinds of fish."

Since arriving in Washington in 2010, Critchley has put much of his focus on meat. He has twice won the American Lamb Jam, a campaign from the American Lamb Board intended to raise consciousness of the healthy aspects of lamb, and particularly enjoys marrying all-natural meats with seafood on the plate.

Whatever the main ingredient, Critchley employs a clean, focused style to create fun dishes and interesting tastes. Meat may be the main staple at BOURBON STEAK, but the restaurant is widely appealing to seafood lovers and vegetarians as well. "That's what is so exciting. I like to coach, mentor and inspire people with food. Whether it is a classic steakhouse fare with a twist or a simple piece of grilled fish, it's going to be special."

Well done.