Savvy travellers visit the U.S. capital from November to March, when restaurants, monuments and museums are far less crowded than in the spring and summer. The District comes alive in December with events such as the National Christmas Tree and Capitol Christmas Tree lighting ceremonies, and performances like The Nutcracker at the Washington Ballet.
But the festivities don't end with the holiday season. DC's off-season offerings extend well into the New Year, with myriad indoor and outdoor activities available for the whole family.
Skate across the city
Photography National Geographic Creative / Alamy Stock Photo
Several outdoor ice rinks dot the historic landscape in DC, each with its own appeal. At the Washington Harbour Ice Rink—just a 10-minute walk from Four Seasons Hotel Washington, DC, and open until March—skaters glide around a circular rink framed by stunning views of the Potomac River. Check the event calendar for deals (the rink offers two-for-one admission on Tuesdays) and special themed skates. To skate amid enchanting architecture and large-scale sculptures by the likes of Louise Bourgeois and Roy Lichtenstein, lace up at the National Gallery of Art Sculpture Garden Ice Rink on the National Mall. The rink is located within eyeshot of the United States Capitol Building and lies at the foot of the Pavilion Café, where parents can warm up with a cup of peppermint hot cocoa as kids cruise the ice.
Seasonal shopping and dining
Washington's newest neighbourhood, CityCenterDC, offers high-end shopping and dining in an outdoor plaza environment in the heart of downtown. During the holidays, discerning shoppers can window-shop brands such as Longchamp, Louis Vuitton, David Yurman, Kate Spade and Burberry, or admire the 70-foot (21-metre) decorated tree while enjoying live music.
Stay energised during a day of power shopping with a visit to RareSweets, a locally owned bakery that stocks miniature cakes, cookies and hot cocoa. For more savoury cuisine, trust one of the biggest names in dining and make a reservation at Daniel Boulud's DBGB Kitchen and Bar, known for house-made sausages and other French American dishes. In Georgetown—Washington, DC's oldest neighbourhood—listen for roaming carollers as you holiday shop in boutiques along M Street (think AllSaints, Barbour and Barneys New York).
Eat and drink by the fire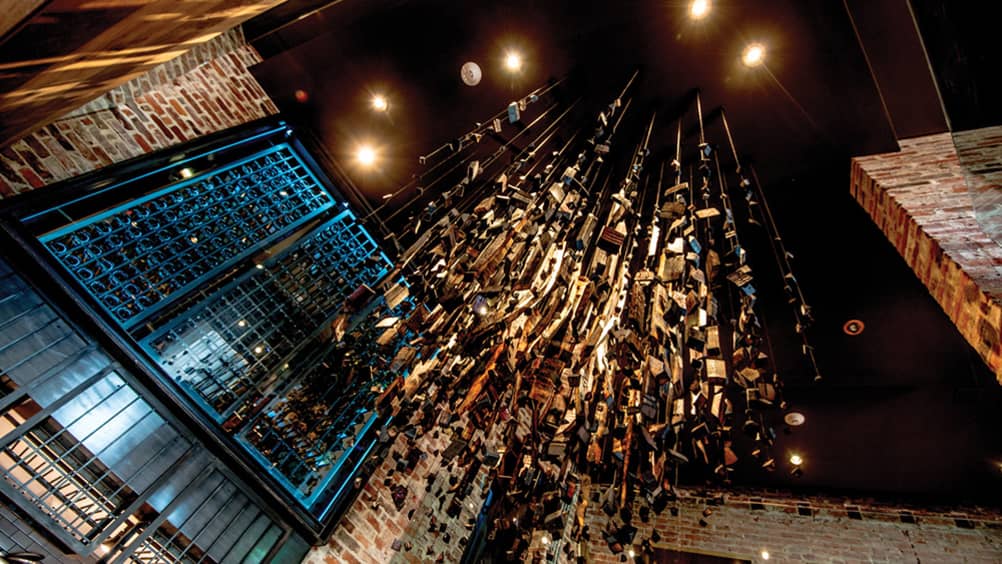 Photography courtesy Four Seasons Hotels and Resorts
After a day of exploring, warm up with some Chesapeake chowder or steamed mussels at Bourbon Steak. The Hotel's heated outdoor patio is open through the winter. Relax by the fire with extra blankets and hot cocktails like the Hot Buttered Rum made with Mount Gay rum, vanilla bean, ginger and dulce de leche foam, served in a pre-warmed mug. Wine aficionados should stop by ENO Wine Bar, next to the Hotel, for a selection of affordable wines, served on tap every Sunday through Thursday from 5:00 to 7:00 pm. On the first Sunday of the month, ENO Wine Bar offers ENOversity, an interactive wine class that pairs five different wines with seasonal plates.
Fresh and seasonal at the market
The Dupont Circle FRESHFARM Market is one of the few markets in the District that stays open year-round, offering fresh organic produce. During the holidays, vendors also sell crafts, ornaments and Christmas trees. It's the perfect place to score one-of-a-kind gifts or souvenirs, like fresh maple syrup or homemade soaps. The market opens every Sunday at 10:00 am on 20th Street, NW, between Massachusetts Avenue and Hillyer Place.
Think tropical thoughts
If you're looking to escape winter's chill and spend time indoors, visit the United States Botanic Garden, located southwest of the Capitol. The conservatory, open year-round (including holidays), is kept at tropical temperatures to nurture its resident blooms, succulents and rare plants. For kids aged nine and older, parents can request a Junior Botanist backpack and field guide, which helps lead young scientists through the garden's exhibits. Visit between Thanksgiving Day and early January to enjoy the Season's Greenings exhibition, where trains run through a garden display featuring replicas of the capital city's landmark buildings.
Four Seasons Hotel Washington, DC