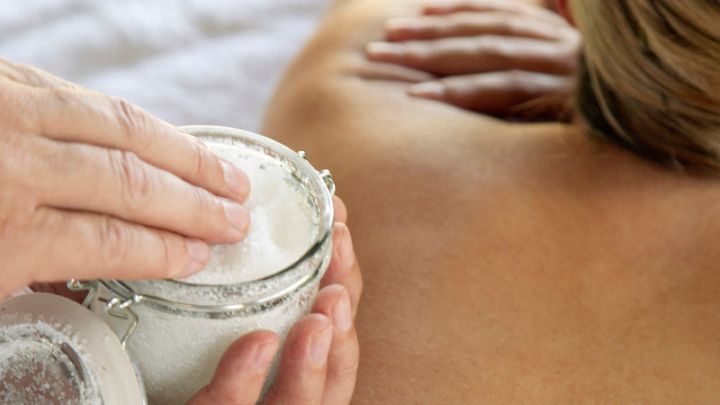 Experience a range of body treatments, each one a therapeutic journey that does more than relax your muscles. These treatments promote inner peace - and encourage overall health and wellness.
Sodashi vanilla body polish
This gentle, all-over body exfoliation soothes and calms the mind and body while revitalising and hydrating the skin. Containing sandalwood powder as the active ingredient, it is the perfect tonic to relieve tired, aching muscles. Following the exfoliation, your senses delight in the aromas of vanilla and coconut as a nourishing body cream is gently applied. A safe and effective treatment before, during and after pregnancy.
Organic green tea exfoliation
A combination of Sodashi's organic green tea and Himalayan salt deeply cleanses and exfoliates the skin. Rich in antioxidants and vitamins C and E, this blend also offers soothing, relaxing properties to muscles to relieve stress and fatigue. This rejuvenating therapy is especially beneficial after long periods of travel or exercise.
Lime and ginger scrub
Your skin is first drenched with a warm stream of nurturing oils that nourish and hydrate. A crushed lime and ginger salt scrub combined with Hawaiian wave movements is used to exfoliate, buff and polish the skin, then an exotic balm of jasmine and ylang ylang is applied, leaving your skin deeply nourished.
Frangipani nourishing body wrap
A full-body dry-brush exfoliation begins the treatment, preparing the skin for an application of Monoi oil. This nourishing oil soothes, conditions and softens your skin. Then, cocooned in a warm foil wrap, enjoy a gentle head and face massage. After a warm shower, drench yourself in our body balm as the enticing aroma of island flowers fills the air.
Sodashi conditioning body wrap
You will be swaddled in a nourishing body wrap while you enjoy an Indian scalp massage for absolute relaxation. French pink clay and herbal extracts combine to firm, tone and condition the skin. This rejuvenating therapy is extremely beneficial in the treatment of scar tissue and stretch marks, and is safe and effective during pregnancy.
Purifying body wrap
A truly purifying, detoxifying, 100% natural body mask. With the richness of sea plants and marine minerals, this intensive body mask works to stimulate the lymphatic system, relieving the body of sluggishness and congestion while assisting in the removal of toxins.
Cellutox spa ocean wrap
Allow the healing benefits of the ocean to detoxify your body from the inside out. Cocooned in a comforting foil wrap, let your thoughts drift away while active ingredients work to detoxify, decongest and stimulate your body systems.
Cellulite and colon massage therapy
Using the clinically proven Elemis Body System, this treatment includes a detoxifying fennel and birch peel-off body mask combined with specialised massage techniques to deeply cleanse the body's systems and reduce fluid retention. Cleansing the colon through abdominal massage helps to detoxify the body from the inside out.
Enhancements
Sodashi scalp treatment
After an aromatic steaming head wrap, an enriching mask is massaged into the scalp to relieve tension and provide essential nutrients to the scalp and hair, nourishing the scalp and leaving your hair silky smooth and shiny. This treatment is a perfect addition to any body treatment, facial or package.
30 minutes – AUD 60
Add on: 15 minutes – AUD 35

Rose quartz crystal eye revive
A great addition to any face or body treatment, this is a quick and effective way to reduce puffiness and dark circles and smooth fine lines. After a specialised crystal massage, a skin-firming eye mask is applied.
30 minutes – AUD 60
Add on: 15 minutes – AUD 35

Note: Prices and treatments are subject to change without notice. Prices include 10% GST. Treatments booked for Sundays or public holidays are subject to a 10% surcharge. In-room massages are subject to a 25% surcharge.