Meet Restaurant General Manager Luciano Sportiello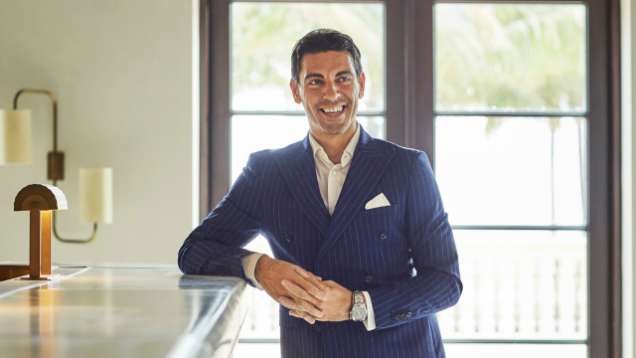 Located within the historic heart of Four Seasons Hotel at The Surf Club is Le Sirenuse Miami, a Michelin-starred restaurant concept from the iconic Le Sirenuse resort on Italy's Amalfi Coast, reimaged within the walls of this legendary1930s private club. These two iconic institutions share timeless values and sophistication to bring the club's next chapter of enchanting dining to life. Leading this new experience is Le Sirenuse Miami General Manager Luciano Sportiello. A native of Southern Italy, Sportiello has crafted an authentic atmosphere honoring the heritage of Le Sirenuse and its new home on the Atlantic Ocean.
Sportiello's sense of hospitable culture is deeply rooted in his past, stemming from his family history as hosts of lavish weekly dinners for up to 50 people in their Putignano, Italy home. During these evenings, he felt a strong inclination to relate to people and make them feel comfortable. Later in life, he channeled this passion and became a student of diplomatic relations in Napoli, Italy. Soon after he would travel the world following a desire to learn more about international cultures and languages, of which Sportiello speaks five, including Italian, English, Spanish, French and Portuguese.
His travels would lead Sportiello to Miami in 2007, where he fell in love with the vibrant lifestyle of the city and its social nature. Entering the hospitality world as Lounge Manager at a chic hotel in downtown Miami would then allow him to embark on a career that blended his background and natural flair of understanding and relating to people around him.
In 2010, Sportiello took on a role managing the high-profile guest list at Casa Tua, an Italian private club, boutique hotel and restaurant in Miami Beach. This experience gave him a deeper understanding of his influential guests. He says, "With time, you create a connection and know exactly what a guest wants, all with one look. They become family and it feels natural to welcome them as if they were joining me in my home." Sportiello was later promoted to Assistant General Manager in Casa Tua's restaurant. In this capacity, he realized the great responsibility placed in his hands. "If I can make a night genuinely special, the guest will remember it for the rest of their life. You can see it in their reactions throughout the evening and feel their emotions. I'll do anything to make that happen."
Now leading the guest experience at Le Sirenuse Miami, Sportiello is drawing from his own history as he flawlessly executes the quality, passion and relaxed precision that the original Surf Club and Le Sirenuse are renowned for. Sportiello and his team's dedication to fostering an atmosphere of generous comfort and surprising delightful moments will be evident in each interaction. This extraordinary dining experience will reflect a journey of Italy's southern regions while honoring the restaurant's historic location with tradition in its very spirit.