Meet Executive Chef Jose Gamez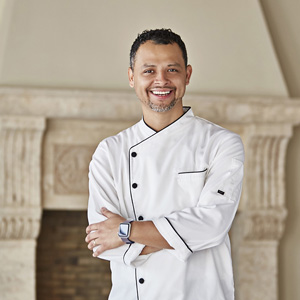 Leading the culinary experiences at Four Seasons Hotel at The Surf Club is Executive Chef Jose Gamez. Under his direction The Surf Club offers an oceanfront restaurant Le Sirenuse Miami along the Club's historic "Peacock Alley," the Champagne Bar and Lounge, effortlessly chic poolside dining and more on the pristine shores of Surfside.
As part of the Four Seasons team for a combination of 16 years, Gamez credits his success to a mix of hard work, dedication, and, above all, a love and appreciation for food. Growing up, Gamez always wanted to be an astronaut. But this dream changed during a part-time job at Mother Anna's restaurant in Boston's North End – aka "Little Italy" – in high school, where he discovered an all new passion for cuisine. Gamez began a role as the chef's apprentice and, as they say, "the rest is history."
After garnering several years of experience and a fondness for Italian food that continues to this day, Gamez was ready for his next step. In 1998, he joined the Four Seasons Boston family, where he worked in all areas of the kitchen, from the former Five Diamond restaurant Aujourd'hui to the Banquet and bustling Bristol Lounge kitchens. The sights, sounds and international flavors of Miami fueled a move to the Magic City in 2012, when Gamez started a role as Executive Sous Chef at the acclaimed EDGE Steak and Bar at Four Seasons Hotel Miami. His arrival in the city would inspire transformation in Gamez's cuisine as he combined a passion for seafood from the northeastern United States with the bold tastes of Latin American cuisine of his roots.
On his days off, Gamez can be found in his home kitchen creating dishes for his family – or teaching impromptu cooking classes to his children. Gamez especially enjoys crafting wine-pairing menus: "I see wine as something that not only enhances the taste of food but also gives the meal a story."
Whether at home or work, Gamez's cooking philosophy boils down to his philosophy that each ingredient "has its own purpose and unique flavor that it brings to a dish. And when those flavors combine in just the right way, the result is extraordinary."