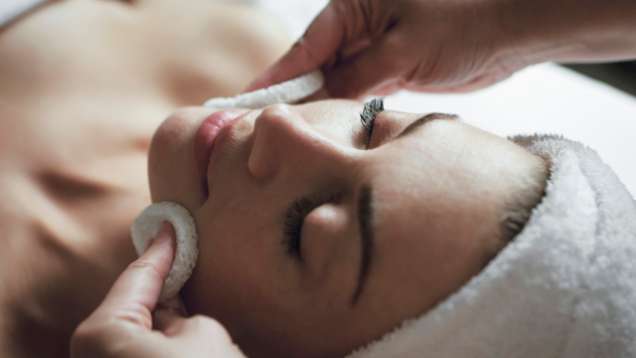 Journey Through Florence Facial by Santa Maria Novella
This cleansing facial is based on natural products inspired by the ancient traditions of Italian pharmacies and the renowned healing properties of plants and local flowers.
Peter the Great Facial
This facial designed by Omorovicza begins with a cleansing and exfoliation using lightly scented natural products. A mineral-rich Hungarian thermal mud mask draws out impurities and deeply cleanses and nourishes the skin. A unique Hungarian facial massage soothes the skin while stimulating microcirculation, then a scalp and shoulder massage relieves tension and stress.

Warm Rose Quartz Facial
This facial by ila is recommended for reviving tired, dull skin and plumping fine lines. The treatment begins with a garnet facial scrub and rose-cream and jade face mask, then concludes with a warmed facial massage using natural rose quartz wands. Muscles will relax and stress lines will naturally diminish. Excellent for all skin types.

Deep-Cleansing Facial
After a thorough cleansing and exfoliation using rosemary and pineapple extracts that treat sensitive skin and reduce pore size, mineral-rich Hungarian moor mud draws out impurities and nourishes the skin. This treatment by Omorovicza also includes a unique Hungarian facial massage, a hand exfoliation and a hand massage. This facial is certain to give the face a fresh glow. Excellent for all skin types.

Illuminating Facial
Designed to leave your complexion completely rejuvenated and glowing, this facial by Omorovicza features a gentle peel enriched with copper for an antioxidant and collagen-stimulating kick. After cleansing, toning and exfoliating, a unique facial massage soothes the senses and accelerates microcirculation, while a mask of rose and peony essences plumps the epidermis to reduce the appearance of fine lines and wrinkles.

Waxing
Face
Lip
Chin
Brow
Body
Underarm
Full leg
Upper leg
Lower leg
Basic bikini
Brazilian bikini
Note: Prices and treatments are subject to change without notice.