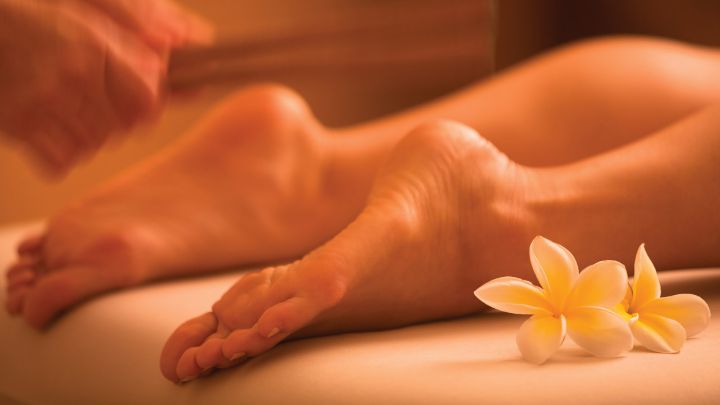 Royal Russian Manicure
Our royal manicure begins with a golden micro-exfoliating treatment containing vitamin C and a white pepper extract by Omorovicza known for stimulating microcirculation and promoting a healthy glow. The treatment helps to eliminate dead skin cells, refine skin texture, and reduce the appearance of sun spots. Top off your treatment with your choice of nail colour.
Royal Russian Pedicure
The ultimate pedicure designed for the royal family themselves, this treatment begins with a golden scrub by Omorovicza that includes ylang ylang, small gold particles and cane sugar. This luxurious pedicure includes a stimulating enzyme mask to smooth and moisturize dehydrated feet. Top off your treatment with your choice of nail colour.
Luceo Hand Care
This spa journey begins with an aromatic Baltic Sea salt scrub to exfoliate the hands and lower arms. Nails and cuticles are groomed to perfection before you receive a soothing rose balm marma massage followed by a hand mask designed to energize and release stress and tension from the hands. Top off your treatment with your choice of nail colour.
Luceo Foot Care
Transform and re-energize tired, achy feet. This treatment begins with a soothing foot bath filled with nutrient-rich salts and pure essential oils. As you sit back and relax, the skin of the feet and lower legs is softened and calluses are smoothed away with a seaweed foot scrub. A relaxing marma-point foot massage using our vital energy oil helps to restore energy and deeply hydrate and nourish the skin, leaving feet feeling smooth and balanced. Nails are shaped, cuticles are conditioned, and the treatment ends with your choice of nail colour.
Little Princess Nail Care
Every little girl wants to be treated like a true princess. Our colourful and trendy princess nail services deliver a magical look that is sure to please little princesses.

Shellac Manicure
Add a Shellac application to any of our manicure services. Available in a variety of vibrant colours, Shellac is a no-chip, long-lasting manicure that is the latest breakthrough in nail technology. Guaranteed to last up to two weeks, a Shellac application offers an incredible shine and is perfect for those with busy schedules, those on extended holidays or for any occasion that demands long-lasting nail colour.

Note: Prices and treatments are subject to change without notice.