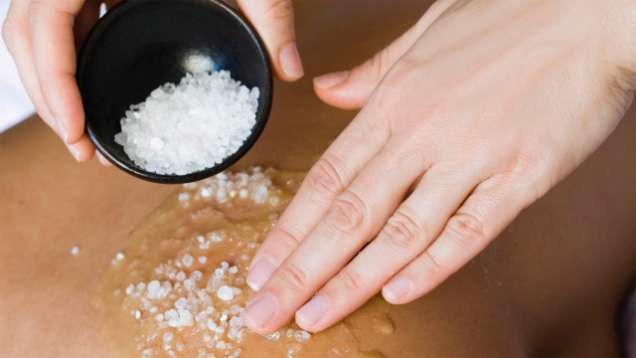 Our body scrubs and wraps are designed to help you restore and improve the condition of your skin while detoxifying and hydrating your body.
Vetivert Body Scrub
This warmed sea salt scrub combined with vetivert and cedar wood energizes exhausted muscles, repairs skin and reinvigorates the body.

Natural Anti-Cellulite & Detoxifying Scrub
Using the natural ionizing properties of salt crystals from the Baltic Sea, this full-body scrub by ila is perfect for the treatment of cellulite, stress and exhaustion. The salt crystals stimulate circulation and toxin elimination while cleansing and strengthening your bioenergy fields, leaving your mind, body and spirit uplifted.

Bioenergy Body Wrap
This natural mud wrap by ila is designed to draw toxins out from deep within your cells. Powerful and revitalizing for both the skin and lymphatic system, this wrap promotes profound healing of the entire body. It has a base of sundried Italian green mineral clay mixed with nutrient-rich argan oil and Himalayan sole (pink sea salt), which is high in negative ions that help to energize and cleanse the body.

Note: Prices and treatments are subject to change without notice.