Advance Purchase – Up to 25% Off
It pays to book ahead. The earlier you book your stay, the more you save.
Meetings & Events
Conference Planning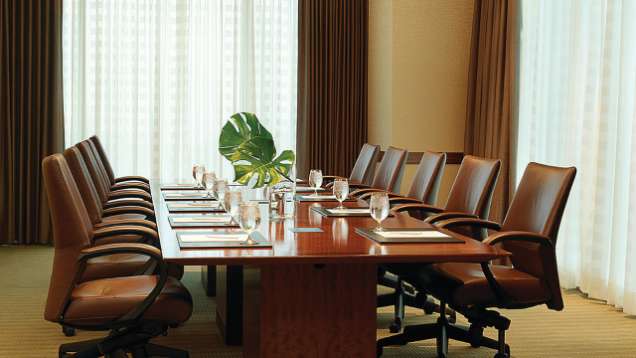 Discover flexible spaces that adapt perfectly to your meeting goals, along with technology that accommodates the most demanding presentation and communication requirements. Experienced Four Seasons support is on site to promptly respond to every need.
Technical assistance
Audiovisual services play an important role in the overall success of your event. Our partner, Swank Audio Visuals, maintains an office on property and offers the technical expertise and equipment necessary to flawlessly deliver a spectacular event. Their services include, but are not be limited to:


Experienced staff and professional technicians

3D designs and on-site renderings through SwankDraw

Event consultation and show supervision

LED, decorative and intelligent lighting

Superior sound systems

Video conferencing, webcasting and event archiving

Technical and creative set design

Computer data display

Projection specialists

Audio and video recording and duplicating
Learn more about Swank Audio Visuals
Music and entertainment
Our team of conference and banqueting specialists will arrange music and entertainment to complement any part of your function or event.
With the Lumière Place entertainment complex below – and the central business district just minutes away – the Hotel stands above all with unrivalled meeting space and 24-hour impeccable service.
Quick Reference
Time zone
GMT -6 hours
Central Standard Time
Language(s) spoken
English; Spanish is widely spoken as well.

Electrical system
Local voltage is 110 to 120 volts AC. Adapters available; please request through the Concierge.

Shopping hours
Most stores are open from 10:00 am to 9:00 pm every day.
Working hours
Monday to Friday 8:00 am to 5:00 pm.
Time and distance to city centre
3-minute drive/0.8 miles/1.3 kilometres
Time and distance to shopping
Brentwood Galleria – 20-minute drive/10.6 miles/17.1 kilometres
Time and distance to financial district
3-minute drive/0.8 miles/1.3 kilometres
Receiving and maintenance
Receiving
The Hotel features a full-service shipping and receiving office. All packages should be sent to the attention of the conference service manager along with the conference name and date. Limited space is available for the storage of large items. Please time shipping to the date of arrival.
Oversized packages or environmentally sensitive equipment
Please communicate with the receiving department or your conference services manager for special arrangements regarding the delivery of oversized packages or environmentally sensitive equipment.
Maintenance
The engineering department is available 24 hours a day for general assistance with lighting, room temperature control and minor repairs.
Destination management companies
Your conference services manager can help accommodate your group's special requests. For detailed information, please contact the Hotel directly.
Welcome amenities and VIP gifts
Special arrangements can be made for clients to purchase welcome amenities for their VIP guests. The Concierge will be happy to assist in these arrangements. Possibilities range from a refreshing spa and wellness-themed amenity to a special souvenir from one of St. Louis' famed sports teams.
Spouse programs
The Hotel offers a variety of activities of interest to spouses of meeting participants. The Concierge will provide detailed information on specially tailored spouse programs.
Possibilities include:
Wine tastings

Cooking demonstration with a Four Seasons chef

Anheuser-Busch brewery tour

Tour of historic St. Louis

St. Louis jazz and blues music tour

St. Louis Gateway Arch tour

St. Louis fine arts tour

Guided tour of Missouri Botanical Garden

Visit to Forest Park
Family programs
We would be pleased to arrange activities for visiting families, such as visits to:
Gateway Arch

St. Louis Zoo

City Museum

Grant's Farm

Forest Park, one of the largest urban parks in the U.S.

St. Louis Science Center and James S. McDonnell Planetarium
We can also help you arrange tickets for:
A baseball game at Busch Stadium, home of the St. Louis Cardinals

A football game at Edward Jones Dome, home of the St. Louis Rams

A hockey game at Scottrade Center, home of the St. Louis Blues
Always Complimentary
A sampling of business amenities:
24-hour business services

Audiovisual equipment

Video conferencing

Wired/wireless Internet access

Laptops