Dining
Events and Promotions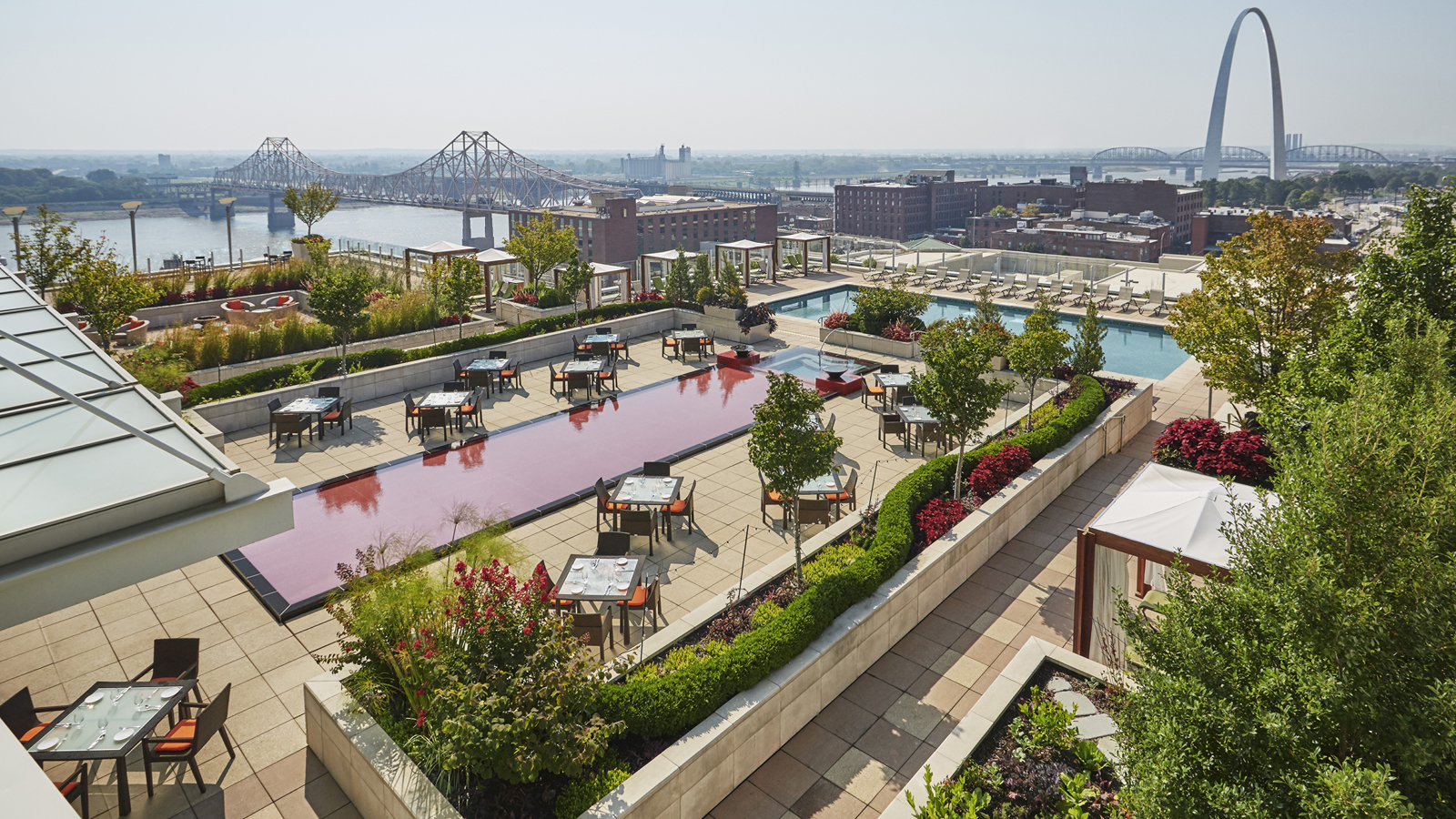 Raw Bar

Every Thursday from 6:00 pm – 9:00 pm

Join Four Seasons Hotel St. Louis as we enjoy the best seafood from both coasts. Chef Colucci has created a raw bar with fresh sushi, shellfish and more. A DJ will have you moving your feet as you dine and savour the evening in Cielo Bar.

Prices start at USD 35 per person and include: 2 oysters, 1 portion of bay scallops ceviche, 3 shrimp with cocktail sauce, 3 pieces of California roll sushi and 1 portion of octopus salad (substitutes available).

Live DJ
Complimentary Valet Parking
Call (314) 881-5759 for reservations
Labor Day Weekend Dinner: September 3rd

Summer in St. Louis just got sweeter with a Havana Nights Labor Day weekend celebration on the Sky Terrace, Sunday, September 3 from 5–10 pm. The party will feature a menu of whole roasted snapper, smoked pork, ropa vieja, ceviche, sweet plantains, Cuban custard and more. Stay cool with made-to-order Mojitos, Cuba Libres and Cuban brews. Citrus-basil Mojito popsicles will keep guests cool as they move their feet and jive to the sounds of a live band playing Latin favorites. The evening will conclude with a fireworks show under the stars.

Sunday, September 3 | 5:00 pm – 10:00 pm

Cost is USD 65 per person | Excluding beverages (USD 25 per child, 5–12 years-old). Tickets are available now.

Live Music, Fireworks Show at 9:00 pm | Complimentary Valet Parking

Make your reservation today by calling (314) 881-5759.
A Day at the FS Pool + Dinner

Glowing with soft blue and pink lights, the outdoor pool at Four Seasons Hotel St. Louis, is open for swimming from sunrise to 10:00 pm (June – September), one of the few rooftop pools in St. Louis. From this poolside perch, enjoy exclusive views of the illuminated downtown skyline – including the Gateway Arch, Martin Luther King Bridge and the Mississippi River – while sipping cocktails from Cielo Bar. Once the sun sets, the pool's music changes to an upbeat, lounge-style atmosphere to match the city nightlife scene below.

Available every Monday to Thursday | June 5 – September 28, 2017
USD 130 Per Person | USD 240 For Two

Pool Access: Sunrise to 10:00 pm
3-Course Sunset Dinner (Poolside or at Cielo Restaurant) One Fresh Coconut Water, Two Glass Sangria
Complimentary Valet Parking | Reservation required. Contact Rachel.Nester@fourseasons.com or call (314) 881-5759

Reserve your cabana for USD 50, excluding September 4, 2017
Picnic in the Park

Is there anything better than picnicking with friends on a nice warm summer night? Dine with ease as Cielo Restaurant & Bar prepares a gourmet basket to-go. Enjoy freshly baked bread, local artisanal cheese and a selection of salads and sandwiches from Cielo's kitchen. Select a nice bottle of white, red or sparkling wine to further enhance your outdoor dining experience.

Available daily from 10:00 am – 6:00 pm | May 1 – October 1, 2017 | USD 85 for two adults; USD 15 per child (5–12)


Menu: Antipasti, local artisanal cheese and charcuterie board, shrimp cobb salad, tortilla chips with salsa and guacamole, caprese salad, freshly baked bread, turkey sandwich
Wine Selection: Enza Prosecco, Monterey Chardonnay, Steelhead Pinot Noir, Avalon Cabernet Sauvignon


Pre-order required (90 minutes notice) | Complimentary Valet Parking

Call Cielo Restaurant & Bar at (314) 881-5759 or contact Nalicia Foster to place your order.