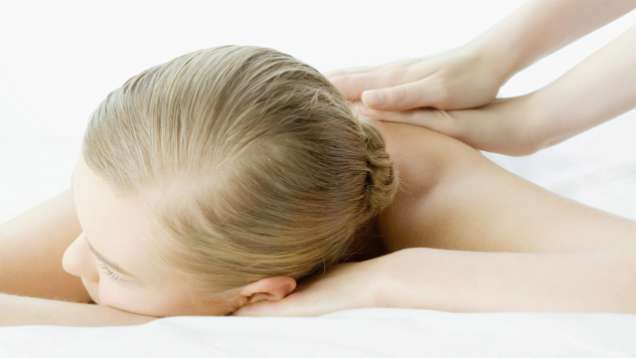 Anti-stress head and shoulder
Designed to release tension and bring harmony back to your mind. This treatment follows techniques handed down from one generation to another as part of a timeless ritual. Created to clear tension pathways in the neck and shoulders, stimulate the scalp and preserve the health and beauty of the hair.

Reflexology
This specialised foot massage helps improve blood supply to the whole body. The technique encourages the constant flow of energy, or qi, through channels or zones in the body that unite to form the reflex points on the feet. The treatment begins with a refreshing and soothing foot bath using a blend of tea tree and eucalyptus essential oils.
Traditional Thai massage
Experience the unique sensations of pressure points along the energy lines of the body, together with stretching of muscles. An ancient massage technique which has been handed down through centuries, this Thai massage stimulates energy flow and eases muscles, replacing tension and stress with a feeling of energy and peace.

Thai and aroma therapy massage
A combination massage using different techniques from Thai massage that stimulate acupressure point on the body, to give a relaxing feeling that helps release stress. Combined with the benefits of essential oil from Aroma massage that heighten the senses.

The reviver
Our signature massage incorporates Asian therapies and techniques to soothe tired and stiff muscles. Long firm strokes penetrate into the deeper layers of muscle tissues providing tension relief and return of the body's energy balance and overall wellness.

Balinese
This relaxing massage has been handed down through generations. The techniques of skin rolling, long kneading strokes, thumb circles and thumb pressure are believed to renew, strengthen and heal the body.
Aroma
Two essential oil blends are offered as part of this aromatic massage, to help heighten the senses. Choose from Peace of Asia, with sandalwood, ylang-ylang and black pepper, or Asia Sunset, with lavender, lemongrass and nutmeg. You may also choose your desired style of massage:

Restorative – light, rhythmic strokes with movement towards the lymphatic areas, resulting in gentle relaxation
Energising – deep strokes and cross-fibre massage techniques to stimulate overall blood circulation, relieving stress, muscle tension and aches in problem areas
The Sports Massage
Using firmer strokes to help release tension from more athletic muscles, our deeply relaxing back and shoulder massage will send you on a one-way trip to a quick recovery.
Swedish
Enjoy a firm and invigorating or a gentle and soothing massage with relaxing strokes that remove tension and bring relief and a sense of well-being. A nourishing pure blended oil is used for this treatment.
Note: Prices are for in-spa treatments and for in-room treatments. Prices and treatments are subject to change without notice. All prices quoted are subject to 10% service charge and applicable government taxes.