Spa
Spa Lead Therapist Rachel Lao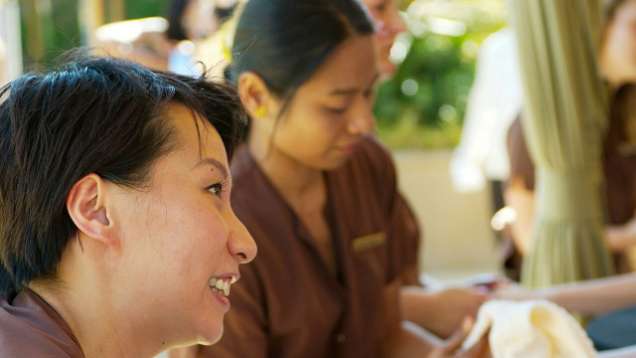 When Four Seasons Hotel Silicon Valley at East Palo Alto opened in 2006, Rachel jumped at the opportunity to work in the Hotel's spa. Although she admits that the most challenging aspect of her job as lead therapist is balancing her schedule, she finds that taking the time to pass along techniques and concepts to her team is highly rewarding. Rachel knows that the unique Four Seasons spa experience would not be possible without her team, and she works closely with them to ensure that guests are always treated to the signature service for which Four Seasons is renowned. Spa staff, including Rachel, are always professional, and they go the extra mile to build and maintain relationships with Hotel guests and the community at large.


Since Rachel's world is all about helping other people relax, it seems fitting that she makes sure to find her own ways to unwind. Passionate about exercise and good health, Rachel works out to strengthen and tone her muscles and improve her cardio endurance, and she also believes that yoga is essential to maintaining balance and harmony in her life. Her second favourite way to relax is with food, both by preparing delicious dishes herself and by eating out. She says she'll happily dine on gourmet meals or street food, and be perfectly satisfied with either.


Rachel's favourite treatment at the Spa is the Exotic Coconut Rub and Milk Ritual Wrap, which she says is excellent for smoothing and softening the skin. The Elemis Facial, which was added to the spa menu last September, is also very popular right now.

Q & A
What health and wellness trends have you been noticing this year?
Juicing and detoxing are very popular, and so are retreat weekends. People are beginning to understand the necessity of long-term health and longevity as opposed to quick fixes.

We know that all of the Elemis products are great, but which one do you think is a "must have"?
The Pro-Collagen Marine Cream – it's hydrating and anti-ageing.

What's the Spa's newest product?
The NuFace system. It's a microcurrent facial-toning device that stimulates the facial muscles and instantly produces a younger appearance.

After growing up in Hong Kong, Rachel Lao decided 17 years ago to make a new life for herself in the United States, where she landed a job as a make-up artist with Laura Mercier. Rachel quickly learned all she could about skincare, and then set her sights on other types of bodycare. Soon enough, the world of spa seemed like a natural fit for her talents.