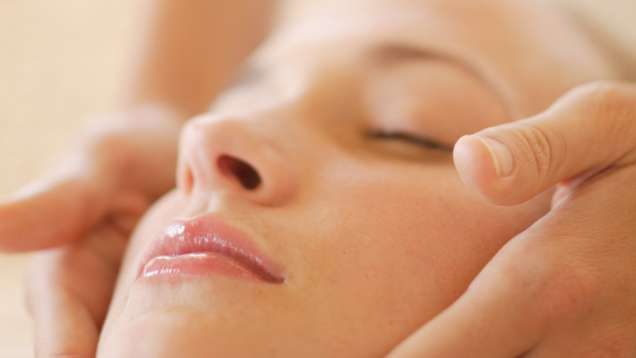 Facial treatments at the Spa at Four Seasons Hotel Silicon Valley feature results-oriented beauty lines that combine the finest ingredients with the latest anti-ageing technology. Treatments begin with a thorough consultation to select the approach that best suits your needs – whether it's a rejuvenating therapy to enhance general well-being or a more focused treatment to target specific skin conditions.
ELEMIS Luxury Facial Therapies
Visible brilliance
Independently tested with revolutionary results, this anti-ageing face and eye treatment instantly firms, rejuvenates and plumps the skin while helping to reduce dark circles. In independent clinical trials, skin's moisturisation levels increased by up to 61% and elasticity by 40% after just one treatment. Specialised micro-circulatory massage techniques are combined with powerful formulations and Elemis's two-phase Amino Active Mask to help smooth, sculpt and restore skin radiance. A course of six treatments is recommended (one treatment every four weeks).
Tri-enzyme resurfacing
Peel away the years for smoother, more radiant skin. Clinically proven to visibly resurface the skin by up to 75% and increase smoothness by up to 32% after just one treatment, this unique facial targets blemishes, uneven skin tone, superficial facial scarring and fine lines to reveal younger-looking skin. Skin is left incredibly clean, smooth and radiant, bringing a renewed level of evenness and clarity to the complexion. A course of six treatments is recommended (one treatment every three weeks).
Modern skin power booster
This purifying facial is designed for the 20-something woman, whose challenging and unpredictable skin is reacting to the stresses of modern living. Bursting with antioxidant-rich minerals and vitamins, the treatment helps remove damaging toxins caused by environmental and lifestyle stresses, increase mineral levels, regenerate skin cells, rebalance sebum and reduce rosacea. The result is clearer, more balanced and radiant skin. A course of six treatments is recommended (one treatment every three weeks).

HYDROPEPTIDE Advanced Anti-Aging Facials
Brightening
Our Brightening facial will even, lighten and brighten all skin types by exfoliating, reducing inflammation, activating sirtuins (proteins) that extend skin-cell lifespan, and protecting against further damage with a potent dose of antioxidants.
Anti-Gravity
This relaxing, "no downtime" treatment infuses the skin with the rejuvenating and uplifting benefits of 17 peptides, growth factors and proteins. Add the NuFACE Quick Lift treatment for the ultimate in anti-ageing results.
NuFACE Firming & Lifting Treatments
Wow Brow
Elevate your waxing service with our Wow Brow treatment. After waxing and shaping, your brows are lifted with our NuFACE microcurrent treatment, opening your eyes and giving you that wide eyed youthful look.

NuFACE quick lift
NuFACE® Quick Lift Microcurrent Facial incorporates a FDA approved microcurrent device that works with your muscle memory to lift and tone your face and reduce fine lines and wrinkles for a more youthful appearance instantly. Have a totally uplifted day with this quick treatment that acts like a pilates instructor for your face! Best received in a series of six, twice weekly treatments. It's the perfect way to prepare for that special event!
Enhancements
Enrich your facial experience with a sensory treatment:

FRANGIPANI SCALP AND HAIR TREATMENT
Stimulate your scalp with a relaxing massage designed to enhance circulation and relieve stress. Treat your hair to an exotic oil treatment formulated to moisturize and nourish strands.
USD 20

MICROCURRENT NUFACE
Achieve anti-ageing in minutes. Lift, contour and tone your face while improving the appearance of fine lines and wrinkles. Gain firmer muscles, tighter skin, lifted eyebrows, contoured cheekbones and a more defined jaw line.
USD 25

REJUVENATING LIP RENEWAL
Dry lips are exfoliated with a lemon sugar scrub, then soothed and moisturized with a refreshing exotic lip mask.
USD 10

Depilatory services
Brow shaping
Lip
Chin
Cheek
Face
Underarm
Arm
Leg
Bikini
Brazilian
Back
Chest
Note: Prices and treatments are subject to change without notice.