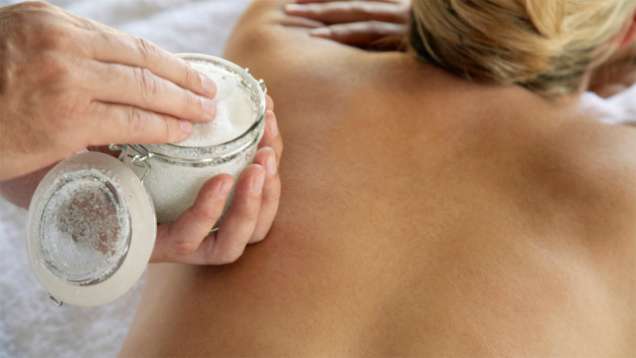 Tropical magnolia
Created by Sodashi exclusively for Four Seasons, this luxurious anti-ageing treatment is completely chemical free. Using our tropical magnolia product range, the relaxing and uplifting full-body massage is designed to work holistically to nurture the skin, deliver powerful digestive benefits and enhance overall well-being. This healing and enriching spa journey is ideal after long periods of travel and for treating the effects of jet lag.
Musclease aroma spa ocean wrap and massage
Drift away while you are cocooned in a comforting wrap and treated to a stress-reducing scalp treatment. For complete muscle relaxation, a powerful seaweed wrap is followed by a muscle-warming massage to further alleviate stress and ease aching muscles.
Cellutox aroma spa ocean wrap
This comforting wrap therapy includes the stress-reducing effects of a relaxing scalp treatment. Combining the richness of sea plants and marine algae, the wrap is designed to help reduce the appearance of cellulite and relieve the discomfort of fluid retention.
Exotic coconut rub and milk ritual wrap
This exotic therapy is excellent for smoothing and softening the skin. The warmed Elemis Skin Nourishing Milk Bath is poured all over the body before it is cocooned in a comforting wrap. Choose between a stress-reducing scalp treatment or a foot massage for total relaxation.
Exotic lime and ginger salt glow
This exfoliation ritual invigorates and revitalises the body. After light body brushing, warm oil is dripped luxuriously over the skin, then the sublime Elemis Exotic Lime and Ginger Salt Glow is applied. The skin is deeply cleansed and moisturised, leaving it glowing, vibrant and replenished.
Exotic Frangipani Body Nourish Wrap
This nourishing body wrap drenches the skin with moisture for immediate softness and suppleness. Exotic, aromatic Tahitian coconut and frangipani flowers are soaked together to produce the Monoi used in this wrap, which Polynesian women traditionally used to protect their skin and provide the ultimate radiance, vitality and all-over body glow. This is an excellent post-holiday or post-pregnancy treatment to help nourish dry skin.

Enhancements
Enrich your body treatment experience with a sensory boost:

Renewing Body Brushing
Improve and maintain your physical well-being. Drain your lymphatic system, remove dead skin cells and banish toxins and waste products.
USD 15

Frangipani Scalp and Hair Treatment
Stimulate your scalp with a relaxing massage designed to enhance circulation and relieve stress. Treat your hair to an exotic oil treatment formulated to moisturize and nourish strands.
USD 20

Fresh Eyes
Look and feel bright-eyed. Soothe and calm inflamed or irritated skin while reducing puffiness and irritations around the eye area.
USD 30

Note: Prices and treatments are subject to change without notice.