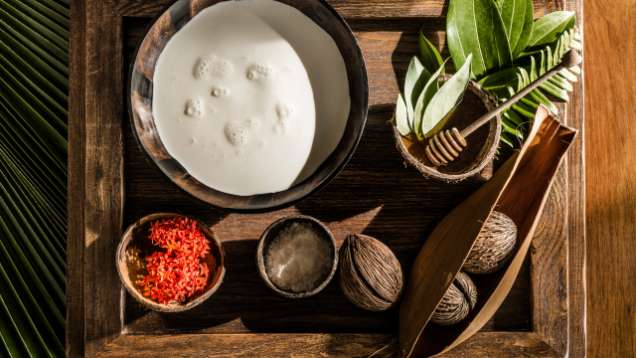 Coco de mer
A tribute to the many tales of love that the Coco de Mer has inspired throughout the ages, this sumptuous ritual encourages us to love ourselves. It begins with an invigorating passion fruit and Coco de Mer body scrub and a nourishing heart of palm and caviar body wrap. A massage with rich Coco de Mer whipped massage cream follows, before a relaxing floral bath with cinnamon, honey and coconut milk, complemented by beautiful bay views and a refreshing coconilla drink. A final application of passion fruit and Coco de Mer body lotion leaves the skin luminescent and soft.
150 minutes

Chakra well-being
Seven blends of essential oils, chosen for their harmonising qualities on each of the seven chakras, form the basis of this exquisite treatment. Personalised to the individual needs of the recipient, the journey to well-being involves deep relaxation of the nervous system, sensuous lymphatic drainage, subtle healing of the chakras and the pouring of warm oil over the third eye to relax and revive the senses.
150 minutes

Kundalini Devi
This ritual journeys into the mystery of the self. It starts with chakra purification using sage smudge sticks, followed by a kundalini scrub to awaken the subtle energies. A kundalini back and leg massage follows, using yogic healing, chakra balancing and hot poultices. This deeply balancing sequence brings heightened awareness, enhanced joy and inner peace. Women experience an awakening of the feminine spirit, and men experience a nurturing of the sensitive and compassionate self.
120 minutes

Shirodhara
Deeply relaxing to the nervous system, this East Indian therapy takes the mind to another level of consciousness. Two therapists perform a synchronised Abhyanga massage using warm oils to balance specific dosha types. A stream of warm coconut oil is then poured onto the centre of the forehead – the "third eye" chakra – inducing a deep sense of stillness while intensely nourishing the hair and scalp.
120 minutes

Jet-lag recovery
This balancing face and body treatment re-energises the whole system. To begin, invigorating body brushing reduces fatigue and stimulates circulation. Sodashi's natural purifying body mask is then applied to relieve sluggishness and congestion, and the body is cocooned in a comforting wrap. A relaxing scalp and foot massage and application of jet-lag recovery tonics follow, before an energising facial, rich in marine extracts, awakens and rejuvenates the complexion.
120 minutes

Blissful Connection
This nurturing ritual for couples focuses on the sacral, heart and crown chakras and involves a combination of exquisite essential oils: jasmine to stimulate the flow of love, rose to promote deep love and orange blossom to uplift the soul with higher energy. Side by side, couples receive a full-body scrub, a romantic bath, chakra-healing techniques and body and facial marma massage to open the energy fields and harmonise mind, body and spirit.
180 minutes

Note: Prices and treatments are subject to change without notice. Prices are subject to applicable taxes and a 10% service charge. Should you wish to cancel or reschedule, please advise us at least four hours prior to your appointment time in order to avoid a 100% cancellation fee.
For in-villa treatments, 100% additional charge will be added to the regular price. Additional charges apply for treatments outside of usual spa opening hours. For full details and booking please contact the Spa.