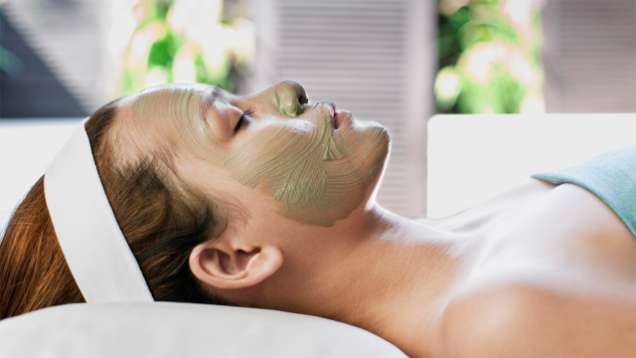 Ananda
Ananda, meaning "bliss" in Sanskrit, is the focus of the third-eye chakra on the forehead. This healing and reviving facial brings deep feelings of peace as well as beautifully glowing skin.
Rainforest rejuvenation
This facial helps to promote regeneration at a deep level. Hot poultices applied over the lymph nodes warm and stimulate lymphatic flow, while the rich natural ingredients in the rainforest mask encourage cellular rejuvenation.
Pure radiance
Tailored to individual needs, this deeply relaxing and restorative facial begins with a warm aromatic compress designed to soften and exfoliate. A nurturing face mask, rich in herbal extracts, purifies and hydrates while a facial massage and Sodashi's plant essences leave the skin feeling fresh and revitalized.
Rejuvenating facial for him
A Sodashi salt-therapy back massage relaxes the body in preparation for a cleansing facial, specially designed to balance the skin's oils and assist in preventing ingrown hairs. Soothing mists with woody aromas desensitize the skin, while a facial massage tones.
Crystal essence
This sparkling experience combines Sodashi's unique facial massage with the semi-precious gems of rose quartz, green aventurine and carnelian. Using plant essences and the balancing energy of warm and cool crystals, this treatment removes impurities, leaving a vibrant, enhanced complexion.
Marine mineral
Harnessing the remarkable power of marine plants, this facial is rich in spirulina and fucus extracts, bringing radiance and restoring elasticity. Enhanced by a facial massage, the treatment oxygenates, tones and revitalizes.
Thermal infusing
Experience an intensive boost of vitamins and minerals deep into the skin's layers with a warm mask tailored to either purify and cleanse, or nourish, hydrate and tone. Restoring elasticity and firmness, this is more than a facial – it's a natural facelift.
Gold Facial
This treatment combines the latest skincare advancements of gamma-PGA, 24-karat gold and an ultrasonic nano mist to deeply hydrate and soothe your skin. Once complete, this facial will lift and firm, reduce fine lines and wrinkles, and create luminous and radiant skin.