Bed and Breakfast
Enjoy a perfect night's sleep followed by an expertly prepared meal from our top-rated...
Meetings & Events
Conference Planning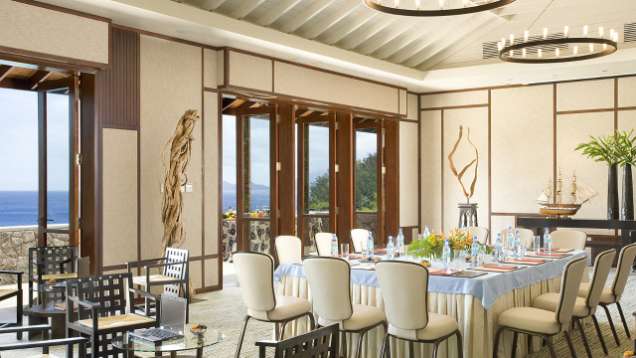 Audiovisual and Presentation Equipment
Lecterns with light and sound control

Overhead projectors, LCD colour display panel, slide projectors and video players

Microphones, mixers and amplifiers

CD and DVD players

Stands, carts, easels, flipcharts and laser pointer

On-site technician

Wired or wireless Internet access
Music and entertainment
Conference planners will be happy to assist with setting up any type of music or entertainment for your meeting.
Receiving and maintenance
Receiving
Special arrangement for delivery of oversized packages or sensitive equipment.

Post-conference shipping
Shipping of equipment, resources and gifts can be coordinated through a conference service manager.

Maintenance
24-hour-a-day assistance with lighting, room temperature control and minor repairs.
Partner and family activities
Options include:
Island-hopping tour

Snorkelling trip

Fishing trip

Sailing

Shopping tour

Cooking class

City tour

Walking trails

Spa treatments
Family programs
The Resort is pleased to help arrange appropriate on-site or off-site activities for visiting families. You may choose to participate in a wide range of beach sports, or let our Concierge arrange off-site activities for you, such as a visit to the National Botanical Gardens or a tour of the Ste. Anne Marine National Park.
Four Seasons Resort Seychelles offers 233 sqaure metres (2,207 square feet) of function space – ideal for up to 150 guests. Two high-tech meeting rooms feature flexible pre-function space with overflow space on the outdoor bay-view terrace, within the botanical gardens and on the beach.
Quick Reference
Time Zone:
GMT/UTC +4 (no DST)
Languages:
Creole, French, English
Electrical system
Local voltage is 240 volts 50 Hz.
Shopping hours
Monday to Friday 10:00 am to 5:00 pm
Saturday 8:00 am to 12:00 noon
Please note that some shops close between 12:00 noon and 1:00 pm on weekdays.


Working hours
Banks:
Monday to Friday 8:30 am to 4:30 pm
Saturday 8:30 am to 11:00 am

Government offices:
Monday to Friday 8:00 am to 4:00 pm

Private companies:
Monday to Friday
8:30 am to 5:00 pm (and occasionally on Saturday)


View