Executive Chef
Dave Minten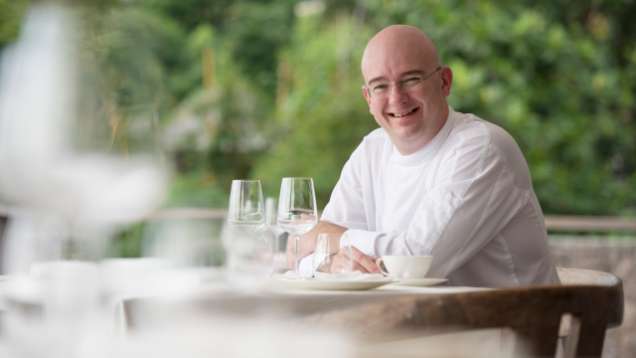 Trained in the Netherlands before travelling to cook in Malaysia, then Maldives, and now in Seychelles, Executive Chef Dave Minten is nothing if not adventurous.

Having trained in his homeland, Chef Dave began his career cooking classical dishes at various top restaurants and hotels, including the Michelin-starred hotel and restaurant Château St. Gerlach in Valkenberg and restaurant Chateau Neercanne in Maastricht, before the travel bug bit and he packed his chefs' whites and headed for Malaysia.

After three years in Borneo and on mainland Malaysia, Chef Dave moved along to Maldives as executive chef at the Kurumba Resort on the North Male atoll. His responsibilities at this large resort included overseeing nine food outlets with Indian, Italian, Chinese, and Middle Eastern cuisine on offer, as well as a classical fine dining restaurant. This range of menus and island living gave a great insight and experience that would prove useful later. A short stint at the opening of The Residence in Huvadhoo Atoll, Maldives followed, before the call to join the team at Four Seasons Resort Seychelles came along.

Even for someone with a 20 year career in food preparation, banquet and à la carte operations for leading hotels, resorts, and restaurants, the challenge of cooking on an island in the middle of the Indian Ocean is no small feat for Chef Dave, but he has taken on the challenge of innovating and constantly growing and improving the product and talent in Seychelles.

As a culinary innovator, known for producing top quality, creative plates, Chef Dave's focus is to work with fresh produce to create a pure cuisine experience.

"Sourcing the very best ingredients from premium global suppliers is a must. Another priority is partnering with local suppliers to ensure a consistent and high-quality source of fresh fruit, vegetables and seafood. We always want to include a taste of Seychelles in our menus."

His hard work, creativity and reputation for delivering top results have led to previous career high points including preparing a luncheon for the Sultan of Brunei, and cooking for President of The United States George W. Bush and his delegation, together with his personal chef de menu, and his passion for food is something engrained in his being.

His motto? "Always cook with your heart and use love in your dishes and then the result will always be great."
Commis I
Sherla Mitsi Mathurin
Mathurin was just 19 years old when she was chosen by the Seychelles Hotel and Tourism School to receive further training at the prestigious Le Recif Hotel. It would be the first step on a path that would lead her all the way to the Royal Palace in Bahrain.


"It was an incredible and exciting experience," recalls Matherin. In addition to preparing her Highness's favourite Creole dishes, Mathurin also enhanced her expertise in Lebanese and Asian cuisine.


Upon returning to the Seychelles in 2008, Mathurin joined the pre-opening team of Four Seasons Resort Seychelles's Creole restaurant. One of her many responsibilities includes supervising the restaurant's popular Creole cooking classes.

As for the future, she'd like to travel again but for now loves being part of the ZEZ "family" and helping newcomers from hotel schools to settle into the rigorous lifestyle of a professional kitchen. "I tell them it's all about working as a team and always doing the best you can."