My Four Seasons
Silent Artistry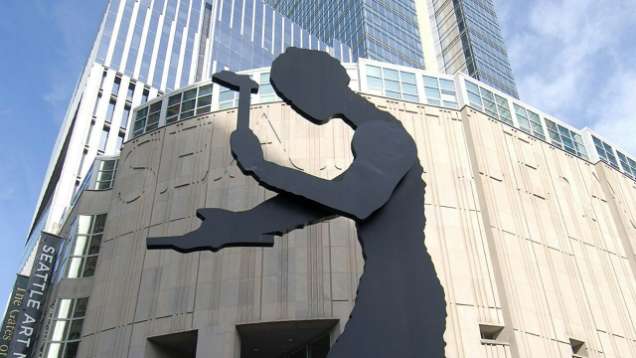 The relentless pounding of a mighty hammer and the thunderous strike of an immense lightning bolt are but two things you'll see — but not hear — outside Four Seasons Hotel Seattle. Across the street by the Seattle Art Museum, the 48-foot (14.6-metre) tall statue Hammering Man smashes his hammer silently over 3,600 times a day (except on Labor Day, when he rests). And marking the entrance to the Hotel is Gerard Tsutakawa's 300-pound (136-kilogram) bronze Thunderbolt sculpture.

It's when you step inside the Hotel that quietude is exemplified visually, with a lobby designed to suggest a stroll through the tranquil beauty of the Pacific Northwest. Walls of volcanic basalt — complete with fossils — echo a riverbank, and are complemented by stone patterned flooring. Walk towards the reception desk — past the American chestnut ledge of the fireplace — to continue your metaphorical (and quiet) trek across the Northwest.

Behind a reception desk made of stone slabs and crowned with a kiln-casted glass countertop, an 81" multi-panelled screen presents itself for viewing. It is a masterful collage by acclaimed Northwest artist and long-time Seattle resident Paul Horiuchi. Appropriately titled: Massive Silence, it is a work of contrasts: evoking a boldness of structure and delicacy of balance.

Dispersed throughout the public and private spaces of the Hotel, you'll find a number of works from the pioneering artists of the Pacific Northwest. Their work collectively became known as the Northwest school, a 1940's art movement birthed in Skagit County, Washington. Like the Hotel's interior, the art uses natural Northwest elements. It also draws influence from traditional Asian aesthetics, surrealism, cubism, and abstract expressionism.

Here is what else you'll find in the lobby:

Guy Anderson's "Northwest Totem with Waterfall" — a work created on a heroic scale.

Alden Mason's "Brown Bingo" — part of his Burpee Garden Series and named for the seed company.

Gaylen Hansen's "Night" — a thickly painted seascape of fish jumping in the moonlight.

After you ponder the many works, you'll come to understand why we consider the Hotel to be an informal extension of the Seattle Art Museum.