My Four Seasons
The Starry Night, Every Night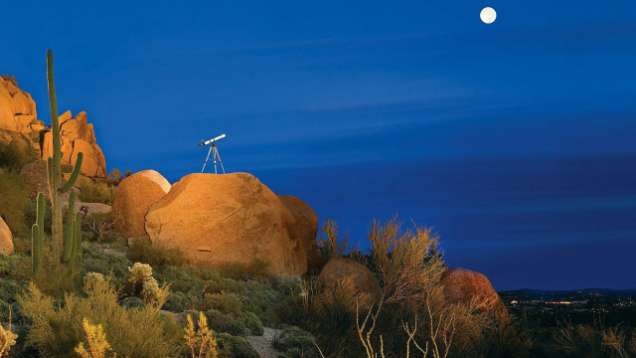 More Four Seasons Stories
At 808 metres (2,650 feet) above sea level – higher in elevation than the rest of the Valley – Four Seasons Resort Scottsdale at Troon North is that much closer to the heavens. The nighttime skies of the Sonoran Desert are some of the darkest in the country, with its blackness sustained by the Resort's use of downlighting and its distance from city lights. Perfect then, for a brilliant show of light.

Every night, a glittering canopy of stars presents itself. While the constellations of the universe may be enjoyed in the comfort of your suite — each equipped with its own high-powered telescope and a detailed star chart — the Resort offers myriad way to ponder the millions of stars outside.

Let our chefs customise a celestial picnic for you to enjoy beneath the stars on the Troon Lawn. You'll also have a telescope and star chart to help you find your favourite constellation. The Resort also offers complimentary stargazing sessions with a local expert, every Friday night. Consider a nighttime Hummer excursion in the desert with a telescope-carrying astronomer.
So what might you see?

Gaze into the globular star cluster of the Sagittarius constellation, home to 15 Messier objects — the most of any constellation. Messier objects are astronomical objects that resemble comets, but aren't, and were noted as such by Charles Messier, an 18th-century French astronomer and frustrated comet hunter. Messier's list details the most beautiful scenes in the sky, from nebulae to star clusters to galaxies.

Over in the Cassiopeia constellation, look for the Heart Nebula. An intense red mix of dark dust clouds and glowing interstellar gas nearly 200 light-years wide, it resembles the shape of a heart. Less romantic, but equally captivating, is the Witch Head Nebula. Believed to be an ancient super nova, with its dust particles reflecting blue light, it takes on the side profile of a stereotypical witch with pointy nose and knobby chin.

Within the Orion constellation exists one of the most identifiable nebulae around. Amid reds, blues and yellows, swirling cloud of dark dusts and gases form the equine-shaped Horsehead Nebula. Nearby, the glowing Orion Nebula presents a contrasting and colourful vista. One of the brightest nebulae, it is visible to the naked eye.

With all that there is to see, you might find yourself craning your neck for hours. Next morning, pay a visit to the spa for a Swedish massage. Ask for extra attention to your neck; your massage therapist will understand.