Function Rooms
Fountain Terrace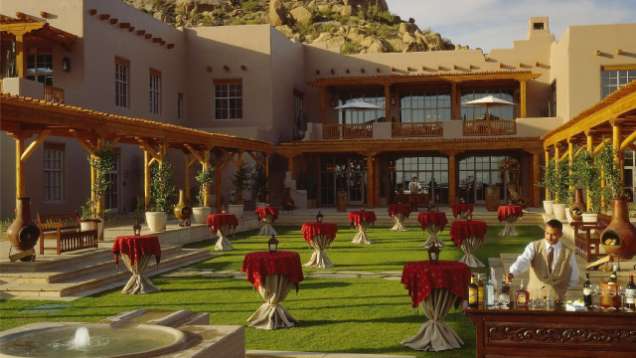 The trellised Fountain Terrace offers a spectacular venue for a multitude of events – from a lunch buffet in the sunshine to a starlit wedding reception under the Sonoran Desert sky.
Why You'll Love It
Naturally Expansive
Welcome up to 300 guests for a charity gala or cocktail reception. A raised flagstone patio will bring all eyes on the bride before walking down the aisle past smiling guests.
Beauty Wherever You Look
Dazzle your guests with stunning vistas — Crescent Butte soars in the background, while Pinnacle Peak and the valley are showcased in views to the south.
A Desert Oasis
Manicured lawns, a sparkling fountain and bougainvillea-lined terraces highlight this picturesque setting, located just below the Onyx Lounge.
Room Details
Seating
Reception
Banquet rounds

300
200

Occupancy
Up to 300 guests
Location
Outdoors, on the first floor
View
Set under the sunshine or the starry Sonoran Desert sky.
Size
Area
Dimensions

360 m2 (3,880 sq.ft.)
30 x 12.2 m (97 x 40 ft.)

Maximum capacity for Ceremony is 250.