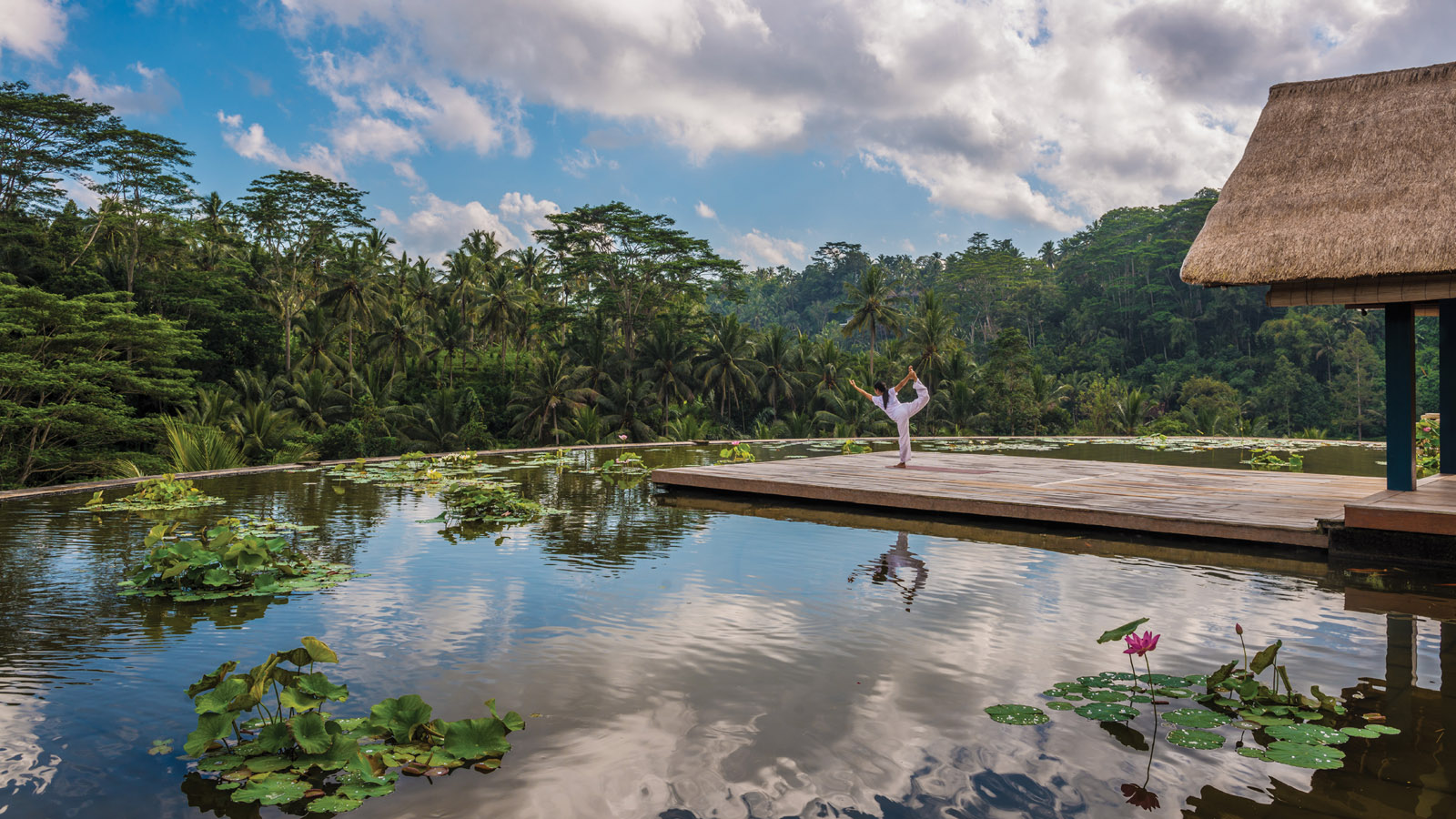 Meditation
Classes are 30-minute sessions.
Attune yourself to nature's healing harmony, awaken your being to the earth's infinite energy and discover the power and presence of your own life force with our Yogis and Resident Wellness Mentor.
From Laughter Yoga to Floating Meditation, mindfulness classes to stress management life talks, we offer daily classes and private sessions across a wide range of practices and disciplines – all designed to support you in your exploration of the highest levels of wellness.

Introduction to Meditation
Get to know about meditation generally; the benefits, how to start, how to focus the mind and how to maintain practice.
Loving Kindness Meditation
The practice of softening our heart by developing compassion and loving kindness within oneself.
Walking Meditation
This practice helps you walk with presence and peace of mind and to develop the skill of observation with mindfulness in every step.
Chant of Love Meditation
A meditative chant to beautify one's heart with loving kindness and then radiating the wave of love to all sentient beings. Inner Peace - World Peace.
Awareness Meditation
It's an art of living, the practice of sharpening our senses, and developing the knowledge of the true nature of our body and mind. Practicing present moment awareness brings peace and calm.
Grateful Heart Meditation
The intention of this meditation technique is to focus on being grateful for every aspect of our life. The healing attitude of gratitude brings subtle changes to our perception and experience of life.
Relaxation Meditation
This is the simple technique of calming and relaxing body and mind, letting go of all burdens and tension through the practice of mindfulness. Simple and effective.
Guided Floating Meditation
Float your cares away with this unique meditation experience suspended above the Sacred Ayung River. Floating on a specially designed mattress in our lower pool, allow our spa team to guide you into a surrendered state, releasing tension and bringing positivity and possibilities. (Maximum two people.)
Life Talk Series
Classes are 60-minute sessions.
The Secret of Happiness
Tap into the source of happiness that lives deep within each of us! Access a sense of happiness that does not vary with the ups and downs of everyday life.
Love and Compassion
We all seek love. Learning that love begins with you, this talk will inspire self confidence and positive communication.
Finding Inner Peace
Do you feel like you simply can't keep up with the fast pace of life these days? This talk addresses finding the peace within yourself in every day life.
Managing Stress
Stress is a fact of life, we simply can't avoid it. This talk focuses on facing challenges head on yet remaining detached.
Yoga
Most classes are available in 60-minute and 90-minute sessions.
Power Yoga
This vigorous exercise session starts by warming the body with breathing exercises in a dynamic sun salutation and combines other flowing movements to increase metabolism, burn calories and contour the body.
Jagaditha Yoga
Jagadhita means "happiness", and this yoga class is perfect for experiencing a lightness of joy from within – leaving you with increased focus and concentration. The session starts with pranayama breathing and uses sound energy – representing fire, water and air – to help balance the emotions.
Laughter Yoga
This unique exercise routine combines the freedom of laughter with yogic breathing (pranayama) – focusing more on yoga poses. It's a simple way to bring joy into your life.

Hatha Yoga
This one-hour session starts with breathing exercises, concentrating on inhaling and exhaling, followed by a warm- up with the SuryaNamas Kara (sunrise or sunset salutation). Continue with yoga positions intended to support the elasticity and core strength of your body and end with relaxation poses.
Sunrise Yoga Class
This one-hour session starts with breathing exercises, concentrating on inhaling and exhaling, followed by a warm-up with the Surya Namas Kara (sun salutation). Continue with yoga positions intended to support the elasticity and core strength of your body and end with relaxation poses.
Vinyasa Flow Yoga
Vinyasa Flow is a westernized and more free-form hatha style combining the breath-movement synchronizing of Ashtanga Vinyasa with additional techniques and approaches, based on the creative direction of the instructor. Classes will typically involve a flowing movement through a series of poses – building heat, suppleness and stamina – and paced either moderately or vigorously depending on the level.
Yin Yoga
In this Yoga class you will hold postures for an extended amount of time to access the deeper energy and meridian lines of the body. Step out of your own way and let the prana (energy) or qi flow through your entire being.
Sunset Yoga
Within a special surrounding, this class of hatha yoga can help you recognize your hidden physical and mental potential. Through the continued performance of the poses, you will gain flexibility and strength. Matching movement with breathing, this yoga class makes you feel centered and calm. Controlled breathing, concentration and a carefully structured series of stretches, moves and poses create a holistic workout that brings the body into a state of harmony and balance. Suitable for all fitness levels.
Note: Prices and treatments are subject to change without notice. Prices are subject to 21% tax and service charge.