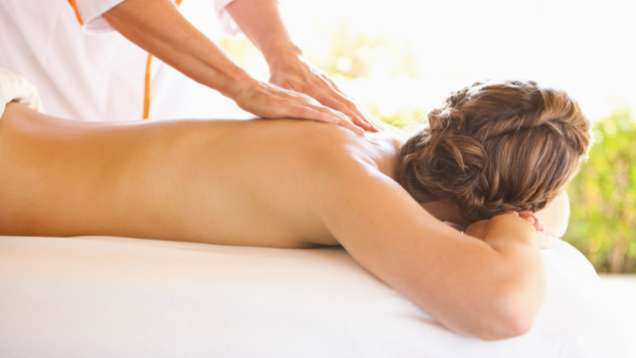 Balinese massage is renowned the world over. We are pleased to offer you the opportunity to experience authentic techniques in a range of relaxing variations.
Balinese
Traditional Balinese massage, a skill passed down through generations, features long strokes, gentle skin rolling, deep kneads and foot reflexology. Our Balinese therapists share this restorative tradition using our own herbal coconut oil blended with warm spices and essential oils of basil, vetiver and patchouli.
Harmony
Experience the deeply restorative benefits of two therapists working in synchronized flow. Four hands in seamless coordination massage the body, effectively relieving tension by using a blend of massage techniques from East and West.

Warm River Stone
Smoothed by centuries of rushing water in the sacred Ayung River, steam-heated river stones of varying sizes are carefully applied to the energy centres of the body, then gently glided along tired muscles in long, rhythmic strokes with the use of aromatic oils. As the warmth penetrates deeply, the alternate application of cold stones simultaneously stimulates and energizes, further enhancing the sense of relaxation and calmness as it rebalances body and mind.
Garden Compress
To relieve muscle aches and joint pains, Balinese villagers go to their gardens to gather specific herbs and spices, which they bundle and warm to create a healing compress. From our Sayan neighbours, we have learned to blend medicinal organics such as chamomile, ginger, cloves, star anise, nutmeg and cardamom, which we then wrap in cloth, following the ayurvedic tradition. Our therapists start with a warm herbal oil massage to release tension from throughout the body, then integrate warm, aromatic compresses to the areas of tension. To finish, we invite you to dip into a warm herbal flower bath for pure pleasure.

Warm herbal oil
Using medium pressure, this Abhyanga-style massage includes warm herbal oil poured over the body, then long massage strokes from the head and shoulders to the feet. The treatment helps to ease the nervous system, warms the muscles, and brings a feeling of deep relaxation.

Deep Knead
This treatment brings deep concentration to specific areas of tension by warming the muscles with Balinese massage, then applying pressure-point techniques using the therapist's forearms and elbows, and ending with Balinese foot reflexology. We recommend that you warm your muscles in the steam room and sauna prior to this massage.

Aromatic
Savour this aromatic massage, scented with a signature blend of essential oils. The massage features medium-pressure rhythmic movements and pressure-point techniques to bring an overall feeling of well-being and relaxation.

Urban antidote
This targeted treatment combines Indian-style head, neck and shoulder massage with reflexology for the feet and hands. Firm pressure eases muscle tension to improve blood flow, returning the body to a healthier equilibrium and erasing the related stresses of fast-paced city lives.

Note: Prices and treatments are subject to change without notice. Prices are subject to a 21% tax and service charge.