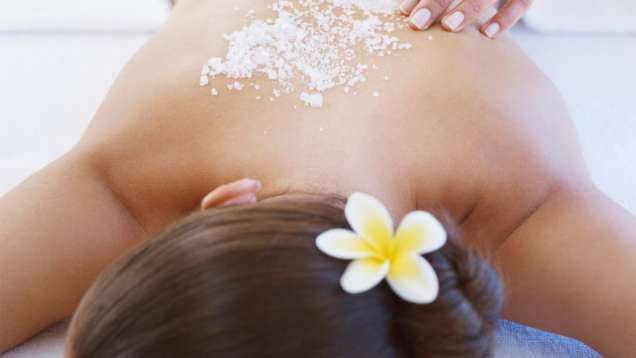 Our full-body cleanses and exfoliations are designed to leave your skin fresh, smooth, moisturized and radiating health. Each treatment includes a 30-minute relaxing back massage.
Gotu Kola and Walnut
An antioxidant, the gotu kola plant is considered a spiritual herb in Balinese ayurveda, used to enhance meditation and calm the nerves. Lavished on the body with rose-hip seed oil, its leaves are blended with crushed walnuts to encourage healthy skin and cell regeneration and to create a fresh glow.

Neem
Ideal for sensitive skin, the neem plant is known for its multiple health and medicinal benefits. Finely ground with date seeds, jojoba spheres and pumpkin enzymes, this gentle exfoliation removes dead skin cells to reveal fresh, glowing skin. A light body lotion is applied to protect newly nourished skin.
Red Ginger
Balinese turn to red ginger to alleviate muscle stiffness and the effects of cold or flu. Mixed with organic red rice, this gentle body polish can even be applied to sensitive or sun-damaged skin to remove dead layers and nurture fresh, new skin. The treatment concludes with an application of Four Seasons spice lotion to moisten and tone the skin.
Rice and Spice
The tradition of applying herbs to warm the body during the rainy season is a Balinese custom used by rice farmers for generations. Naturally astringent temu lawak roots are crushed with cloves, turmeric, fenugreek and ginger to remove dead skin while warming the body and the muscles to increase blood circulation. After a cooling gayung shower with rice and spice wine – also a local tradition – a back massage with aloe vera and ginger lotion adds indulgence to this age-old nurturing.

Note: Prices and treatments are subject to change without notice. Prices are subject to a 21% tax and service charge.
Each scrub is combined with a 30-minute relaxing back massage.